We are almost done here but there are a few more things to learn, albeit they are optional.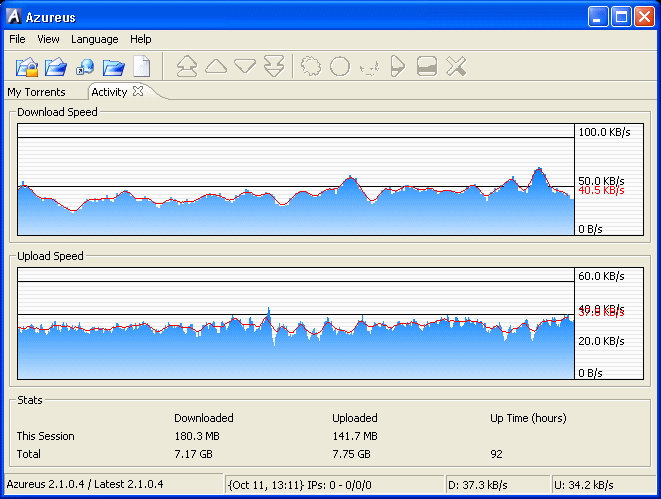 If you click
View --> Statistics
, you get some nice information on your upload and download bandwidth and how stable it has been. As you can see it also shows you your overall downloaded data since you began using Azureus, your uptime and the bandwidth transfers for this session.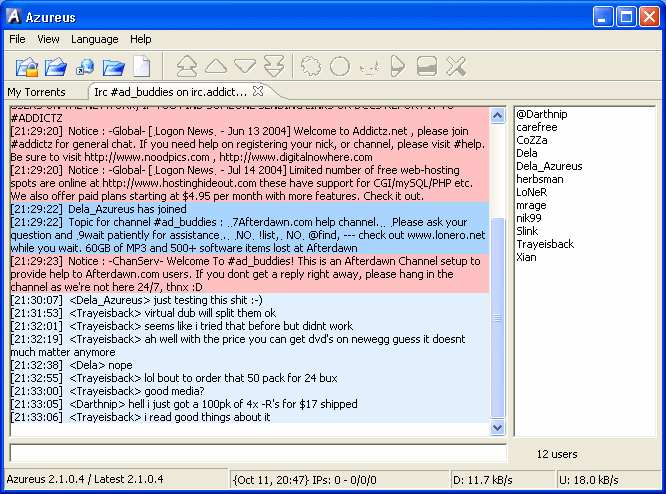 You can use an
IRC Plug-in
with Azureus by clicking
View --> Plugin's --> IRC
. But before you do that, you have to setup what server you want to connect to and what channel. If you want to connect to AfterDawn IRC (#ad_buddies) then click
View --> Configuration
and tick the little
+
besides Plugin's on the list to the left of Azureus. Here you can type in a
server
you want to join automatically, a
channel
and a
nickname
to use. For server, enter
irc.addictz.net
and for channel enter
#ad_buddies
. Now go back out to your Torrents, click
View --> Plugin's --> IRC
. The IRC window will open and after a minute or so you will be connected to the AfterDawn channel. Don't be afraid to hang in there while downloading and have a chat. You can go back to your Torrents without disrupting IRC easily by clicking
My Torrents
up beside the IRC tab.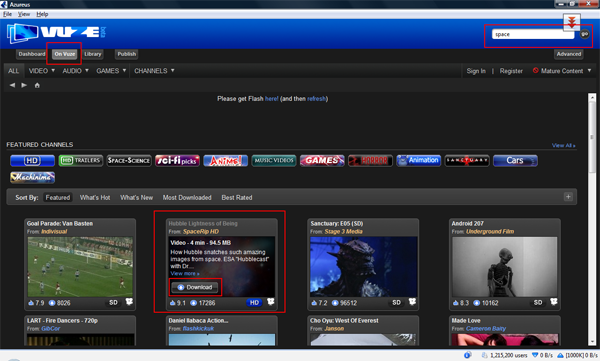 I will quickly show you how to use the actual
Vuze
portion of the client, to download free, legal HD content very quickly.
To get to the Vuze screen hit the
On Vuze
button in the top left and you will be greeted by the nice new interface of On Vuze. You have a few options here, you can either look through the featured videos, the highest rated, the latest uploaded, or you can use the
Search
feature in the top right.
When you have found the video you want simply move your mouse over the the preview shot of the video and you will see
Download
show up. Press it and Azureus will tell you it has been added to your downloads. Simple as that :)
There are now many Bit Torrent clients. You can download a few of them at AfterDawn and also read some guides here.
Other clients to download:
uTorrent
Original BitTorrent Client
ABC [Yet Another Bittorrent Client]
BitTornado
G3 Torrent
Other Guides to Read:
BitTorrent FAQ
ABC guide
BitTornado Guide
G3 Torrent Guide
BitComet Guide
uTorrent Guide
Other Stuff:
Bit Torrents Forum Thread
And that's all you need to know to start downloading and sharing files with Azureus. This guide will be updated and more features will be added to it soon so keep checking back.
Version History
v2.0
-- 18th February, 2008, Updated to Vuze/Azureus 3, complete revision (
DVDBack23
)
v1.0
-- 11th October, 2004, First version online (
Dela
)