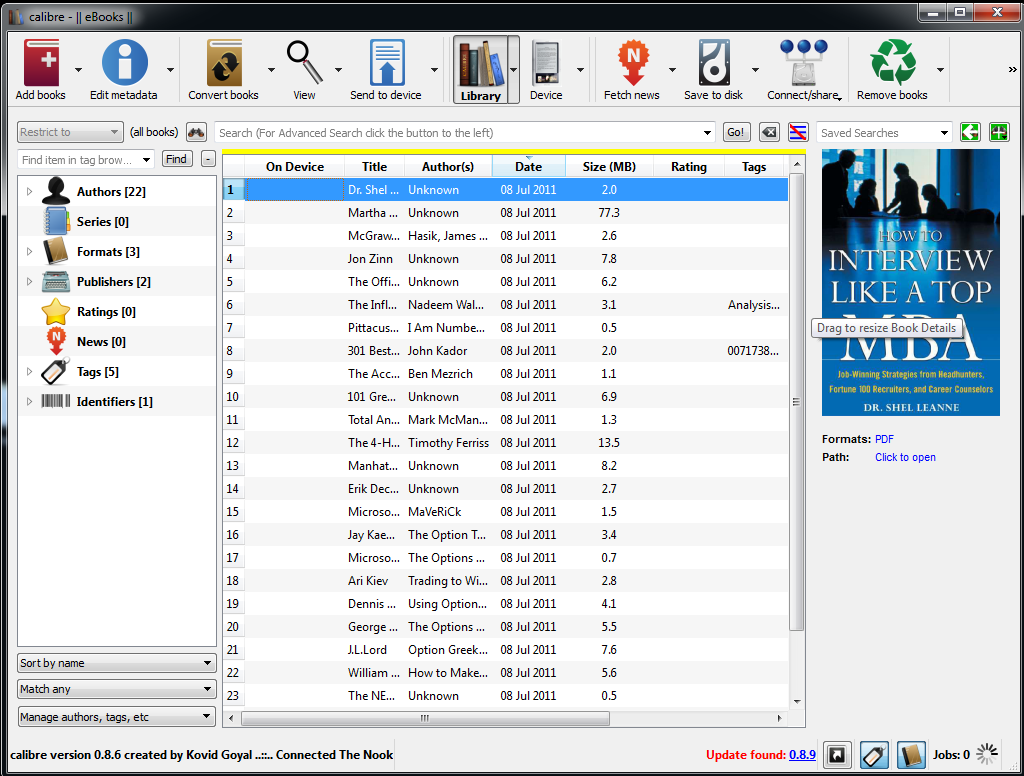 According to new figures from Pew Internet Research, e-reader ownership is moving at a blistering pace.

E-reader ownership among U.S. adults has jumped to 12 percent (as of June 2011) and is expected to continue to grow, especially as prices drop.

Current e-readers are priced down as low as $114 with an average of $140.

The following guide will teach you how to use the EXCELLENT and FREE e-book manager Calibre to index, convert and manage your e-book collection.

Please note that I am a Nook Simple owner, so please adjust outputs accordingly for your e-reader.

---
Introduction & Requirements
Software you must download

 Calibre E-book Manager
 Required: This is the only piece of software you will need for the guide, the excellent freeware Calibre. Download!
Getting Started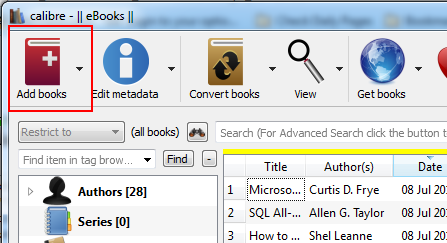 The first thing you want to do after installing Calibre for the first time is to add your e-books to the manager.

To do so, hit the "Add Books" button as pictured and you will be prompted to add any books in the following formats:






The process should be very quick (even if you have a ton of content) and your e-books should show up in the library momentarily.


Editing your library





Once everything loads to the manager, click on "Library" to check all your e-books. Likely, many of your books will be in PDF or a text-based document like DOC or TXT.

We are going to want to make sure everything is edited to look best for when it is transferred over, including cover and other metadata.






Select a book you wish to edit and hit "Edit Metadata." From here, and this is VERY important, make sure the title of the book is 100% correct. When you have written the correct title into the "title" box up top, hit the arrow to send it over to "Title Sort."






Now, click on the "Download Cover" button and the manager will search Google, Amazon and other sources to find the best cover for your e-book. Select the one you want and hit "OK" to be taken back to the main metadata page.






From here, hit the "Download Metadata" button on the bottom. When the book shows up (there are likely multiple versions) select the correct one and move on to the next page. The manager will fill in all the relevant data, including authors, ISBN, summary, reviews, publisher and published data, among others.


Do this for all the rest of your titles, a very quick process and very rewarding, before moving on.



Need to convert to different format?





Depending on what your e-reader of choice is, you may have to convert your files to a different format. Calibre makes that very simple. Hit the "Convert Books" and select either individual or bulk, meaning you can convert all your books at the same time with the same settings.








Select the Output Format for whatever your e-reader requires. For example, the Kindle line does NOT accept .EPUB files, so you would need to convert your books to MOBI or PDF. The easiest way to make sure the pages are formatted correctly for your device is from the "Page Setup" button on the left (pictured). Select your e-reader from the list.








Moving your library over to your e-reader





All that is left now is to move all your newly edited and converted e-books over to your device. (For me that is the great Nook Simple Touch).






Select all and hit "Send to Device." You will be asked if you want to send to "Main" (which is the internal memory) or any other memory the device may have (SD, microSD, etc).












Check to make sure they all there by hitting "Library" and making sure the books are checked next to "On Device."



Closing thoughts

There are a couple more simple features to go over, including saving books OFF of the player and using Calibre like an e-reader on your computer.





To save books off of your e-reader (perhaps you HDD died) or off of a friends player, simply head over to "Device" then highlight the books you want (Ctrl+A for all of them) and hit "Save To Disk." You will be prompted to choose the directory of where to save them.





Furthermore, you can use Calibre to read all types of file types on your computer by simply hitting "View." You can also randomize and read a book that Calibre will select for you from your library.



Finally
That concludes our guide on how to use the excellent freeware Calibre to index and convert your e-books. If you would like to discuss this guide or similar things, then please visit our Discussion Forums