Some of the most asked questions around the Xbox 360 are to do with getting the console connected to a wireless network once the WiFi add-on has been purchased. For some it is very easy, especially if they set-up their own networks. However, in a time when ISPs are handing out free full-function wireless routers with their services, some users might be unaware of their security settings or other information that they need to connect the Xbox 360 to the network. If that is you, then hopefully this guide will help.

---
Introduction & Requirements
The first page of this guide deals with manually inputting settings if you are using a passkey that you know as your security (
WPA-PSK
). The
second page
is for people who are unaware of this information. For page two, you will need a Windows computer (preferably Windows XP SP1+) that is connected to your wireless network, and a USB memory stick. The settings will be copied to the USB memory stick, detected by the Xbox 360 and automatically applied. If you need to go to page two for the semi-automatic approach, then click here to go there instead.
Otherwise, get your passkey/codes and your
SSID
ready. Plug in your WiFi Adapter and clip it on to the back of the Xbox 360 and turn on the console.
Xbox 360 Dashboard --> My Xbox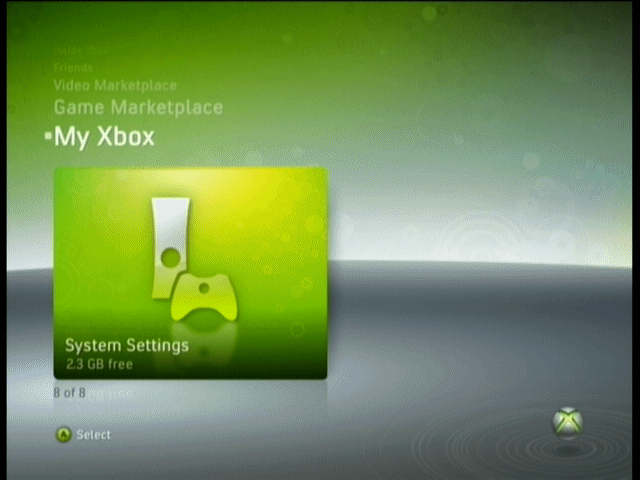 Under the
My Xbox
menu on the Xbox 360 dashboard, navigate across to
System Settings
and press
A
. (Sorry if you have not yet upgraded your Dashboard, if you haven't,
maybe this link will help
).
Xbox 360 Dashboard --> System Settings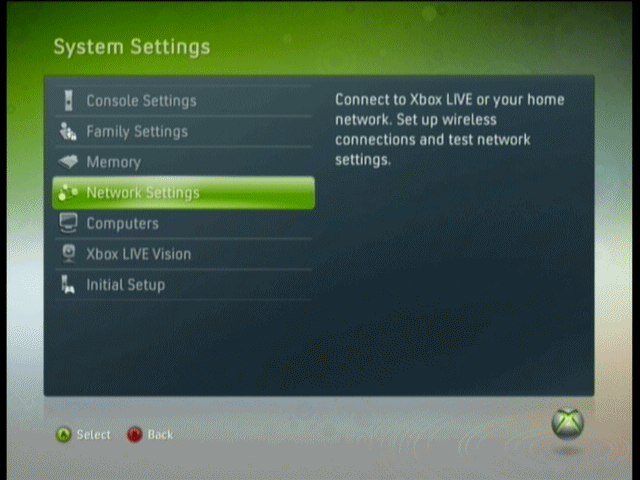 Under
System Settings
(as shown above), use the controller to scroll down to
Network Settings
and press
A
again.
Xbox 360 Dashboard --> Network Settings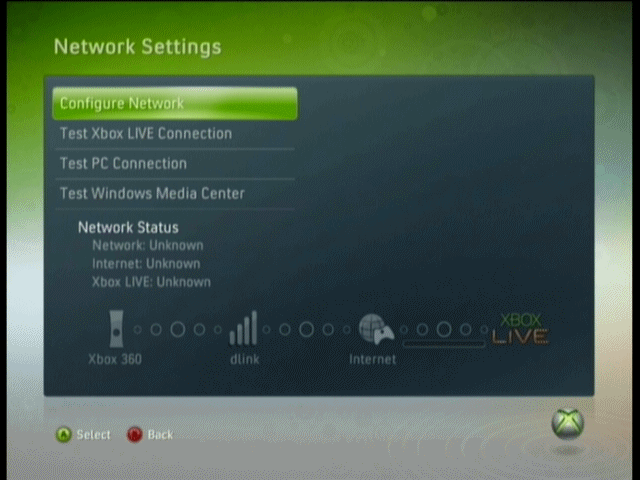 Under
Network Settings
you can run some connection tests which can come in useful in diagnosing some problems you run into with
Xbox Live
and
Media Sharing
features. But the first, and default option, is the one we need. Select
Configure Network
and press
A
.
Xbox 360 Dashboard --> Network Configuration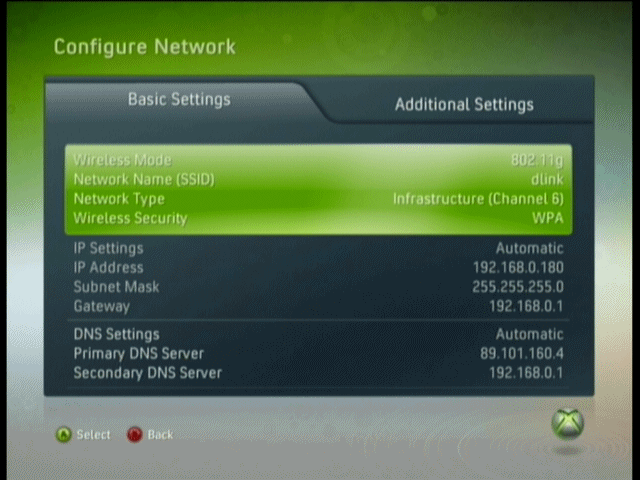 In all likelihood, your picture of the
Configure Network
options will be much different to mine (seen above) as my Xbox 360 is remembering my Network settings. Under
Basic Settings
, highlight the first block of information (
Wireless Mode
) as shown above, and press
A
.
Xbox 360 Dashboard --> Wireless Settings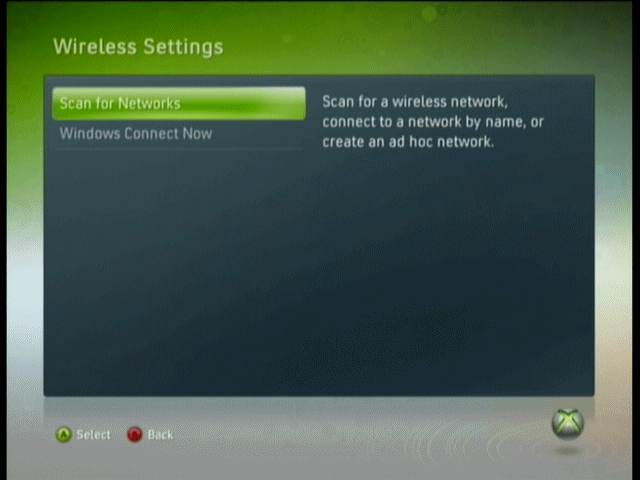 Here is where you have two options. The first will run a scan for your network (which you should know based on the
SSID
) and then give you a chance to input the wireless security information yourself. The second option is shown on page two, using
Windows Connect Now
to make the task almost entirely automatic. For now, click
Scan for Networks
.
Xbox 360 Dashboard --> Scan For Networks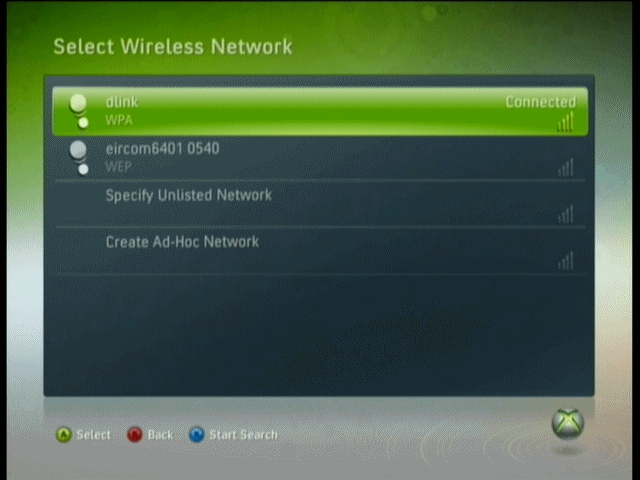 Like my picture above, you may come up with multiple networks in your range, especially if you live in an apartment block, which is why it is good to know your SSID. If you don't get a result, then get your SSID (the name of your network in Windows, rest mouse over the small WiFi icon in the system tray). If you can't get your SSID and your network is not listed in the results, then try the option on
Page 2
instead. Assuming you find your network in the results, select it, and press
A
.
Enter Security Information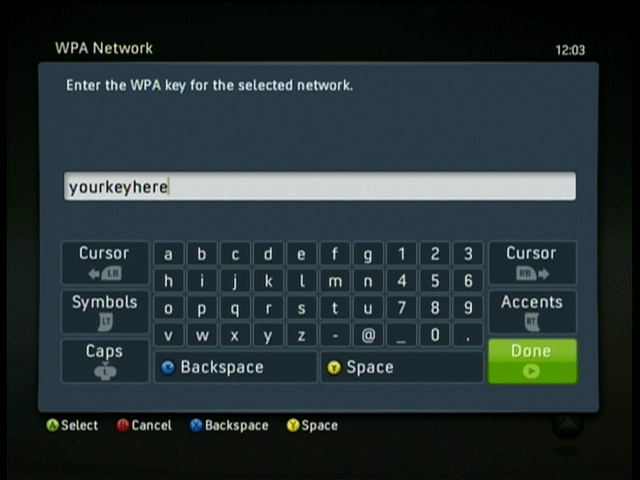 Assuming you use a passkey / code you will now get a picture like the one above asking you to enter a key for the selected network. I'm sure you have this key, if not then you should be on page 2. Enter the key, and then select
Done
, and press
A
.
Success?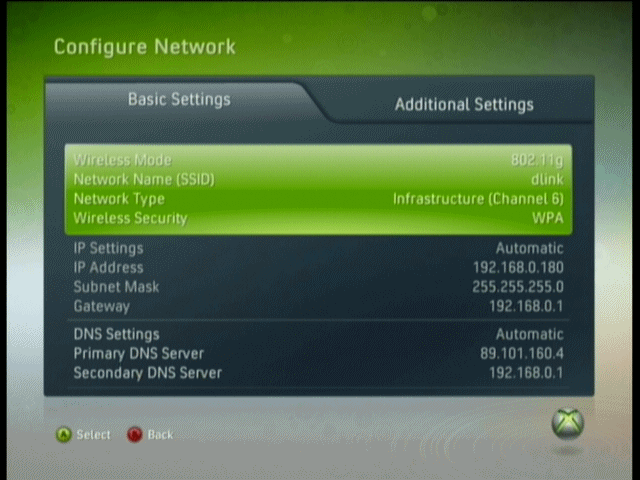 If you have entered the information successfully, you should now see network information slowly load up on the screen. You can now go into Network Settings again and test the Xbox Live connection to make sure you have access to the Internet. If this wasn't successful for you, then maybe the option on
Page 2
will help.
Page 2 - Windows Connect Now