DVD Shrink Re-Author Screen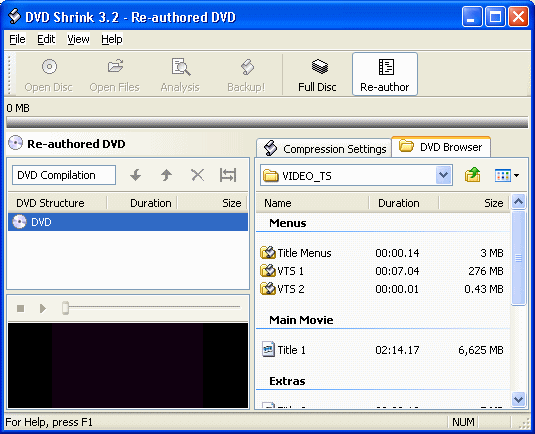 Click the
Re-author
button on DVD Shrink to open the Re-author screen. Let's take a quick look before we proceed. Now, on the left there is a new
DVD Compilation
area. Anything we want on the DVD will have to be added right here. On the right a new
DVD Browser
will open up. You can open any
VIDEO_TS
folder in this Browser and Shrink will read it for you and divide it into
Menus
,
Main Movie
,
Extras
and
Unreferenced Material
.
You will also notice an extra tab you can switch to called
Compression Settings
. This is very important but for now we don't need to switch to that tab. Back to the DVD Compilation for a second.
Notice also that we still have a
Preview Screen
. Again this is very important to ensure we select the right video. It will also allow us to ensure we have the correct audio track on the resulting DVD compilation. So now we need to get our Main Movie from the DVD Browser to the DVD Compilation area to continue.
Add Titles to Compilation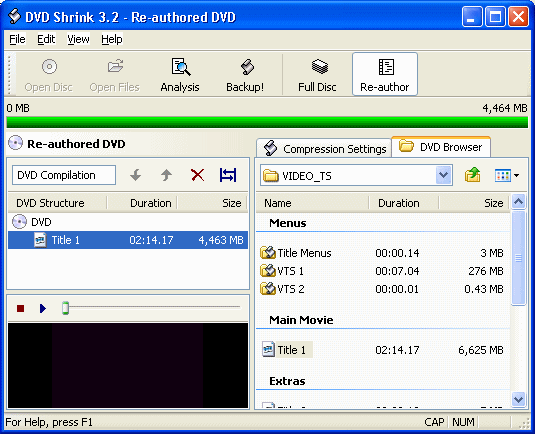 As you can see, DVD Shrink splits everything up in the
DVD Browser
into their respective Titles on the disc. It is possible to copy any of these Titles onto the DVD Compilation but it is important to know that any Menu content included on our New Compilation won't work so there is not much point copying it (It will simply play as video on the resulting DVD).
Here you can make use of the Preview window. Select any Title in the DVD browser and you can seek through it by dragging the
slider
on the
Preview window
. You can also play it with the Play button BUT do NOT try to seek through the video while it is playing or Shrink will likely get stuck.
Anything you do decide to copy over from the Browser to your DVD Compilation window can either be dragged across or you can right click on the Title and click
Add
. Remember, if you Add more than one Title onto the disc, you will need your DVD remote to switch between the Titles as you will have no Menu to do it yourself.
In my example picture I have added just the Movie. Now it is time to improve the backup quality by removing what we don't need.
Compression Settings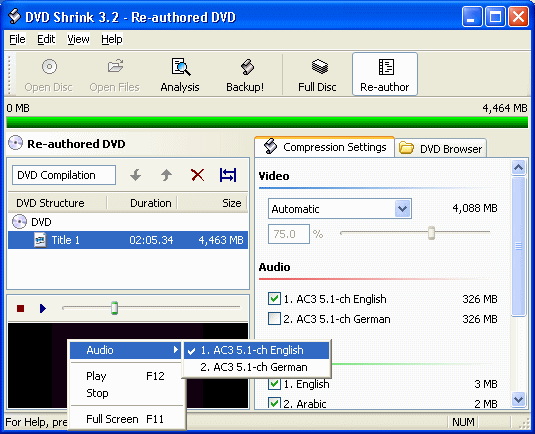 Another way to save space on the resulting DVD for better quality is to cut out any audio that you do not need. On most DVDs there is foreign audio and a lot of subtitles. Also there is directors commentary and often 2 tracks, one with 5.1 audio and one with 2.0 audio. Obviously, we don't need all of these tracks.
I only need the English AC3 5.1 channel track so I unselected the other two. However, to be on the safe side, click your
Main Movie
and then go down to the
Preview Window
. Right click and select the track you going to keep. Drag the slider into the middle of the movie and then press play (Do NOT seek through the video when it is playing). This will make sure you don't accidentally keep a directors commentary track or likewise instead of the proper track.
I recommend removing any
DTS
audio also because it takes up much more room than AC3. Of course, that depends on your own preferences when you watch movies. As for subtitles, I usually don't remove any as the space gained is never anything significant enough to make a noticeable difference on the output DVD, but this is a judgment for you to make yourself.
More compression options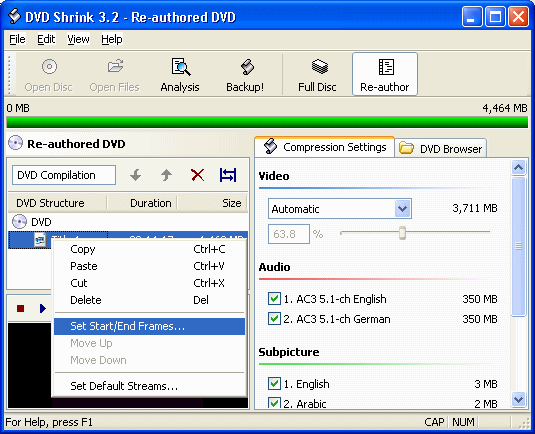 Removing audio is not all you can do to improve compression. A simple question; do you actually watch end credits after seeing a Movie? If not, then you can remove them easily with DVD Shrink. You can also set what Audio streams and Subtitles should play automatically when a disc is inserted into a DVD player
These extra options can be found by right clicking on a Title in the DVD Compilation window. Let's begin by chopping off the end Credits of the movie. Right click on your Movie in the
DVD Compilation
window and click
Set Start/End Frames
...
Set Start/End Frames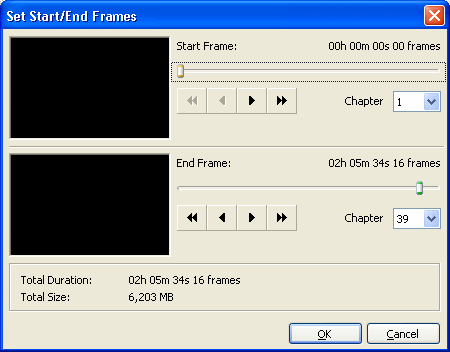 In this window you can set where the Video will start and where it will finish. This makes it possible to cut off both opening credits and the end credits. Cutting out the credits will improve your Video Compression ratio and give you better overall quality. As you can see, you select the
Start Frame
and
End Frame
by using a slider.
Alternatively you can also take advantage of the DVD chapters to cut out the credits. On my example, I have cut the video off after 2 hours and 05 minutes, cutting out all the end credits. I made these settings by just dragging the slider for each and using the buttons.
However, you can also just select by chapter. For example, the end credits on most DVDs begin at one of the last chapters (usually the second or third last you can select). Simply click the drop down button and check the last few chapters by clicking them and the slider will automatically go the frame that chapter lands on.
The buttons to navigate are easy to understand. << will let you sort of rewind through the video quickly if you hold it down. If you click it just once it will jump a lot of frames (about 5 second worth). < will move back just one
I Frame
if you click it once, if you hold it down it will also move backward through the video quickly. The same apply in the opposite direction for the > and >> buttons. Have fun making your selection.
Set default Audio and Subtitle streams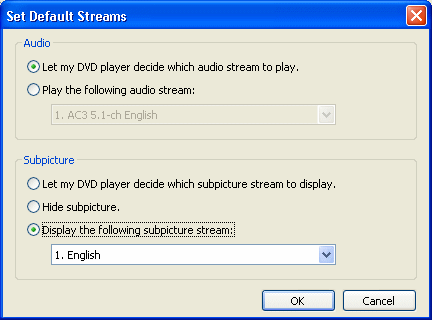 Right click on your Movie in the
DVD Compilation
window and click
Set Default Streams
. If you have more than one Audio stream, if you want you can change the setting to Play the following audio stream and select it from a drop down list. Otherwise the default setting will rely on how you have configured your DVD player to decide which audio to play. I'd recommend leaving it at default.
Now you can also choose if any
Subtitles
are to play automatically. You won't be able to set anything if you have no subtitles on your DVD though of course. Once again you can leave it at the default setting and let your DVD player's configuration decide which to use or you can switch to Display the following subpicture stream and select the default from the drop-down list. When you are done, click OK
Back to compression settings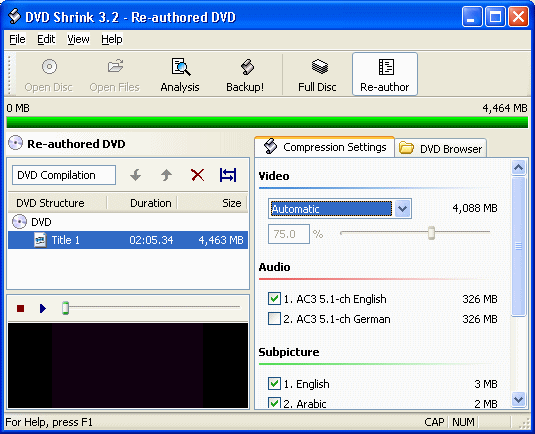 I just want you to have a look now and see how much of an improvement you made on your
Compression Ratio
. Mine is now 75.0%, another significant rise in quality. If yours isn't near this high and you've done everything that I mentioned, don't worry there are a couple of extra quality settings later on.
Quite often you will reach a Compression Ratio of 100%. This is excellent as now your Video does not need to be compressed at all and you will have the same quality as the original DVD. Ok, now it's time to build up our new DVD, click Backup!.
Output Options - Move to Page 4
On the next page, we take a look at your options when it comes to outputting the DVD-Video compilation.
---
More Related Content
| | | | | |
| --- | --- | --- | --- | --- |
| | | | | |
| | | | | |
| CloneDVD is a quick and simple tool that can copy an entire DVD in very little time. It has an easy step-by-step interface that makes the entire task much easier. | ConvertXtoDVD can take almost any type of video file and quickly encode it to DVD, ready to be burned and watched immediately, complete with menus, chapters, subtitles and whatever else you want. | Nero is arguably the best suite of CD/DVD/Blu-ray production and burning tools available. Complete with support for High-definition content, it is a true All-In-One multimedia solution for all. | CloneDVD Mobile can convert entire DVD videos, or clips from DVDs, into formats supported by portable media players, including mobile phones, PSP, iPod, iPhone, ZEN, Zune and more. | Have a large collection of digital photos? PhotoDVD will create professional looking DVD slideshows you can impress your family with. It supports almost all image formats and audio formats. Highly recommended. |
| Download | Download | Download | Download | Download |