DVD Shrink Interface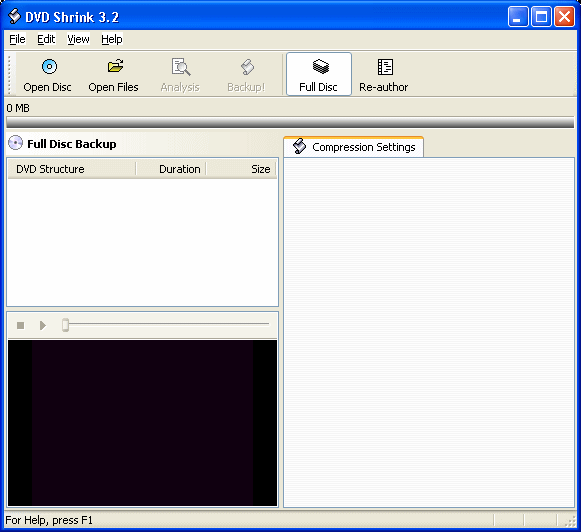 Open up
DVD Shrink
. There are really 4 main things to look at here. Up top we have a
button bar
consisting of 6 buttons, some of which we will use later. Below the button bars is a small colour bar (at 0MB and completely gray when you first open DVD Shrink, we will look at the difference in colours a little bit later). Below this is divided into two columns. On the left the top blank section is the
DVD Structure
box. Below this, the black screen is our Preview window (very much needed).
On the right side of the screen is the
Compression Settings
area. This is an incredibly important area as we use it to determine where the priority for quality will be on the output DVD.
Last thing, it is very important to know that this is DVD Shrink in
Full Disc
mode.
Re-author
is generally used when all you want on the output DVD is the main movie. We won't be using the Re-author section in this guide and once again I remind you that if you want to only keep the movie then
read a guide for that purpose by clicking here
.
Open a DVD in DVD Shrink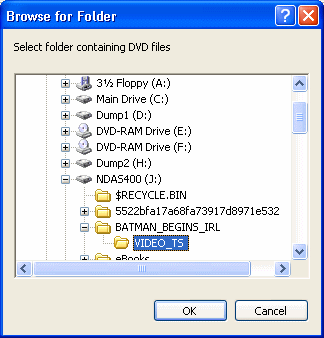 Open from folder on HDD
- To do this, click the
Open Files
button. A file browser will now open allowing you to navigate through your Hard Disc Drive contents. When you find wherever you ripped your files to, select the
VIDEO_TS
folder (or whatever folder the DVD Files
VOB
,
IFO
,
BUP
etc. are in) and click
OK
. DVD Shrink will now start analysis of the files (see below).
Open from DVD disc in DVD drive
- To do this, click
Open Disc
, select the drive number that the DVD is in and click OK. DVD Shrink will now start analysis of the disc (see below).
Important Notice on Copy Protection
You should be aware that if you plan to open your DVD from a HDD folder, you will need to copy (rip) it there first. However, we do not provide instructions for this for legal reasons. Even if you open directly from disc, chances are DVD Shrink will choke on protection on newer discs. The only recommendation that can be made is to check SlySoft.com's like-up, such as AnyDVD, which has been in the International Media frequently for being able to bypass protection on any DVD. Please note however that we do not suggest that you do this, and we are not instructing you of how, we are simply re-printing what we have read in the media.
What if you Encounter an Error?

If you should encounter an error like the one shown above, it could be due to any of several things. Likely candidates are copy protection problems (DVD Shrink is a few years old, it is no longer updated so it does not support a lot of new titles without help - see the Copy Protection notice above for possible solutions). Also the navigational elements of your DVD might be very wrong (often intentionally done). If your files are already on your Hard Drive (ripped), you can attempt to fix this problem with FixVTS.
Click here to read instructions on using FixVTS to adjust your DVD files into better DVD compliance.
DVD Shrink Analysis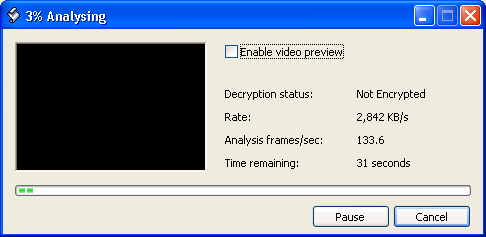 DVD Shrink will run a quick Analysis once a DVD has been loaded successfully. This will allow it to determine what parts of your DVD are what, for adjusting quality settings and other important details.
Compression Options - Move to Page 3
On the next page, we take a look at your options when it comes to resizing your DVD to fit on blank DVD media.
---
More Related Content
| | | | | |
| --- | --- | --- | --- | --- |
| | | | | |
| | | | | |
| CloneDVD is a quick and simple tool that can copy an entire DVD in very little time. It has an easy step-by-step interface that makes the entire task much easier. | ConvertXtoDVD can take almost any type of video file and quickly encode it to DVD, ready to be burned and watched immediately, complete with menus, chapters, subtitles and whatever else you want. | Nero is arguably the best suite of CD/DVD/Blu-ray production and burning tools available. Complete with support for High-definition content, it is a true All-In-One multimedia solution for all. | CloneDVD Mobile can convert entire DVD videos, or clips from DVDs, into formats supported by portable media players, including mobile phones, PSP, iPod, iPhone, ZEN, Zune and more. | Have a large collection of digital photos? PhotoDVD will create professional looking DVD slideshows you can impress your family with. It supports almost all image formats and audio formats. Highly recommended. |
| Download | Download | Download | Download | Download |