DVD Shrink Compression Options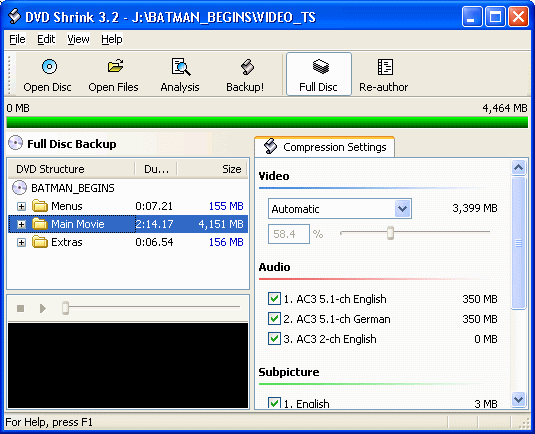 With
DVD Shrink
you can remove audio streams, subtitles and even turn an item you don't want on your DVD into a still picture. It is best to approach these options by parts of your DVD. The first part of this DVD i want to check the settings for is the Main Movie. On the left in the
DVD Structure
box I have selected the
Main Movie
"folder" (there is no Main Movie folder on the DVD though, don't get confused, this is just here to help). Click the little + beside the folder and you will see the
Titles
under Main Movie. In some cases there can be more than one title. I will show you in a moment how to determine which is your actual movie.
First though. Take a look into the
Compression Settings
on the right. Video is set to
Automatic
. This means that Shrink will automatically change the video compression setting when items are removed from the DVD (or when compression settings for other items are changed). Currently, the compression ratio is at
58.4%
from the original state, this is quite low. The best way to boost it is to remove audio tracks and subtitles you do not need.
A great way to save more space
There is one great option for saving more space on the Output DVD and making the overall quality much better. This is the option to convert your motion menus into still menus while retaining functionality. If you think you would like this, then check out Appendix A.
Automatic Compression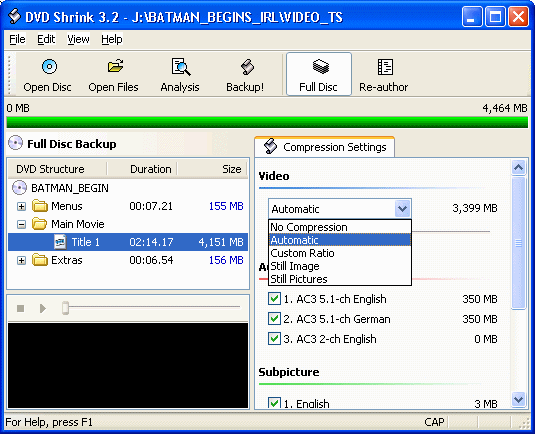 Automatic compression, as said earlier, basically means
DVD Shrink
will determine the best way to allocate the available space on the blank DVD to different parts of the DVD-Video, making the measurements in quality. It is highly recommended to keep it on Automatic unless you have used the program enough to know the difference in quality at different percentages.
Remove Audio & Subtitle Streams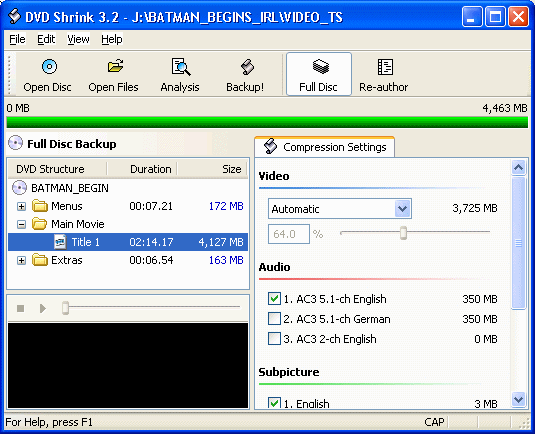 Another way to save space on the resulting DVD for better quality is to cut out any audio that you do not need. On most DVDs there is foreign audio and a lot of subtitles. Also there is directors commentary and often 2 tracks, one with 5.1 audio and one with 2.0 audio. Obviously, we don't need all of these tracks.
I only need the AC3 5.1 channel track so I unselected the other two. However, to be on the safe side, click your
Main Movie
and then go down to the
Preview Window
. Right click and select the track you going to keep. Drag the slider into the middle of the movie and then press play (Do NOT seek through the video when it is playing). This will make sure you don't accidentally keep a directors commentary track or likewise instead of the proper track.
I recommend removing any
DTS
audio also because it takes up much more room than AC3. Of course, that depends on your own preferences when you watch movies. As for subtitles, I usually don't remove any as the space gained is never anything significant enough to make a noticeable difference on the output DVD, but this is a judgment for you to make yourself.
Replace DVD Extras with Still Images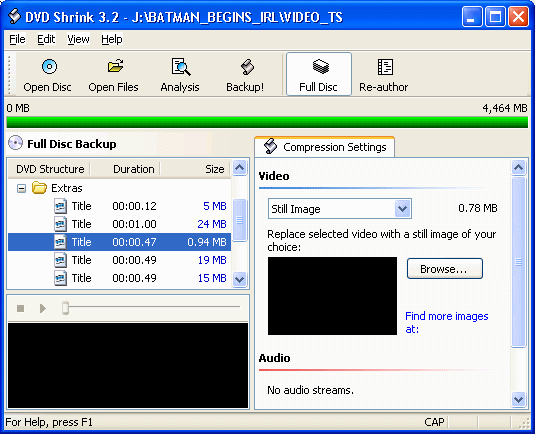 There may be some extras you do not want to keep. If this is the case, click the + beside Extras to see just how many you are dealing with. Check all of the content in the preview window before you decide to cut anything. I found some anti-piracy notices on mine. I'd prefer not to have to sit and wait through them so I select them and change the
Video Compression
on the right to
Still Image. A
still image will now be placed here instead of the video. You cannot remove the video with DVD Shrink however, this will mess up the DVD Structure.
As you can see, you can click
Browse
and choose a picture from your HDD to put there instead of the video also. There is also another option under video compression you can use,
Still Pictures
. This converts the video into single frames at 0.5sec intervals. It's not very useful unless for some reason you want to keep the audio.
Using Custom Ratios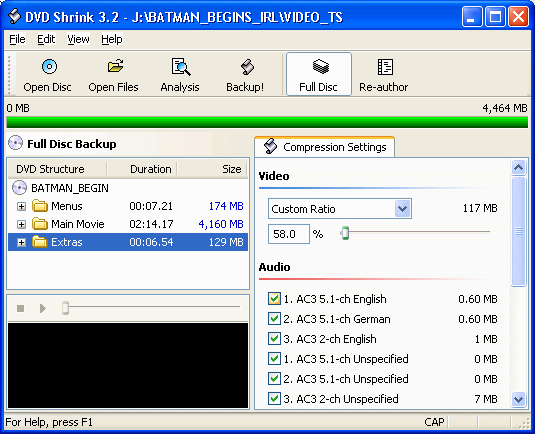 One way to push up the quality of your main movie is to go to
Extras
, change the
Compression
to
Custom Ratio
, and manually move the slider down as far as possible (58% in my picture). With
Main Movie
left on
Automatic
, this will improve the quality there as more space becomes available. You can also do this with menus. The higher the quality of the Main Movie, the better.
Output Options - Move to Page 4
On the next page, we take a look at your options when it comes to outputting the DVD-Video compilation.
---
More Related Content
| | | | | |
| --- | --- | --- | --- | --- |
| | | | | |
| | | | | |
| CloneDVD is a quick and simple tool that can copy an entire DVD in very little time. It has an easy step-by-step interface that makes the entire task much easier. | ConvertXtoDVD can take almost any type of video file and quickly encode it to DVD, ready to be burned and watched immediately, complete with menus, chapters, subtitles and whatever else you want. | Nero is arguably the best suite of CD/DVD/Blu-ray production and burning tools available. Complete with support for High-definition content, it is a true All-In-One multimedia solution for all. | CloneDVD Mobile can convert entire DVD videos, or clips from DVDs, into formats supported by portable media players, including mobile phones, PSP, iPod, iPhone, ZEN, Zune and more. | Have a large collection of digital photos? PhotoDVD will create professional looking DVD slideshows you can impress your family with. It supports almost all image formats and audio formats. Highly recommended. |
| Download | Download | Download | Download | Download |