Burn DVD Shrink Output to DVD with ImgBurn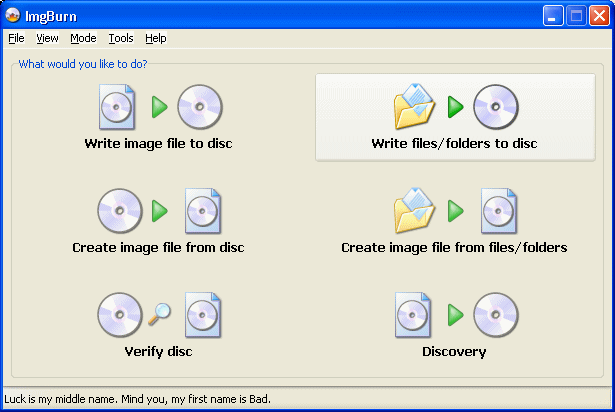 On your first run of ImgBurn you will be given a list of six options to determine what kind of disc you intend to create. For this guide, we are burning Files / Folders directly from HDD to a blank DVD disc, so select the
Write files/folders to disc
option.
ImgBurn Build Mode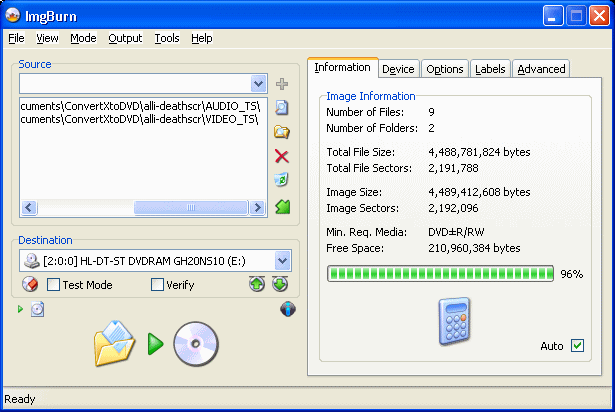 ImgBurn will now enter
Build Mode
, letting you add Files and Folders to the compilation. You now must add the DVD files to
ImgBurn
. Usually you will have a
VIDEO_TS
and
AUDIO_TS
folder. Simply drag and drop both folders into the ImgBurn Source box on the left side of the program. It should look like the picture above this text. (Note that for compatibility reasons, even if you only originally have a
VIDEO_TS
folder, create an
AUDIO_TS
folder and leave it blank, and add it to the compilation).
Also take note that the calculator on
ImgBurn
is set to work automatically, showing how much of your disc will be taken up by the files. If your
DVD
files are larger than 4.36GB, you are going to need to either use dual layer media or compress the DVD.
ImgBurn Device Tab
Under
Device
settings the noticeable changes that can be made are
Write Speed
and
Copies
, you can adjust these to whatever suits but keep the speed in line with what is reported as
"Supported Write Speeds"
above. If you are using
DVD+R
media now, you can increase compatibility with
DVD
hardware by changing the
BookType
if you have a compatible burner. If so, then click the book icon (the small icon on the lower right hand corner, across from the Copies field).
A new window will pop up.
Change Booktype for DVD+R media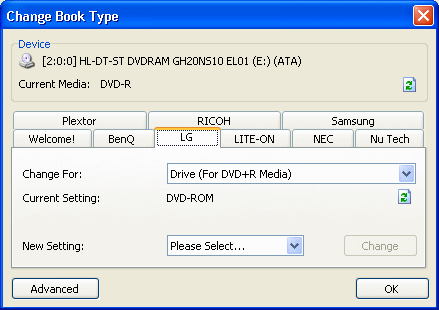 Select the manufacturer of your compatible burner. Mine is
LG
in the demonstration picture. As you can see, I have set
"Change For"
to
"Drive (For DVD+R Media)"
and changed new setting to
DVD-ROM
. This will make most DVD hardware more compatible with the disc and will almost eliminate the old problem of DVD hardware being incompatible with
DVD+R
media.
You will need to click
Change
. If the
BookType
setting is changed correctly, you will get a
"Success!"
message. Click
OK
. Click the
Options
tab now.
ImgBurn Options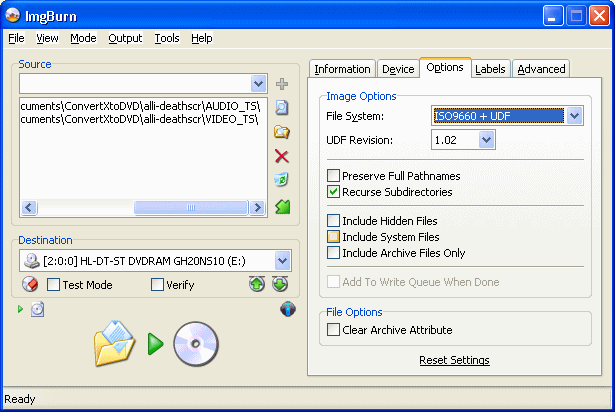 The important thing here is to make sure that
File System
is set to
ISO9660 + UDF
and tick
Recurse Subdirectories
. Now move on to the
Labels
tab.
ImgBurn Labels Tab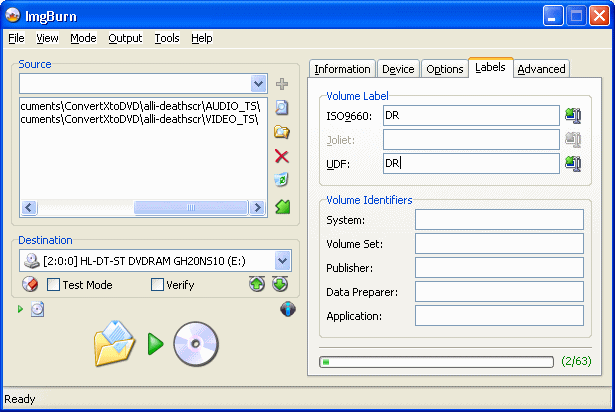 Give your
DVD
a name. I have set the
ISO9660
setting to
"DR"
and
UDF
to
"DR"
. You can fill in the rest of the
Volume Identifier
fields if you wish to do so but none of this is necessary.
The Burning Process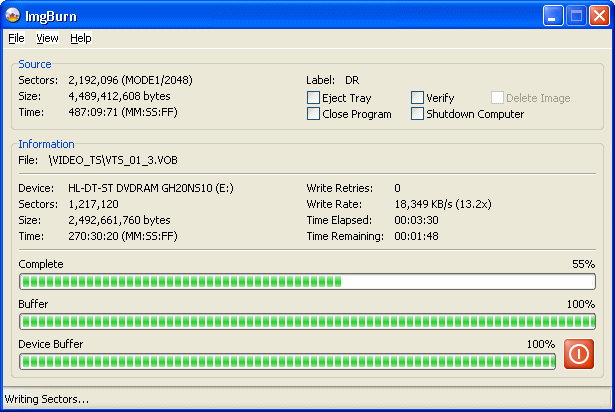 To start burning, click the
Burn
button (the burn button is a Folder with an arrow pointing to a Disc).
The burning process will take time depending on the speed of burning and the amount it has to burn. If you have
Verify
ticked, it will run a quick check when the burning is finished to make sure there was no loss of data while burning that could lead to a defective useless disc.
Successful Burn?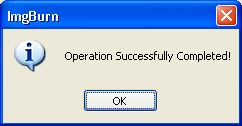 If the burn was successful then you will get the message shown above indicating so.
Finally
This brings us to the end of the guide. Hopefully you will have been able to produce a high quality DVD backup by reading this guide. If you have any problems or need help in any way please visit our
Discussion Forums
for assistance.
Compressing Menus- Move to Appendix A
The guide is finished. However there is one more option for future reference that was mentioned earlier in this guide and that is MenuShrink. In Appendix A (Page 6) we will cover converting motion menus to still menus.
---
More Related Content
| | | | | |
| --- | --- | --- | --- | --- |
| | | | | |
| | | | | |
| CloneDVD is a quick and simple tool that can copy an entire DVD in very little time. It has an easy step-by-step interface that makes the entire task much easier. | ConvertXtoDVD can take almost any type of video file and quickly encode it to DVD, ready to be burned and watched immediately, complete with menus, chapters, subtitles and whatever else you want. | Nero is arguably the best suite of CD/DVD/Blu-ray production and burning tools available. Complete with support for High-definition content, it is a true All-In-One multimedia solution for all. | CloneDVD Mobile can convert entire DVD videos, or clips from DVDs, into formats supported by portable media players, including mobile phones, PSP, iPod, iPhone, ZEN, Zune and more. | Have a large collection of digital photos? PhotoDVD will create professional looking DVD slideshows you can impress your family with. It supports almost all image formats and audio formats. Highly recommended. |
| Download | Download | Download | Download | Download |