In this guide we will look at how to record video using the SopCast P2PTV application. Even if you have never used SopCast, this guide will be easy to follow for you. It also includes instructions for recording with VLC media player which gives a wider variety of output formats and profiles to choose from then SopCast's internal recorder.
---
Introduction & Requirements
Software you must download and install

SopCast
Required: You should have the latest version of the SopCast P2PTV client installed on your Windows computer. Download!
VLC Media Player
Optional: The second page of this guide shows how to use VLC Media Player to record instead of SopCast itself, giving you more control over the output. Download!
You most likely are already aware of what SopCast is, but if not; it's a P2PTV program that allows you to view and stream video content. It is used a lot for sharing Sports Events and for common TV channels from all over the world. It has the ability to record video built in, but this can be built upon by using
VLC Media Player
also (optional).
SopCast First Run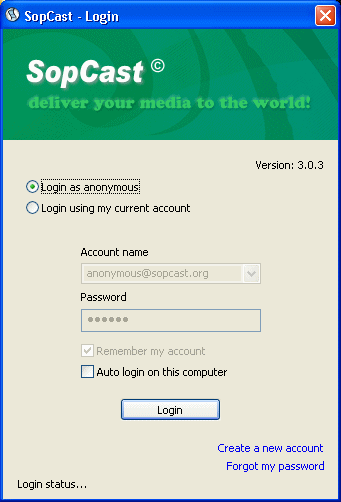 Once you have installed SopCast, run the program and you will be asked to
Login
. You do not need to create a user account for SopCast, it will work just fine (for viewing at least) if you choose the
"Login as anonymous"
option instead of creating an account. It is likely that most users opt to login anonymously.
Select the option and press
Login
.
Playing a channel in SopCast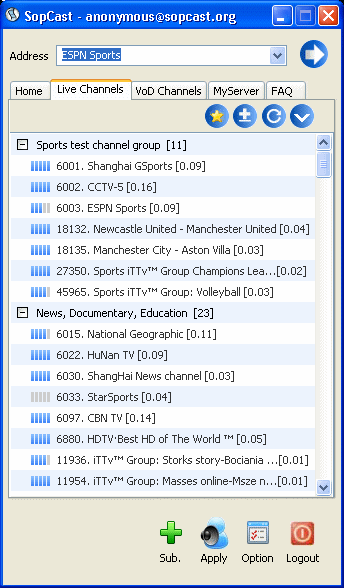 Once SopCast loads up and you are logged in, click
Live Channels
. As seen above, you will now have a list of channels to choose from. In order to play a channel, simply double click on it and you will see SopCast's internal media player extend from the side of the program to play it in a small window.
SopCast Media Player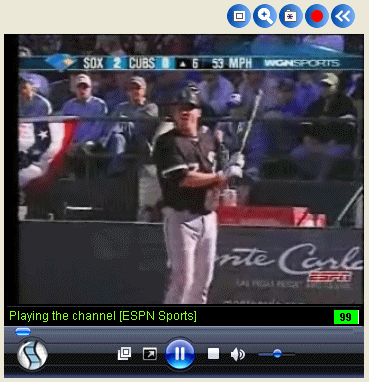 The channel will begin playing in the media player (you can view Full Screen by double-clicking). Keep an eye on the buffer (mine shows as 99) as it will indicate the strength of the signal you will be getting with your channel. The closer to 100, the better. Anything lower will result in jumpy playback or freezing.
Anyway, if you look at the picture above, there are some buttons above the video. The one to take note of here is the second from the right. It is the Record button. Click this button whenever you want to begin recording.
Choose a Save File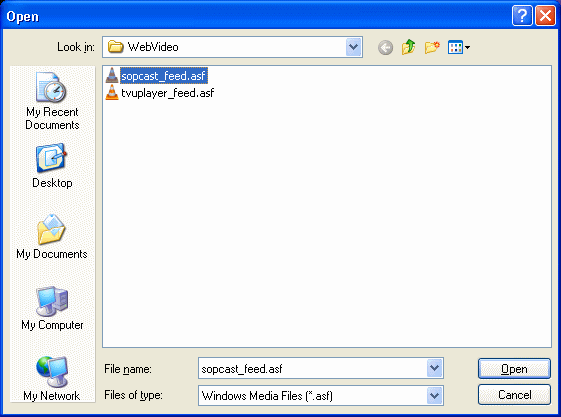 An File Browser window will now pop-up. You need to specify what folder you want to save the recorded video file to. As seen in my example, I chose WebVideo and the name
"SopCast_Feed.asf"
. The SopCast internal recording functions will always output to the
ASF
container so be sure to remember the extension .asf. When you have selected a folder and filename, click
Open
.
Recording?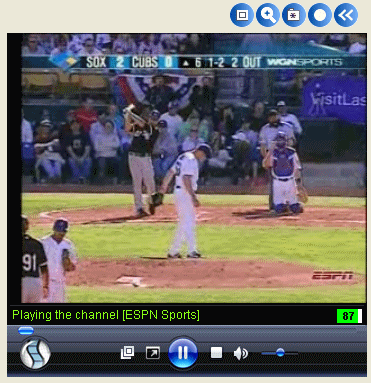 If the application is recording the video, the red circle will now have changed to white. That is the only indicator that SopCast is recording at all in fact. To stop it recording, simply click the White Circle button and after a couple of seconds it will change to Red. Then you need to go and check your SopCast recording to see how it came out (Read:
How to play ASF files
).
Use VLC Media Player Instead?
You have one alternative option to SopCast's own saving abilities. VLC Media Player will allow you to record from the SopCast stream into specific formats / codecs / bitrates etc. Be aware that this does not mean that will provide any higher quality than SopCast, but if you, for example, wanted to encode the video to work on a PSP without having to do that part later, then this should work well.
Optional: Page 2 - Use VLC to Record SopCast Video