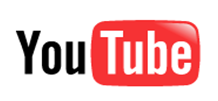 This article looks at saving video content from YouTube, MySpace, Google Video and plenty of other sites to your Hard Drive for offline viewing or further editing/converting. It uses free software called save2pc Light to achieve this task. It is a very basic and simple guide and should be easily understood by anyone with a basic knowledge of the Web.

If you would like to download High-definition YouTube videos, when available, you can do this by using the Firefox web browser. Instructions for saving High-definition video from YouTube.com are available on Page 2 of this guide.
---
Introduction & Requirements
Software you must download and install

save2pc Light
Required: Save2pc Light will allow you to download standard definition YouTube videos to your HDD as FLV video files. It is required. Download!
Mozilla Firefox
Optional: If you want to save High-definition videos from YouTube when available, you will need to be using the Firefox browser. save2PC Light freeware doesn't download HD. Download!
save2pc Light
is freeware and it can take a URL from many popular video websites and download them to your hard drive, nice and easy. This gives you access to millions upon millions of free videos that you can play back from your hard drive, or later encode to DVD, iPod, PSP, Mobile Phone, PS3, Xbox 360 etc. All you need is to be able to copy and paste links. Open a
YouTube
video that you like, and select the text in the address bar. Hold down
CTRL + C
at the same time to copy the text to the clipboard, you can now paste this text anywhere (any text editor) by pressing down
CTRL + V
, and that's about all the skill level you need to get standard YouTube videos.
In 2009, YouTube started offering videos in High-definition. You can find thousands upon thousands of features and trailers in beautiful 720p widesceen video on the site. Of course, you can now also save these videos to your hard drive too. For that, you don't even need save2PC Light, just the
Firefox
web browser (or any browser capable of saving and loading bookmarks). For instructions to save YouTube HD videos using Firefox,
check out Page 2
.
Download and install save2pc Light, then launch it from the Desktop shortcut it creates during installation.
save2pc Light - Simple Interface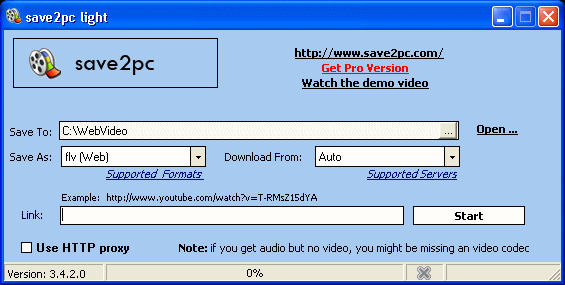 save2pc Light does not try to make this process complicated in any way. It has a
"Save To:"
option that allows you to choose where your downloaded videos will go. You can type out a location, or click on the
"..."
button (beside open) to select a folder from an Explorer window.
"Save As:"
lets you choose what format you want to save to. Leave this at flv as the other options are reserved for the Pro (not free) version of the software, and FLV means there will be no encoding done to degrade quality any further.
"Download from:"
has a list of supported sites. You can specify which site you are downloading from if you want, but the program can determine this automatically from the URL too. There is an option to use a
HTTP proxy
if your Internet connection requires it (if it don't know, then it most likely doesn't). Finally there is the
"Link:"
area, this is where you paste in the video URL.
Add Video URL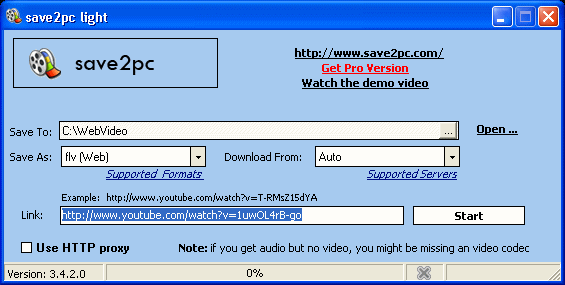 Copy the URL of the video you want to download (that you just watched on
YouTube
or some other site in your browser). Now paste the link into the
"Link:"
field as shown in the picture above (see
Introduction & Requirements
above if you can't copy and paste). Make sure you enter the URL without spaces in the middle of it or anything that will make it invalid.
The Downloading Process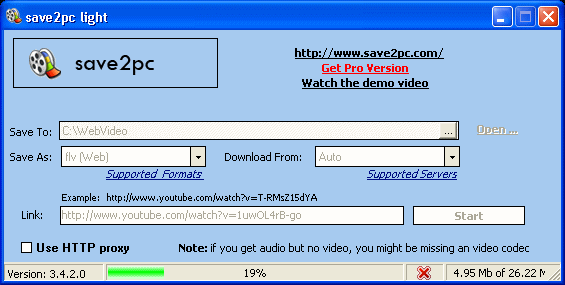 Press the
Start
button and the video will begin downloading. You can see the progress bar light up as more of the video gets downloaded, and to the right of the progress bar is information on how much data has been downloaded so far. Clicking the red
X
will cancel the download any time.
Download Complete?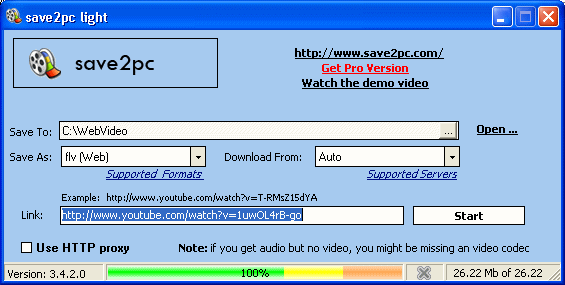 save2pc Light does not give any pop-up notification for a successful download, but you will know it is complete when the progress bar reaches 100%. Now to check the downloaded video on your Hard Drive, click the
"Open..."
link beside the
"Save To:"
textarea to open the Download folder.
Download Folder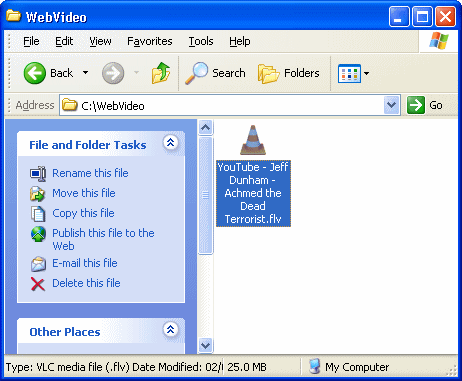 As shown in the picture above, the video will now be saved. The filename will be the title of the video, determined by the program when it accesses the URL that you provide. It will carry a .flv extension, which is a flash video file. If you do not know how to play these types of files on your computer, then please look at our
How to play FLV files
article.
Want HD videos? - Move to Page 2
So now you know how to use save2PC Light to download standard definition YouTube videos. How would you like to be able to download YouTube HD videos that will be automatically playable on Xbox 360, PS3 and other equipment. Check out page 2.