SopCast - A Popular Option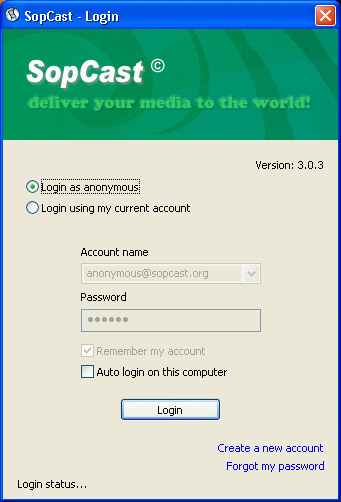 SopCast
is one of the most popular options for viewing live TV content online - if not the most popular now. Like TVAnts, users share their own content through the software and it is shared using
P2PTV
technology.
SopCast
is advertised as enabling users to
"serve 10,000 online users with a personal computer and a home broadband connection."
It is regularly updated and is probably the biggest source for shares of premium TV content.
When you install and run the program you have an option to create an account, but it is not necessary. You can choose to
"Login as anonymous"
and watch TV content without any hassle. So
Login
.
SopCast Channel List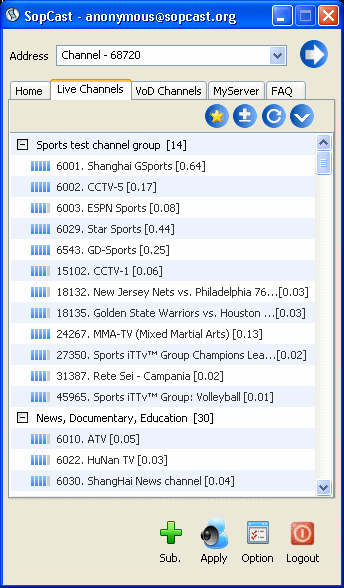 SopCast
carries a channel list (not everything being shared will be shown here) that usually has some gems in there for you to watch if you want. As you can see in the screenshot above, it carries channels such as
ESPN
and
Star Sports
which often show football games. You will also see that some channels are titled as a game itself, these may be temporary shares just for a game that will cut out when it is over.
To view a channel, simply double-click it from the list.
Viewing a SopCast channel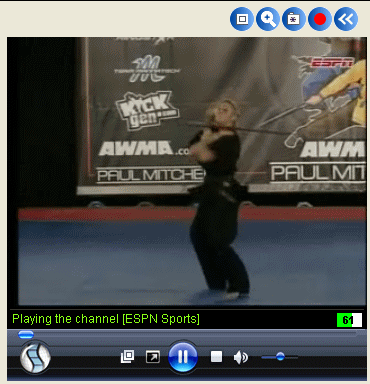 SopCast
has an internal player that uses Windows Media Player to show content (see above), Notice the little
"61"
at the right side of the program, this indicates the state of the buffering which is taking place in the background. Obviously you want this to be around 100 as often as possible, but channels will load and stay playing smoothly while this number jumps back and forth. You can view in full screen by simply double-clicking the picture.
SopCast
has one excellent feature, it allows you to break the video feed away from the program and to your own reliable media player, as we will now see.
SopCast Settings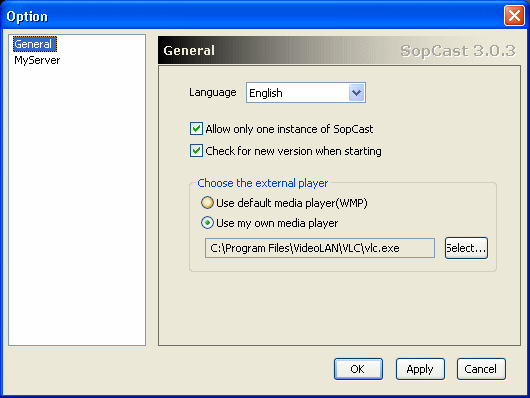 Click the
Option
button on the
SopCast
main application and you will get to its general settings (as shown above). Here you can pick the language you want the program to be displayed in and whether you want to allow only one instance of SopCast at a time (running more than one will cause bad quality on most connections) You can choose whether
SopCast
will check for a new version every time it loads as well.
The interesting part here is the
"Choose an external player"
option. The default media player is Windows Media Player, but as you can see from my screenshot you can choose your own Media Player as an external player by simply clicking the
"Select..."
button. I have chosen the VLC Media Player. Let's see how that works. Click
Apply
and
OK
to exit.
SopCast - Using an External Player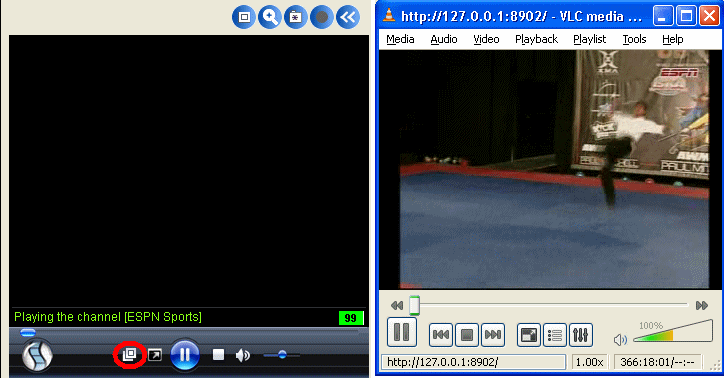 If you look at the picture above, on the left is the internal SopCast player. Notice the button that I put inside the red circle. If you click this button, it will launch whatever external player you would prefer to play your channel on. If you look on the right, that is VLC Media Player now playing my channel (and VLC provides some excellent extra opportunities in terms of streaming and recording). I always liked this feature.


SopCast - Final Thoughts
Pros
Always has good channels and content shared
Channels are surprisingly stable
Can use External player
Easy to Use
Associates "SOP://" with web browser to load channels from websites
Cons
We have had compatibility problems with Vista
SopCast is one that I would definitely insist that you install on your computer and keep there for when you want to watch something. Chances are you will find a feed. It is probably the most used program for football games for example. It is the most downloaded program of this type on this website.
---
TV Sharing Websites and Other Sources
One thing you will quickly find is that the above programs are far from the only options when you are looking to view content online. Some websites, such as
Justin.tv
, will carry feeds you can watch in your web browser often to feeds shared of premium sports events, for example. Other sites are more specific, such as
free-football.eu
. One always worth checking out is
MyP2P.eu
as it indexes specific games and events, and has even more links on the forums (the links open up software such as SopCast, TVUPlayer and TVAnts when clicked). When looking for sharing sites, Google is your friend.
Legal Issues
There is one thing to remember. If you live, for example, in the UK and you use a P2PTV program to watch and share a feed from Sky Sports, this could possibly get you in trouble. Chances are nobody would bring any threats over simply watching the channel, but as you watch with P2PTV programs you are sharing (streaming) in the background, which could been seen as pirating a signal. This is relatively untested territory for now (although Justin.tv and MyP2P.eu have has legal threats for what they provide) and is made more complicated by borders. For example, if you are watching a football game (English Premiership) from an Asian source, and the same game is showing on Sky Sports, then to what level is that activity illegal if at all?
So this is just a warning. This will be tested over the coming years as the broadcasters try to keep their multi-million exclusives for their paying customers only.
Finally
My hope is that if you have never used any of these programs before, that now you at least know what you are doing and have somewhere to start from. For further assistance, please visit our
Discussion Forums
and ask for help there.