Installing the new OS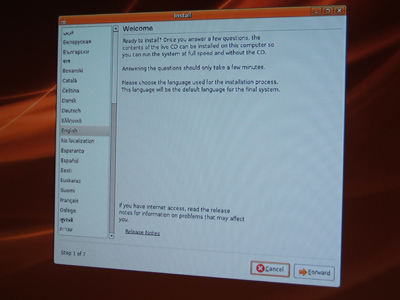 After changing the output resolution and typing "install" into kboot wait 2-5 minutes and finally the nice Ubuntu wallpaper will show up and the first of 7 steps will show up.
The first step is selecting the language you want. I selected English. Hit
Forward
to move to the next screen.
The next step is selecting where in the world you are. If you are connected to the Internet it will automatically find where you are but if not you may have to select is manually. There is a small glitch in this step however. Sometimes you will pick the correct timezone, but the clock will still be incorrect. This can be corrected once Ubuntu is installed so don't worry. Once you have set your correct location hit
Forward
once again to move to the next step.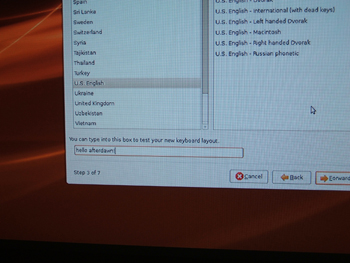 The next step is simple as well, selecting the type of keyboard layout you want. I have selected US English and tested out the layout in the provided box. Once again, hit
Forward
to move on.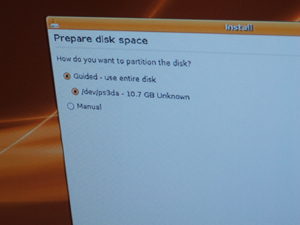 The next step is equally as simple. Select
Guided
and make sure
/dev/ps3da- 10.7GB
is selected. Hit
forward
one more time and we are almost done.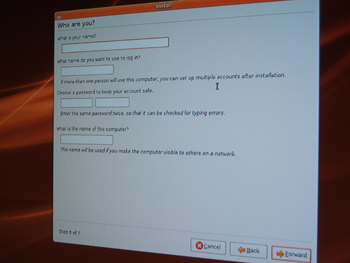 The final step is to add all your user information (as if it were Windows or Linux on the PC) including name, user name, password to login and the name of your PC for identification on a home network. Finally, hit forward one last time and make sure all of your details are correct. Hit
Install
and let it go!
In about 30-40 minutes, Ubuntu will have installed on your system and you can now use the many features of having Linux on your PS3. :)
(Don't forget to download
VLC for Linux
so you can play those pesky
MKV
files.)
Important note
An important note for users who want to go back to the XMB to play games. When kboot loader launches type in
boot-game-os
to launch XMB. Simple as that.
Finishing Up
So you have now fully installed UbuntuPS3 on your PlayStation 3 console :) If you have any questions or comments please post them in our PlayStation 3 Discussion Forum.

For more information on the actual console, please view here: PlayStation 3 at the Afterdawn Hardware section
Version History
v1.0 -- First Version Published-- by
DVDBack23
(22/08/2008)