Downloading WMP 11
The key to this installation is in skipping some steps Microsoft's installer. You'll need to download the installer, which is really a self extracting archive, to your hard drive. You can get it directly from
Microsoft
. Once you have it downloaded you'll need to use an archiving program like Winzip or WinRAR to extract the contents. For this guide we'll be using the free 7Zip archiver to extract the files. If you don't already have 7Zip installed you can download it
from our Downloads section
. The installer is very simple, and may require that you reboot your computer when it finishes.

With 7-Zip installed and your computer rebooted, open My Computer and find the downloaded installer for Windows Media Player 11. If you right-click on it you'll see a new context menu item labelled 7-Zip. If you hold your mouse over 7-Zip you'll see several options, including one to Extract Here. Select it and 7-Zip will extract the files in the archive. You should end up with a folder containing many files, including the ones the WMP 11 installer would have used to install the program. We'll run these programs ourselves to achieve the same results.







Which Programs To Run
Start by double clicking on the program called wmp11.exe. Depending on your Windows settings it may display as just wmp11, with no extension visible. This will install the main Windows Media Player components. When it finishes you'll be prompted to reboot your computer. Make sure you do this before moving on to the next step.

When your computer is restarted you'll need to run three more programs from the extracted archive - umdf.exe wmdbexport.exe wmfdist11.exe. Once again you'll have to reboot when you're done.





Extract More Files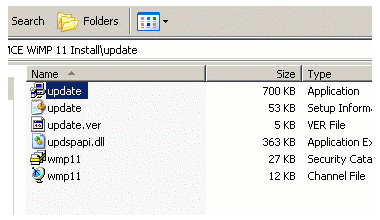 Like the main WMP installer, several of the files extracted from it are also archives. One of them, wmp11.exe, contains another program we need to run manually. Like the main installer, we can extract the files to select the specific one we need to run. If you extract to the same directory, as we did before, you'll be asked whether you want to overwrite several files. You can answer Yes To All in order to avoid being asked multiple times. Otherwise you can extract to a different folder to avoid it altogether.








Once the files are extracted you should have a new folder called update. In that folder is a program called update.exe, or simply update. Once it runs you're ready to run Windows Media Player 11. I've personally testing the Netflix streaming video service and can verify that it works after this installation process. I can also vouch for Media Center not working afterward, so make sure you have an alternative in place before attempting this.



Version History
v1.0
Original version by
Rich "vurbal" Fiscus