This guide will demonstrate how to use WinAVI to convert several supported formats (including avi, asf, mov, rm, wmv, swf etc..) to DVD. WinAVI is a simple program to use and produces quite nice quality. It is also pretty fast encoding. This method is very easy and is recommended to new users, but some pro's might be surprised about how well this program performs also for certain tasks. WinAVI will leave you with DVD files (vob, bup, ifo etc.) but you can also choose to output to MPEG if you want to author with another program before you burn.
Introduction & Requirements
Software you must download and install

WinAVI Video Converter
Required: You need to install WinAVI Video Converter on your computer for this guide. Download!
Download and install a trial, if you like it, then buy it. Make sure you have the proper
codecs
installed for your source files (
DivX
,
XviD
etc.). You will also need to have enough hard drive space for the output files. Assuming you are making a DVD, then make sure you have at least 4.5GB.
WinAVI User Interface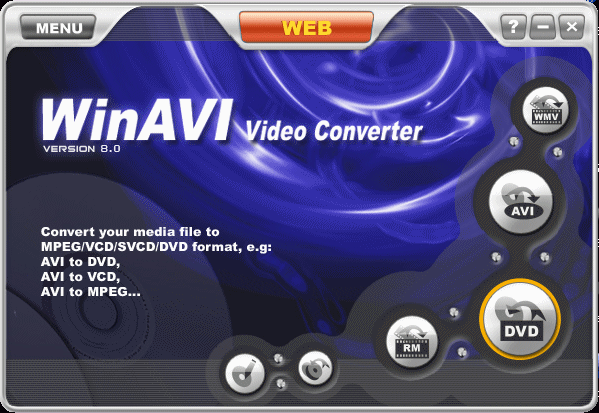 WinAVI
is quite a nice and colorful program to look at. The
Menu
button pops up the programs menu which you can use if you wish to perform tasks like skin change or get technical support. The
Web
button loads
winavi.com
in your default web browser. Now you can see that there are several other buttons below the top bar.
WinAVI can do more than convert multiple formats to DVD. On the main screen here you already see the option to convert to
WMV
,
AVI
and
RM
as well. There are two extra buttons also, one to burn disc now which will load
Nero Express
and one for batch encoding. However the button we are looking for is the big
DVD
button. So click it.
Source, Output & Format Settings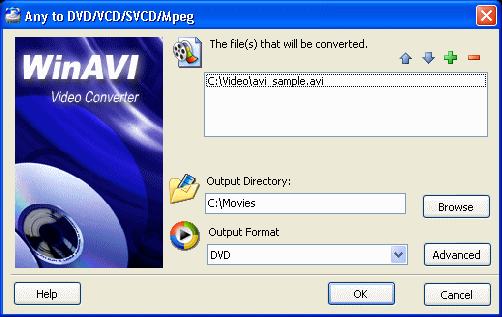 After clicking the DVD button on the main WinAVI window, a file browser will pop up. Use it to locate the multimedia file you want to convert to DVD. Once the file is selected, you will see a new window like the picture above this text. The next thing the program needs you to do is to select an
Output Directory
and
Output Format
.
Make your directory something easy to remember (it's good to have a common folder for video output). The output format can be changed to
MPEG2
if you want, just make sure you select
48000hz
sampling frequency for audio later. I will leave DVD set but instead of clicking OK we must click
Advanced
and make a few adjustments.
Advanced Converter Settings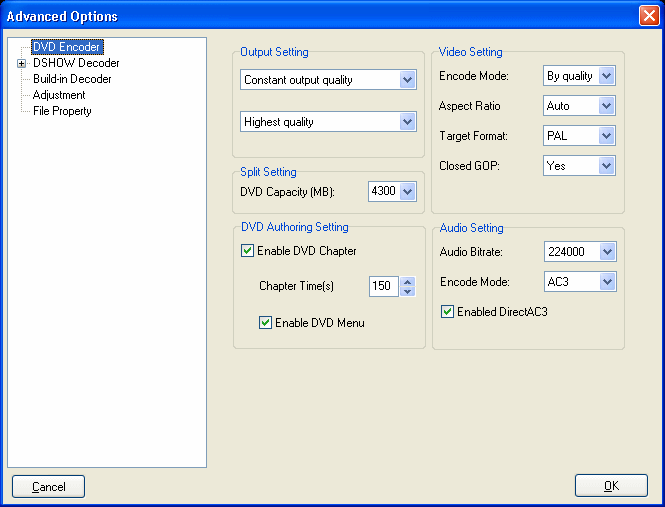 Under
Output Settings
you have three main choices,
Constant Video Quality
,
Constant quality by Max bitrate
and
Constant Video Size
. If you are converting an entire movie then you are better off with
Constant Video Size
. For shorter videos choose Constant Video Quality to maximize the output quality. If you choose the quality option, then select
Highest Quality
from the option box below. If you selected Constant Video Size then specify the maximum size you want your video to be (4300MB is good for a DVD, but only choose a figure that high for a full length movie).
Under
Split Settings
keep it set to 4300MB if you are planning on using blank DVD media. Under
DVD Authoring Setting
, select
Enable DVD Chapter
and then ender a number of seconds between chapters into
Chapter Time(s)
(150 is default == 2.5 minutes). If you want a DVD Menu that will be built automatically allowing you to choose chapters, then select
Enable DVD Menu
, otherwise leave it unticked.
Under
Video Settings
, set
Encode Mode
to
"By Quality"
for the best quality or
"By Speed"
to prioritize the speed of the process.
Aspect Ratio
Should be left at auto unless you encounter problems.
Target format
is up to you (
PAL
= Europe, Australia,
NTSC
= Japan, North America).
Closed GOP
should be set to
Yes
for maximimum compatibility.
Under
Audio Settings
, choose the highest
Audio Bitrate
available (usualloy 224kb/s) and
Encode Mode
should be set to
AC3
. Keep
Enabled DirectAC3
selected.
Please note that you can check through other Advanced Options with the options on the left side of the window. Click OK when you are done and click OK again to begin the process.
Conversion Process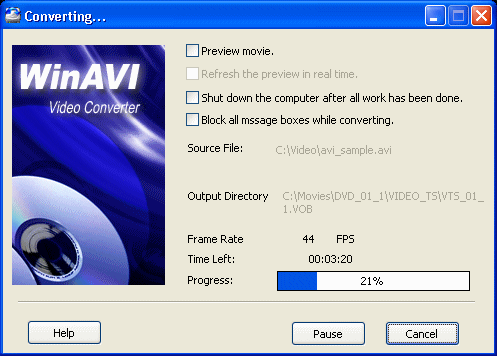 There are also some options you can change whilst encoding is in progress. The
preview window
may be open by default, although I do advise you to untick the option (unless it's absolutely necessary you have it on) as it might slightly speed up the encoding process and it will be on less task your computer has to deal with.
Shut down the computer after all work has been done
has an obvious use. This can be very useful if you let your computer encode while you sleep or while you are at work/school etc. WinAVI generally doesn't all that long to encode, but it does depend on your computer of course. Now all you have left to do is burn your resulting DVD files.
Conversion Finish / Finally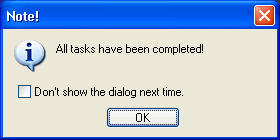 When
WinAVI
is done with the encoding you will see a message like the one shown above. This means that your DVD files have been created and now exist in the destination folder you selected earlier. If you encounter any problems with this method, please visit our
Discussion Forums
and ask for help.
Need help burning your DVD?
Note:If you have just finished this process for the first time, you might not know how to go about burning the result to DVD media so you can watch on your stand-alone player. If this is the case, then check out the following guide: