The Nero 6 weekend: From video to Vision
With the release of Nero Burning ROM 6
Ahead Software
brings a wide variety of accessories for Nero users to use. One of those accessories is the NeroVision Express video producer.
NeroVision Express 2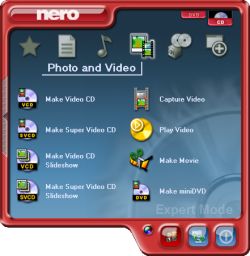 NeroVision Express 2
, like all the Nero 6 components, is accessed via the
Nero StartSmart
launcher. All the NeroVision related selections are grouped in the
Photo and Video
section.
For CD-media you have the option to make a
Video CD
,
Super Video CD
,
miniDVD
, or a
Slideshow
on either VCD or SVCD.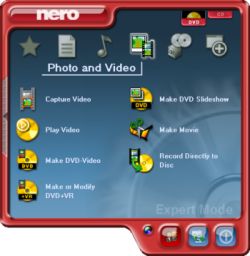 There's also a selection of different DVD profiles available -- regular
DVD-Video
,
DVD Slideshow
, and
DVD+VR
. DVD+VR is a DVD-Video disc created on DVD+RW. It can be freely modified after burning, which means that it is possible to add or remove videos, edit the chapter points, or even create new menus without starting from scratch.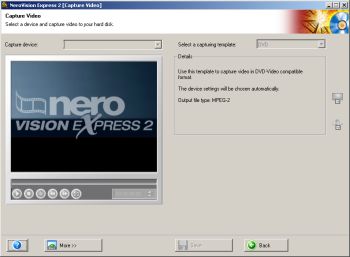 Video from a capture device, such as DV camera or a video capture card, can also be recorded on hard disk using NeroVision Express. There are templates for each disc format with selectable bitrates (either from pre-defined values, such as "High quality" or "Standard play", or freely customized).
Wizard-driven creation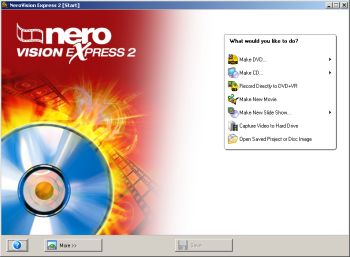 The most interesting feature is the
Make Movie
, using which is possible to compile a VCD, SVCD, miniDVD or DVD from a variety of sources. Regardles of the destination type, the discs are produced in the same manner using a wizard-interface.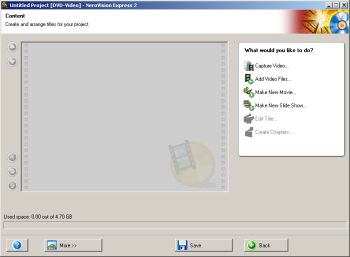 After choosing the type of disc to create, a project content view comes up. Content can be captured directly from a video device or it can be added from a supported video file on hard disk (AVI, MPEG, DV, DVD VOB, and VCD DAT are currently supported). A still-picture slideshow, with background music, can be created with a wizard interface. Several video clips can be combined using the
Make New Movie
wizard.
Movie editor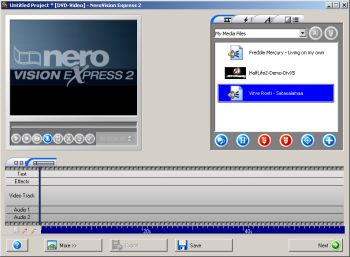 The movie editor features a linear timeline similar to e.g.
Adobe Premiere
. NeroVision Express is nowhere near Premiere, of course, but the user interface is very easy to learn and master. After adding video and audio assets to the media folder, they can be dragged and dropped to the timeline. On the timeline video clips can be adjusted by cutting out unwanted parts, and by adding effects.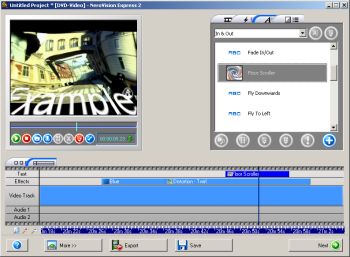 Video filters, text effects, and transitions are extremely easy to add. Just drag and drop the effect, adjust the length, and edit the properties. There are numerous effects to be used, and the real-time preview displays them like a charm.
The one confusing bit about the video editor are the audio "tracks". Even though they might suggest that you can add more than one audio track on a DVD, that isn't the case -- the audio tracks will be mixed with the audio track from the video file (if any), so it's suitable for e.g. adding background music to a video. WAV, MP3, and MP4 audio files can be imported.
NeroVision Express is clearly designed with home video editing in mind, since it also includes a built-in audio recorder, which can be used to add voice commentary to the video.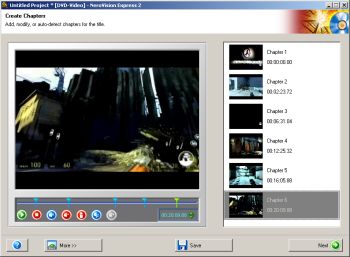 When a video title has been created it can be split into chapters. Everyone having used a DVD, or Nero 5's VCD features for that matter, is familiar with chapter points. In addition to letting the user create chapter breaks manually, NeroVision Express also has an automatic chapter detection feature.
Menu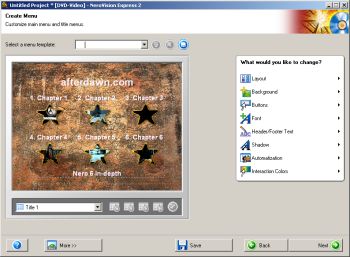 The project is tied together by adding a menu to it. There's a number of pre-defined templates to choose from (if installed), and they can be all quite freely adjusted. Animating the menu thumbnails adds a nice touch to the menu, as well as adding a background music.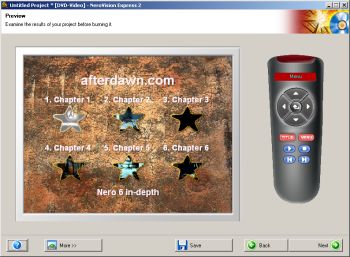 The menu preview displays the menus exactly as they will show up on a stand-alone player. Not only the menus, but the video files as well can be previewed.
Burning the ROM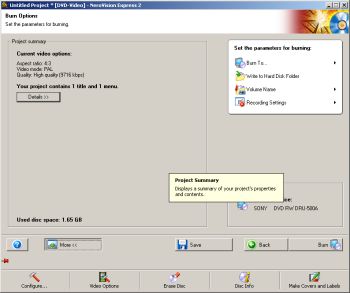 Before burning, NeroVision Express lets you make final adjustments to the project. You can choose to burn directly on CD/DVD, or write the files on hard disk for later use, if you're creating a DVD. It is also possible to adjust the video bitrates and aspect ratio (4:3 or 16:9) before burning through video options. Hitting burn will first render the menu video, as well as the content video, so at this point is good to go and have a pot of coffee.
Conclusions
NeroVision Express 2 is very easy and straightforward to use, and feels like a winner application for people looking for a easy way to publish their home videos. However it's not the way to go with pre-mastered video content. For some reason all video files are transcoded -- even if they were correctly formatted to start with. This behaviour was experienced with MPEG-1 VCD, MPEG-2 SVCD, and MPEG-2 DVD content. Obviously this causes loss in video quality, and takes tons of extra time. On the other hand, NeroVision Express 2 is
not
intended for VCD/SVCD/DVD authoring, so this isn't really a problem.
Rendering a 54 minute video with a few effects on an AMD Athlon XP 1700+, 512MB took roughly two hours at the highest quality setting (9716kbps). Compressing from an interlaced 8Mbps MPEG-2 stream produced a fairly good video. The quality wasn't top notch, but that's probably due to the nature and poorish quality of the source video.
Overall the software has alot of Ahead-feel to it. It's very solid, and clearly designed from the user's point of view, so it's accessible to everyone.
Written by: Jari Ketola