The Nero 6 weekend: The Emperor dances to MP4s
The fact that Ahead Software has so much focus on video applications (see our
Day 2 article
) as the DVD recordable technology expands the multimedia abilities of PCs and solves the storage issues conveniently. But I have to say that I was surprised to see that Nero 6 would include such a wide range of audio software as well. After all audio compression, or audio in general, is not currently as 'sexy' topic as video issues are. For some time Nero Wave Editor has been a part of the package, but now Ahead throws in a multi-track mixing software as well.
Nero SoundTrax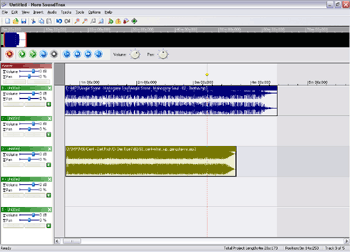 The SoundTrax is a new Nero component and a rather simple multi-track mixer software. It allows the user to load multiple sound files and mix them together or on top of each other. Feel like adding your own vocals on a music background? This is the tool to do it. Usage of SoundTrax is very simple and it has a drag & drop user interface for moving the sound clips within the layout. One can fade it, fade out, change balance or apply effects to the sound. Preview playback is of course possible and with a single click user can start burning process to a CD-R. CoolTrax can also export the project to a sound file, including WAV, MP3 or MP4.
Nero WaveEditor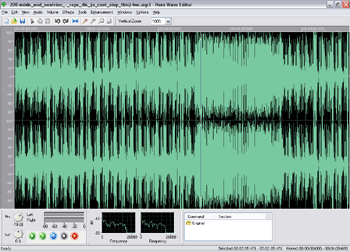 The WaveEditor is a sound editing tool that can be used for sound manipulation or restoration. You can use it to apply weird effect filters to audio files: Flanger, reverb, pitch tuning and more. Perhaps more serious application for this software is the audio restoration features. After all, many people are transferring their analog recordings to CD-Rs for safer archiving. WaveEditor offers for example noise reduction, de-clicking and spectral band extrapolation, band passing. Useful stuff for getting the maximum out of your C-cassettes or vinyls. The software can also be used as a sound recorder. WaveEditor can also be launched within SoundTrax for sound clip editing. Again, sound files can be saved in various formats, including WAV, MP3, MP4.
Nero Media Player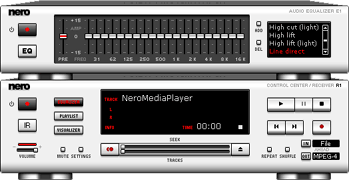 An audio software package naturally needs player software and Nero Media Player is Ahead's response to WinAmp and others. Nothing really special here to give it an edge against it's competitors. Visuals, playlists, EQ, MP4 support…the usual stuff. The software can also used for converting files from a format to another, which might be useful in some cases. But really, Nero Media Player is not my piece of cake and I prefer the slick and powerful Foobar2000.
Nero AAC encoder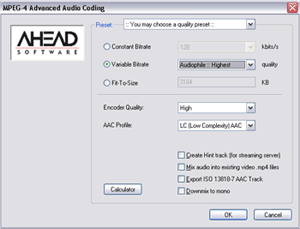 Commentary by Roberto Amorim of RareWares
About HE AAC
HE (High Efficiency) AAC (also called AAC+ and AAC+SBR) is the latest adition to the MPEG4 AAC standard.
It consists of the well known AAC codec plus CodingTechnologies Spectral Band Replication technology. This technology has already been used on the MP3pro format, bringing amazing results to low bitrate MP3 encodings.
Informal and formal listening tests indicate that HE AAC can archieve very good quality (suitable for non-critical listening) at the 48~64 kbps range. It improves over MP3pro quality in at least 30%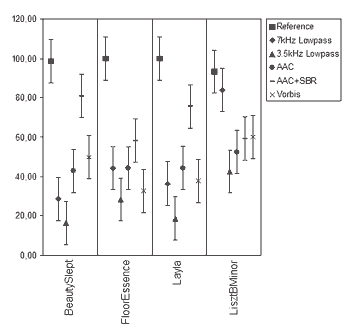 Recently Menno Bakker, Ahead MPEG4 developer, run a small informal listening test comparing an early implementation of HE AAC versus Ogg Vorbis (the closest competitor in the low bitrate arena), and HE AAC delivered consistent superior quality.
It's worth mentioning that the Nero 6 implementation has been improved since the one used on that test
Conclusions
Nero 6 delivers a nice overall audio package this gives the user a good set of tools whenever one is feeling creative. The MP4 AAC support is the highlight of the Nero package. Funny thing is that Ahead Software has been waving the MP4 flag a long time ago, but until Apple released iTunes the new format gained hardly any attention. The tools packaged in Nero may not challenge the market leading professional audio softwares, but what could one reasonably expect as they come with a single reasonably priced bundle? I am sure that the audio package of Nero is a good starter kit for anyone who feels like playing Dr.Dre at home or transferring analog recordings to a digital media.
And there is more...
There still are many components in Nero 6 that were left out of this review. Possible most important one is the Nero Digital MPEG-4 A/V codec which is included in the Nero 6 retail lincese, but will be released later this summer. The Digital is supposed to challenge and even outperform the current MPEG-4 video compressors Divx and Xvid. Also included is a good label designer and printing software for creating fancy covers to your recordings. Nero ShowTime on the other hand Ahead's new video/DVD player software. And there is also the Nero Toolkit that provides system information, drive benchmarking, drive speed controlling and other useful features. Ahead Software has also included BackItUp software for backing up and retrieving important data. Even a virtual drive emulation software is now a part of the deal. And don't forget the Mt.Rainier supporting packet writing software InCD that provides drive letter access to rewriteable media.
Day 3 final words
Of a package with such diversity, what can a reviewer say? Nero 6 is a real Swiss Army knife of multimedia and optical storaging. The Nero Burning ROM is still the king of the hill in the CD/DVD recording, but the other components are facing competition against software specializing in the audio or video field. Definitely if you add up the price tags of a burning software, video authoring, audio editors and get a bunch of other stuff as an extra, it makes the Nero 6 look of great value. On the other hand recordable drives are shipped with OEM burning software, often Nero Burning ROM, DVD-ROM drives come with players and DVD recordables with video and authoring packages. The changes to the core software, the Burning ROM, are actually quite slight and possibly not worth the upgrade alone. Ahead Softwares desires to the video and DVD markets, but has so far ignored the CD/DVD dublication niche which is dominated by
Alcohol 120%
and
DVDXCopy
. Also, even though Ahead Software has tried to integrate the package with SmartStart, Nero 6 still is a pack of various software titles rather than a single application suite. Still you have to give credit to Ahead Software for maintaining such high quality and usability through the whole range of applications. It will be very interesting to see which of the features will be included in the more popular OEM version that will be bundled with CD-R/DVD-R drives.
The official release date of Nero 6 is set to 18th of July.
Written by: Lasse Penttinen