Nero MP4 AAC Encoder preview

Thanks to our friends at the
Ahead Software
, we are able to show you a little sneek-a-peek about the upcoming MP4 audio encoder. It should be included in the next Nero release. No in depth reviewing or analysis here - just some pictures and introduction to some of the functions.
Pick tracks, choose format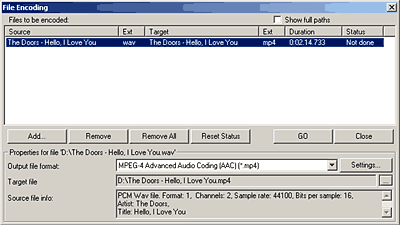 This is the old Nero audio compression dialog, nothing new about it. Just pick the MP4 as the format. More stuff behind the 'Settings' button.
After three comes four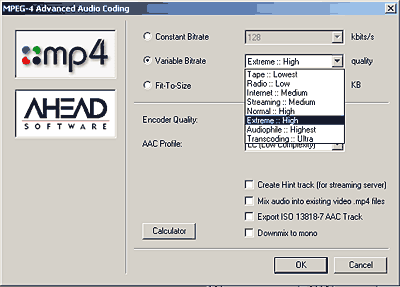 The big MP4 logo says it all. CBR and VBR (naturally a better choice) is supported. VBR offers quality settings to choose from. Notice the "Fit-to-size" and "Calculator" features. Thats something new in the audio field.
Target size or bitrate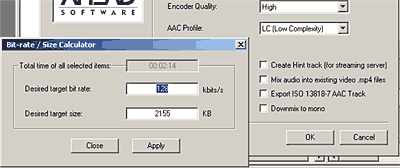 The calculator feature gives you more control over the result file. Keep in mind though that quality-wise the "free floating" VBR should be a better choice.
Fast?

The testbench was an old crap Pentium III-500mhz. The speed varies based on the settings used and encoded music material. With good quality ("Medium", VBR "High" ) encoding the speed seemed to be around 2-3x, using this old PC. Switching to even higher quality slowed the encoding to around 2x.
The speed achieved is not bad for a modern high quality encoder. It beats LAME 3.92 (--alt-preset standard) and OGG Vorbis with a clear margin.
The speed benchmark
was not done in optimal conditions
so do not pay too much attention to the results. Also, this is a pre-release of the encoder, so some changes may still occur.
If you have any questions or you wish to discuss about these next generation audio encoders, then drop by at our
audio forum
.
Written by: Lasse Penttinen