The Complete Newbie Guide to Afterdawn.com
The scope of this guide is to provide new users of Afterdawn.com with basic information on how to properly navigate the site. The intentions of this guide is to help someone who is completely lost on what or how to do anything on Afterdawn. Perhaps this user found a link on Google, started looking around, and doesn't quite understand what to do to be a functional part of the Afterdawn Community.
Requirements
An Internet capable computer

A valid email address

A desire to learn about all things digital

An attitude that better serves the Afterdawn community through respect, patience and understanding
Got all that? Good. Now first things first. Let's get your very own Afterdawn.com account set up.
Account Setup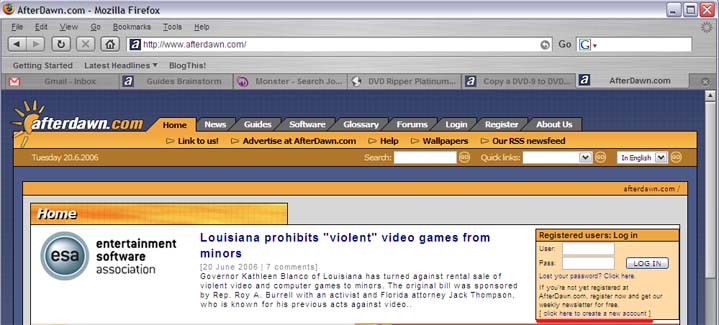 You'll notice if you're on the
Afterdawn.com home page
, on the right of the screen is a login area. Below that there is a small link telling you to "click here to create a new account". Upon clicking the link, you will be taken to an account registration page. The details here are pretty self explanitory with your standard required fields.
Login Name - Here you'll want to choose the name that you would like to be known as in the Afterdawn community. This is the name that will show up on the forums, private messages, and any comments fields you choose to participate in. The only restrictions we put on your login name is that you do not use special characters such as !@#$%&*( ), just merely alphanumeric (ABC 123) characters and please refrain from making vulgar names as we reserve the right to revoke and ban any usernames submitted that are deemed inappropriate.


Password - Your password can be whatever you like. We'd prefer that you choose something with a relative amount of security so as to protect your identity.


Email Address - You cannot use our site without providing a valid, working email address! Our system will automatically send you an email and asks you to confirm the account creation after you have completed this form. Please make sure that you enter your valid email address here. You can rest assured that Afterdawn will not divulge your email address to a third-party client or send you unsolicited emails of any kind that you have not specifically asked to receive.


Personal Info - First Name, Last Name, Country, Gender and Date of Birth are all required fields so we can have a bit of information about our users to help tailor their experience. With this information, subtle touches around the website will greet you by name, send you a birthday wish to your email and other personal things that help build the user's experience while on Afterdawn.


Signature - This field is where you can create a signature for yourself to leave under your forum posts, if you choose to participate in the forums. The Signature Field does not allow for HTML code. Any links you may wish to put in your signature will automatically be parsed simply by putting a fully qualified URL in this field (example: [ link ] will automatically show as a link, whereas www.afterdawn.com will not).
Once you have completed these fields, click on the Join! button and you will be sent a confirmation email to the email address you registered with. Upon receiving the confirmation email, simply click the link included in it and you are now ready to start your journey.
My Account
Once you've successfully logged in, you'll notice a new tab on the top of your Afterdawn toolbar that reads "My Account". This is your dashboard to access any information about your dealings with Afterdawn. Listed here will be information about how many total posts you've made to the forums, how many private messages you've received, how many discussion threads you are currently subscribed to and links that will help you query information about yourself, or change settings you've made earlier. A new feature to Afterdawn is the ability to create your own personal profile page. With this feature, you have the ability to further make your mark in the Afterdawn community by setting up your very own Blog page.
Profile Page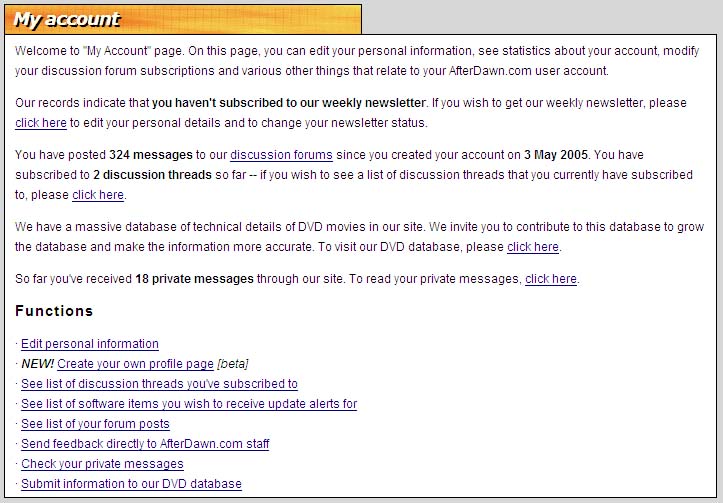 As mentioned previously, the "My Account" page is your one stop shop for everything you do within the Afterdawn community. This portion of the guide will show you how to make this feature feel a bit more like your own. With Afterdawn's new Profile Page, you can create a Blog to keep track of random thoughts, news you find entertaining, pictures, or whatever you wish. There is also a friends network of other people's profile pages you can link to and a showing of those who link to you.
To begin setting up your profile page, click on the link that reads "
Create your own profile page
". Once in there, you will be presented with a screen asking you to choose your profile path. Typically this will be your username to help us manage pages with unique titles, but you can choose what you wish. The system will warn you if you choose a name that already exists. For the scope of this guide, lets leave that at your username and click the Next button.
Profile Page cont.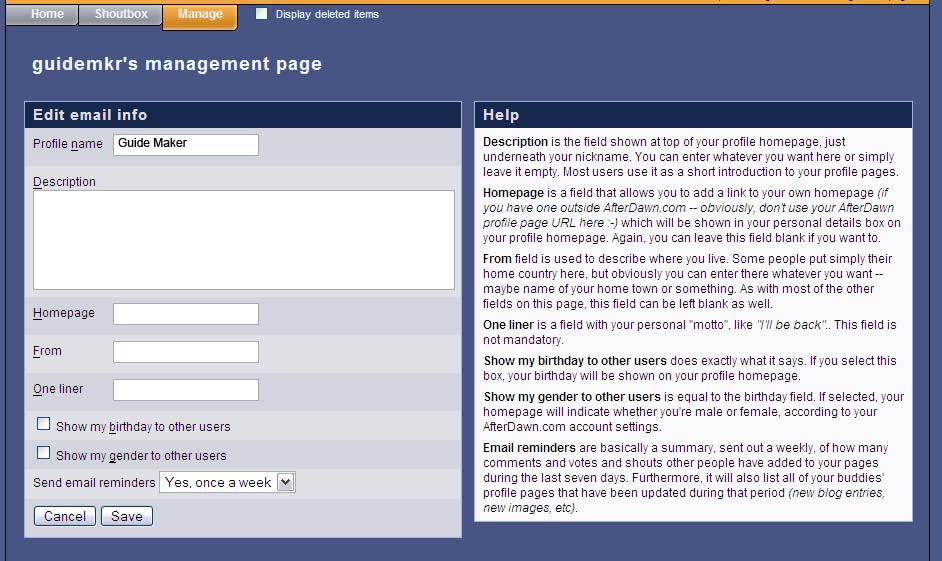 On the next screen you will enter information such as what you want your blog to be called, a short description of the site, a link to your own personal homepage if you wish and some additional information. There is a convenient help file to the right of this form to explain what each of the fields are. Fill in these as you wish and proceed by clicking the Save button.
Now that you have your very own profile page setup, you will notice the Manage page within your personal profile. From here there are links to do everything from creating a new blog entry, submitting pictures, linking to your favorite websites and much more. Have fun here and create your own little place in the community.
Forums

The majority of the traffic for users within the community all takes place on the Afterdawn.com Forums. These forums contain topics that will help you gain knowledge on just about anything related to digital media. A quick click on the Forums tab on the header of the Afterdawn page will bring up a list of our major forums. If you have a question, please browse through this list and pick the appropriate forum topic. It is important that you go to the correct area, as people in certain forums may not be able to answer your burning questions if its not topic appropriate. There is a special forum section called "Safety Valve" that can handle anything you wish to talk about that may not have a topic associated with it. Even if you just found a funny website and you just have to share, this is the place to do it.
There is a forum etiquette that the Afterdawn staff and moderators would like everyone to keep in mind. As much as another person in the forum may make you angry, please keep a level head while in the forums. Flame wars or intentionally attacking another individual is not only rude, but could result in a banning of your account. Afterdawn does have a group of moderators that watch every thread that is posted and they are well versed in the forum rules. Just keep in mind that you are your own person and no one really cares what the person on the other side of your screen thinks of you. If you run into any problems, either report that person to a moderator or laugh it off and move on.
Now its time to talk a bit about the forum rules. The official Afterdawn.com Forum Rules can be found
here
. Take the time to look over these rules and commit most of them to memory as you grow within the community. A forum is only as strong as its users and these rules are put in place to not only protect you, but the Afterdawn community as a whole.
Some key rules to remember.
Before you post anything into a forum, use the Search feature available to you. There is a wide wealth of information on this site and there is a pretty good chance your question has been answered not only once, but many times before. Often times, more seasoned users may get frustrated with your question if they've already answered the same thing a dozen times that day. This could result in either an unsatisfactory reply to your question or nothing being answered at all, thereby making you angry. The Search button is your friend. It will not disappoint.


PIRACY AND LINKING TO PIRATED MATERIAL IS STRICTLY PROHIBITED, YOUR ACCOUNT WILL BE FROZEN IF YOU DO THIS. This is one of the single most important rules. Live by it. This one rule protects you and the rest of the community.



Case examples regarding piracy rules.

Case: Pirated material, such as serial numbers and direct links to pirated, copyrighted material (including direct links to torrent files and ed2k links). PROHIBITED

Case: Technical, in depth discussion about copy protection circumvention (i.e. cracking). PROHIBITED

Case: Discussion about pirated content and piracy, such as converting (downloaded) video and/or audio files to DVD/AudioCD/whatever format. PERMITTED

Case: Discussion about copy protection circumvention in general (extracting encrypted content, such as DVD movies, compact discs, copy protected console and computer software, using existing software). PERMITTED

Case: Links to sites offering possibly pirated content (including torrent files and ed2k links). PERMITTED



Keep foul language, personal attacks and generally rude comments to yourself. It doesn't help anyone and only makes the community worse as a whole.


Don't post your email address to the forums! Spambots love dumb forum users who post their email addresses to public sites and grab those addresses and you will soon discover the wonders of penis enlargement kits and other really useful products posted daily to your inbox.



Now that you're familiar with all the rules, you're ready to make your first post. Did you search out your question? I didn't think so. Look near the top of the screen for the search box and type in a keyword or two about your problem. If nothing comes up, go ahead and post a new message in the related forum.
From here your question, comment or whatever you wish to share with the community will potentially read by millions.
We hope this starter guide has helped you become one of the Afterdawn Addicts and hope you enjoy your stay with us. If you have any questions, comments or concerns, feel free to address them to any members of the staff.
Written by: Dave Horvath