Today we will review the newly launched Film Fresh DivX download store. Using the site you can purchase good quality DivX digital copies of Hollywood, independent and worldwide releases or purchase them on DVD. The films can then be played back on your PC, Mac or TV, through the PS3 or other devices. We will explore the options on the site and the actual playback quality and opportunities including how to watch the videos and how to transfer them to the PlayStation 3.
Site used for the review and related required software

Film Fresh
Required: This is the site we are reviewing. Check it out!
DivX Movie Player
Required: You will need the DivX Movie Player to playback your movies on your PC. Click here for Mac version otherwise you will be downloading the PC version. Download!
Getting Started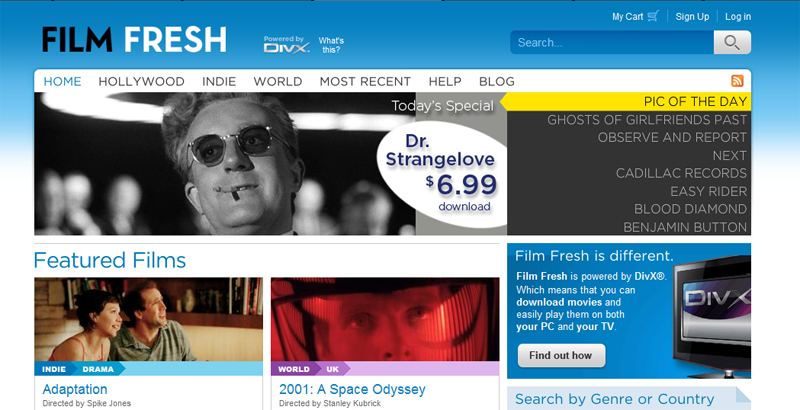 The
Film Fresh
site is pretty straightforward with its interface. The front page features the
Pic of the day
which is a film available for that one day at the discounted price of $6.99 USD. They are usually catalog titles, and as I write this review, the discounted film is
Dr. Strangelove
.
On the right side, prominently featured is a selection of movies along with a large screenshot from the film. There will be a variety of new releases, independent releases and catalog titles.
There are choices to select from
Genre, Country, Year
or even by
Hollywood, Independent
or
World
. The first step of course will be to register on the site and login.
Movie Selection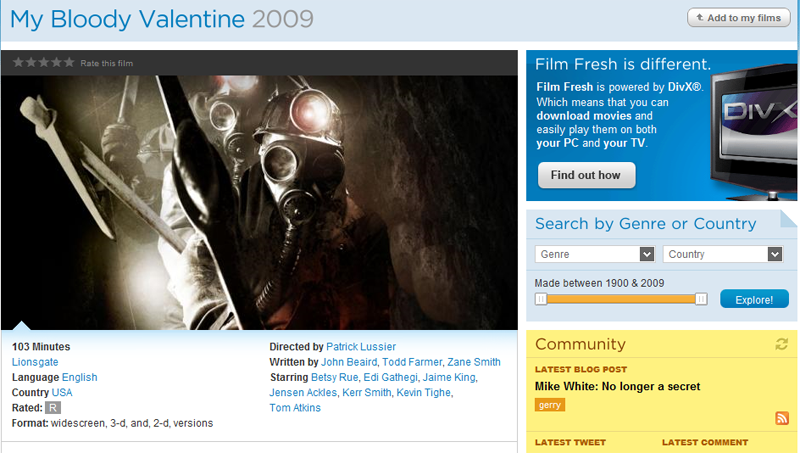 I searched for more recent 2009 movies for an example, and found a few I had never seen before including the one I purchased (Curious Case of Benjamin Button) and the movie pictured (My Bloody Valentine) which was interesting because it was available in 2D and 3D.
The site offers all the details of the movie as well, such as runtime, rating, actors, director, writers etc., and is frankly a less crowded version of IMDB. Scroll down and you can a full synopsis, awards won, user ratings and reviews and official reviews from newspapers and online critics.
Actors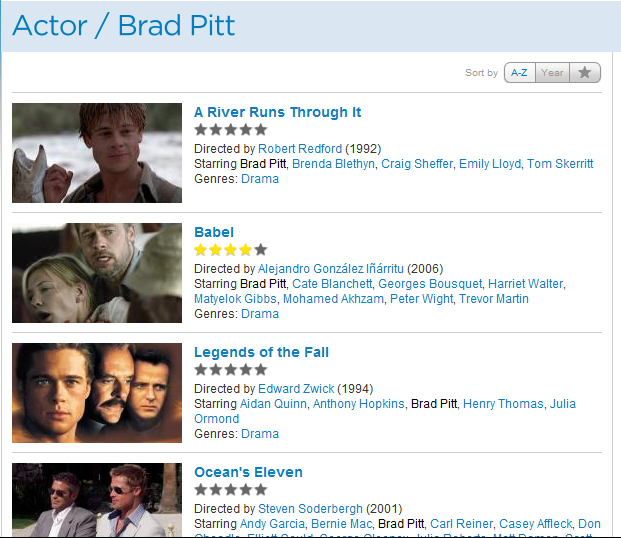 If you want to see other movies available on the site from certain actors, all you have to do is click on the actors name and you are taken to a sortable list. You can sort by
Year, Title
or amount of stars (reviewed). Be reminded that the site is new so not all your favorite movies will be available.
Most Recent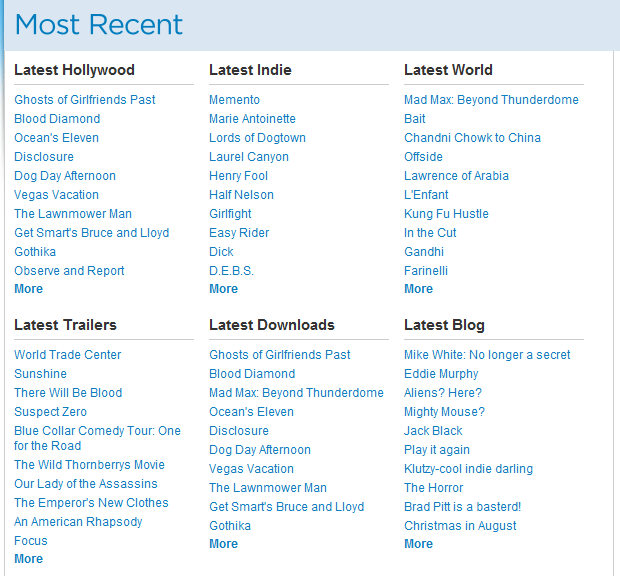 Another way to check what is new on the site besides the frontpage and the search function is that of the
Most Recent
tab. On their you can check the latest available films from all the regions available, as well as the latest (MOST RANDOM EVER) trailers, and blog entries from FilmFresh staff. Once again, the selection is pretty random so you would do much better just searching from the frontpage, the top downloads, or the regular Search bar.
Continue Guide - Move to Page 2

On the next page we will get to the actual purchase and download of the film as well as playback on your PC and PS3