Buying the Film


Once you have picked the film you want to purchase, hit
Buy
and checkout, straightforward. Once you have completed the purchase however, is where it gets a bit more tricky, inexcusably so.
Download Ticket

After the order has been completed you are asked to download a ticket file, one of which can only be read by the DivX player, so you must install it at this point if you have not already.
Download, install, and head over to
Tools
and
User Accounts
. Create an account and when you are logged in, double click on the
Ticket
and the download will begin within the DivX player.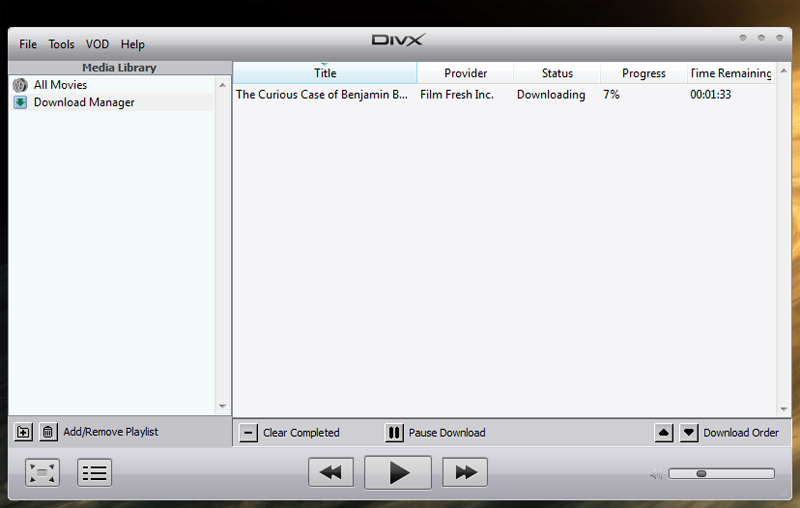 The download is pretty slow, and moves about 1 percent a minute, even on my fast connection. A similar sized download via BitTorrent took me about 18 minutes, and took 1 hour 40 minutes via FilmFresh. The full file size for Benjamin Button was 1.67GB, due to its large runtime. The video will download to the default media folder which can be switched in DivX player. The video is in .divx format and the audio is 2.0 stereo, unfortunately no AC3 is available.
Video Playback on your PC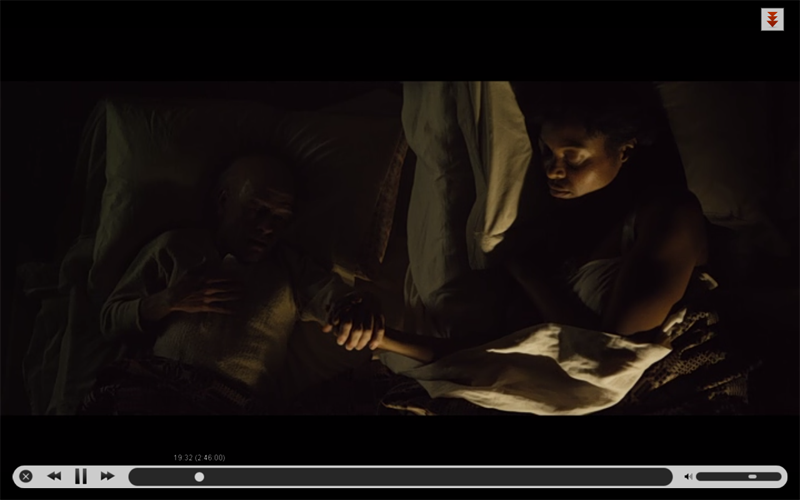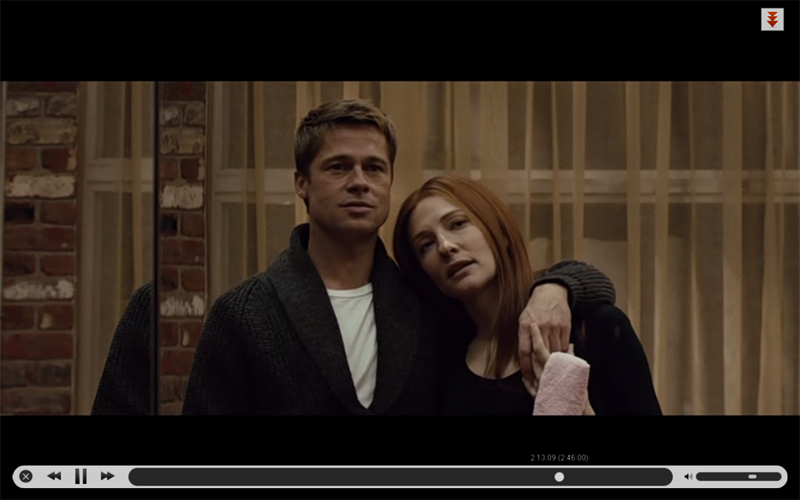 Here are a few screenshots of the video in full screen mode (1280x800 resolution for this laptop) and honestly the quality is DVD. However, I did experience some lag in fullscreen mode, and found myself returning to smaller modes for more steady playback. The playback controls are basic, and include pause, fast forward, rewind, and volume slider. You can set
Custom Aspect ratios
but that is about it for options. The DivX player itself is a resource hog as well.
Be noted here that following Fim Fresh's
Help
page will give you outdated information, and sometimes wrong information.
Video Playback on your PS3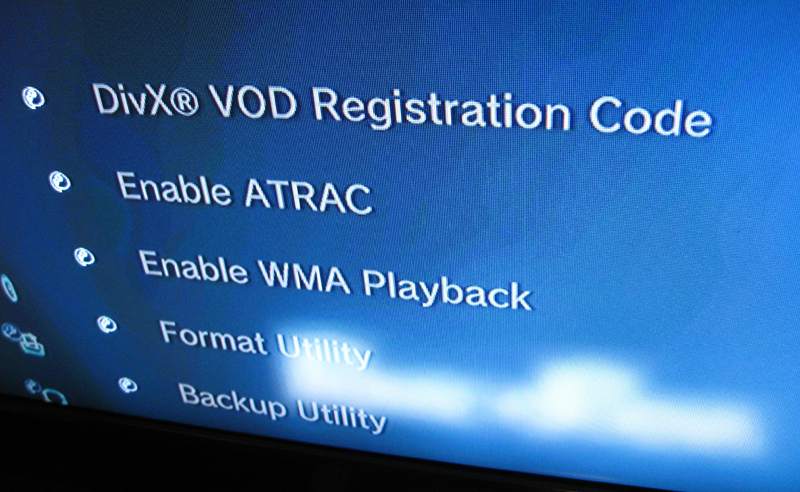 Once again the Film Fresh FAQ fails here and gives inaccurate information.
On the PS3, head over to
System Settings
and check you
DivX VOD Registration Code
. From there you will be given a 8-10 digit registration number. Keep that window open or write it down.
Open up the DivX player on your computer and under
VOD
head over to
Manage Devices and My Computers
.
I could not get past this step, as the DivX network would not let me register my PS3 as it was "having technical difficulties." Sorry, I won't be back.
In Closing
Film Fresh is interesting, to say the least. Overall, the site is a good combination of video quality and digital downloads. The ability to playback the film on my PS3, PC, or any DivX-certified DVD player is a giant plus, and gives you options. Setting up for DivX playback however is a gigantic hassles and a turnoff from the service.
The site's help offers inaccurate or untrue information, and the movie selection is limited. Overall, the features of the site are good, including the reviews and "IMDB-esque" features. The discounted "pic of the day" is a good idea as well, but the movies are usually not to great.
Prices range from $6.99 to $15.99, which isn't great, but not terrible.
Video quality is pretty decent, and file size is what you would expect from a digital download, anywhere between 1GB and 2GB. Download times are atrocious however, and another big turn off. 1:40 download time for a 1.67 GB movie? No, thanks.
Pros:


+Good video quality

+Ability to play on Macs, PCs, PS3 and DivX-certified devices

+Prices are reasonable, and comparable to iTunes, Amazon

+Site itself serves its purpose in terms of features


Cons:


-The site's help is inaccurate and uninformative

-Just first run through is an absolute nightmare, including the need to download a whole new software, and register for a new account. Amazon is much easier.

-Download times are atrocious.

-DivX networks were down for a solid HALF the time I was writing this review. When the network is down you cannot play your videos or register other devices. Giant hassle. After two days of trying to register my PS3, I gave up.

-DivX player is a resource hog.

-Movie selection is limited

-Audio is 2.0, no AC3 available, and playback controls are very basic.


Overall:


It's a start, and the ability to play on the PS3 and other devices is very good, however the hassle of signing up for EVERYTHING DivX related, and the slow download times make this a no-go from me. Technical difficulties of the DivX network didn't even allow me to register my PS3 after two days of trying. Lack of 5.1 audio is daunting, as is the DivX player. I much prefer MPC or VLC. And it certainly won't make a large of the population upgrade from "free" to "pay."
v1.0
-- 30th September, 2009, First version live. (
Andre Yoskowitz (Dvdback23)
)