| | |
| --- | --- |
| Running SageTV on Windows XP Media Center Edition | You are viewing Page 4 of 4 -- Go to page 1 , 2 , 3 , 4 |
Decoding and Rendering
Before you start using SageTV you should at least take a look at the multimedia decoding and rendering settings. If you have programs like ffdshow or AC3Filter installed on your computer you can get even better results in SageTV using them.
Detailed Setup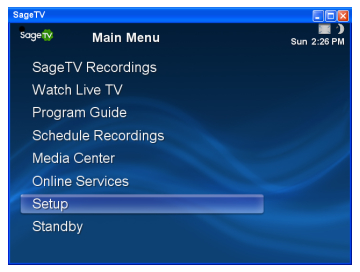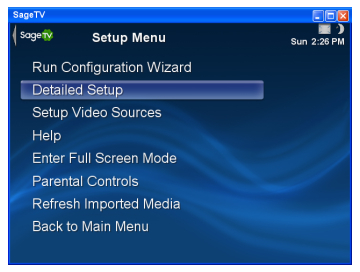 Decoding and Rendering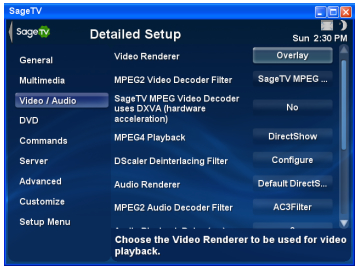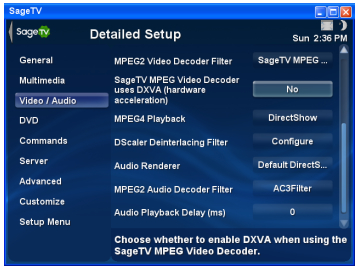 SageTV allows you to select between available rendering and decoding options for video and audio. Although most formats are supported through SageTV itself, you may find that you get better performance using a DirectShow filter like ffdshow or AC3Filter, especially for newer formats like MPEG-4 AVC. From the Main Menu, select Setup and then Detailed Setup. We'll be looking specifically at the Video/Audio and DVD settings.
Video Renderer
Rendering is the process of taking uncompressed (decoded) video frames and producing a signal for your display (TV) from them. SageTV can use either DirectX 9 (VMR 9) or the older Overlay mode for rendering video. VMR 9 (DirectX) is generally considered superior due to less processing, but may require a lot of troubleshooting to get working smoothly on older computers. Overlay should work on all computers.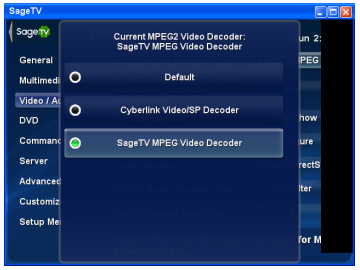 MPEG-2 Video
Since MPEG-1 and MPEG-2 video are well established, most decoders will perform equally well. If you prefer, you can use your software DVD player's decoder or ffdshow, or any installed MPEG-2 decoder.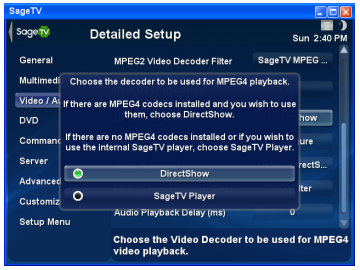 MPEG-4 Video
It's best to install your own DirectShow MPEG-4 decoder(s) since SageTV doesn't include the latest updates to AVC decoding used by filters like ffdshow, which is a much better solution. If the only MPEG-4 video you need to play is MPEG-4 ASP, such as DivX or XviD, you're probably safe using SageTV's built-in decoder. With AVC becoming the dominant video compression standard you should probably think about a decoder like ffdshow or CoreAVC for future use.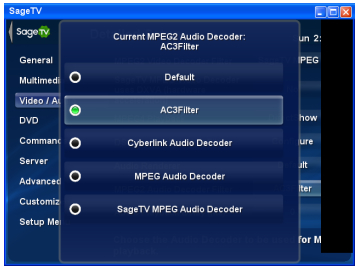 MPEG-2 Audio
Like MPEG-2 video, MPEG-2 audio is common enough that pretty much all encoding solutions are equal.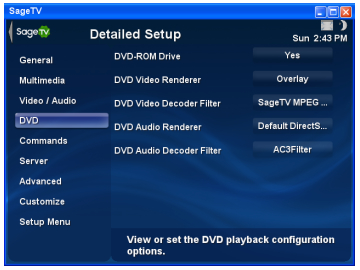 DVD Settings
The DVD settings are similar to the general Multimedia options, but of course specific to DVD playback. For playing standard commercial (CSS/Macrovision protected) DVDs you'll need to make sure to select a decoder with CSS support, such as WinDVD. You can play DVDs that have been copied to your hard drive with the SageTV MPEG Decoder.
Start Using SageTV
Now that your basic settings are configured you should be ready to start using SageTV. You'll probably need some time to get adjusted to the interface. SageTV's biggest asset is an abundance of options for working with your media files. In future guides we'll discuss some customizations including changing the entire SageTV interface (making it closer to Windows Media Center actually) and installing a plugin to play files protected with Microsoft's DRM, such as the free songs from SpiralFrog.
---
---
Where to go from here

If you have a HTPC or Media Center PC of some type you may want to consider some of the free and open source tools available for encoding and playing various formats. We have guides instroducing you to several.

ffdshow Installation and Configuration
AC3Filter Installation and Configuration
Introduction to Haali Media Splitter
Removing Commercials from MPEG-2 captures with Cuttermaran
Convert MPEG-2 Captures to AVC with Super
Creating MKV files with mkvtoolnix
Version History
v1.0
- 2007.03.24 Original version by
Rich "vurbal" Fiscus