MenuShrink is an application designed to convert Motion DVD Menus into still menus with or without audio. It is a very useful tool when you are trying to shrink down the size of a DVD movie, as it could shave hundreds of megabytes off of the original size of the compilation, making it a useful tool in backup processes. This guide shows how to use the program on a DVD stored on your hard drive.

---
Introduction & Requirements
Software you must download and install

MenuShrink
Required: Download MenuShrink from AfterDawn and extract it into any folder that you wish. Then run the program.. Download!
You will need to use
WinRAR
or something similar to extract the MenuShrink executable file.
MenuShrink Interface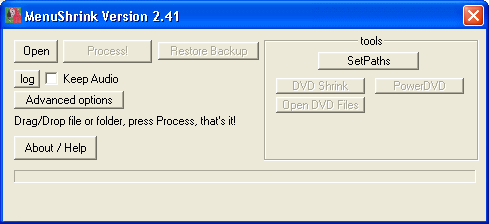 MenuShrink is a fairly basic program, it doesn't have a busy interface at all, it is made to be a simple process and it just does what it claims it does. To open a set of DVD files in MenuShrink, either drag and drop a
VIDEO_TS.IFO
file into the program or click
Open
and locate one that way.
Open a DVD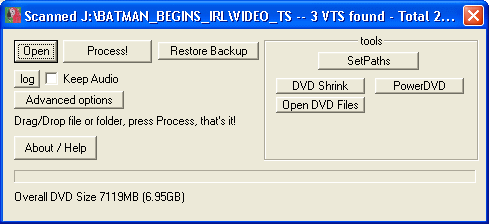 When you have opened a DVD file it is possible to run
MenuShrink
immediately. By default, MenuShrink will remove the audio from DVD Menus. If you don't want this to happen, click
Keep Audio
. It is now possible to start the process but a better option to first check the Advanced Options before you do that. Click the
Advanced Options
button.
Advanced Options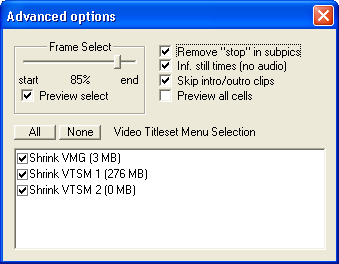 The first thing you will notice is that MenuShrink will allow you to uncheck Titlesets that you do not want it to change. Frame Select is for choosing a default location in a motion (video) menu to get an image from which will then be used in the resulting still menu. However, you are better off selecting
"Preview Select"
for this process. Keep
Remove "stop" in subpics
selected,
Inf. still times
should also stay selected.
Skip intro/outro clips
is also recommended.
Preview all cells
, when selected, means that MenuShrink will give you options for all Menu cells, even if they don't have buttons.
When you are done with
Advanced Options
, click the
X
to close the window. Then click
Process!
when you return to the main MenuShrink window.
Select Still Image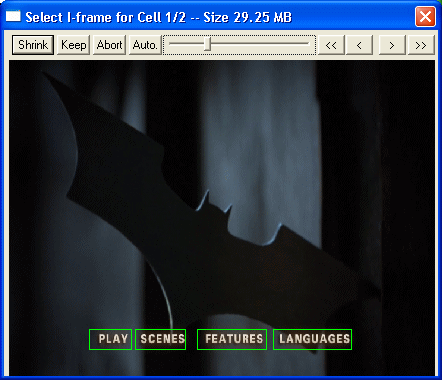 MenuShrink will now pop-up videos from Motion Menus in front of you. Use the slider above the video to move through the stream, and select the picture you want to appear on your resulting still Menu. When you have chosen the picture, click
Shrink
. If you would prefer to keep some of the videos in the motion menu, then click
Keep
on those.
Abort
will stop the entire process and
Auto
will basically turn off Preview Select and will pick still images without your interaction.
Process Complete?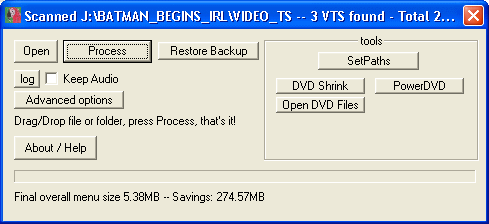 When the process is complete, you will see the total amount you have saved from the compilation. In my case, it is 274.57MB, not bad at all, just for cutting a menu down to a still menu without losing any functionality.
Restore Backup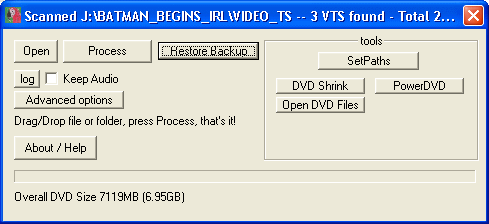 MenuShrink leaves the backup files from the original compilation inside the
VIDEO_TS/MenuShrink_Backup
folder. If you want to restore this backup, simply open the DVD with MenuShrink again and click Restore Backup and it will be back to normal Motion Menus immediately.
Finally
Hopefully you will have found this article useful. If you have any problems or questions, please visit our
Discussion Forums
and ask for assistance