Setup Network Stream with VideoLAN Client (VLC)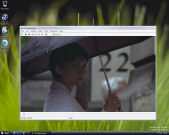 This step involves the use of the VideoLAN Client software, and you will need the location of the local TVAnts stream that you were told to note on page 1. Remember, the TVAnts software must be still open and the status of the channel must be still Running even if you do not have the channel itself playing on screen.

---
First run of VLC

For it's size, VLC packs a major punch with unmatched playback capabilities and network streaming options to suit most needs. You must
download and install
it now, and then run the program.
Streaming Options - Step One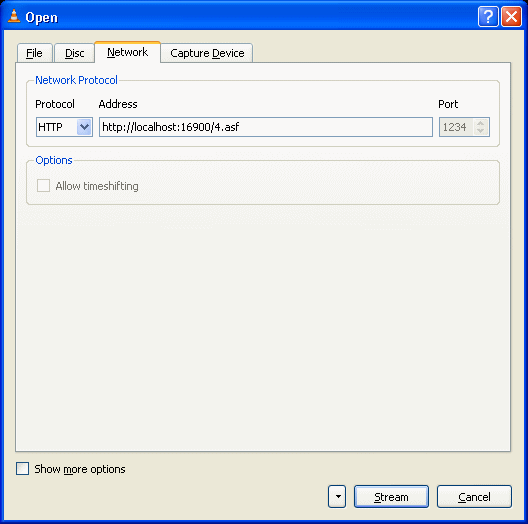 In VLC, click
Media --> Streaming
, and then click the
Network
tab of the window that pops up (looks like the picture above). Once you have that done, under
Network Protocol
, select
HTTP
from the list of options, and then paste in the TVAnts local stream URL that you were showed how to retrieve on page one of this guide in the
Address
field. For example, mine is
http://localhost:16900/4.asf
(if its your first time using TVAnts it is very likely going to be 1.asf). When you have input this information, click the
Stream
button.
Streaming Options - Step Two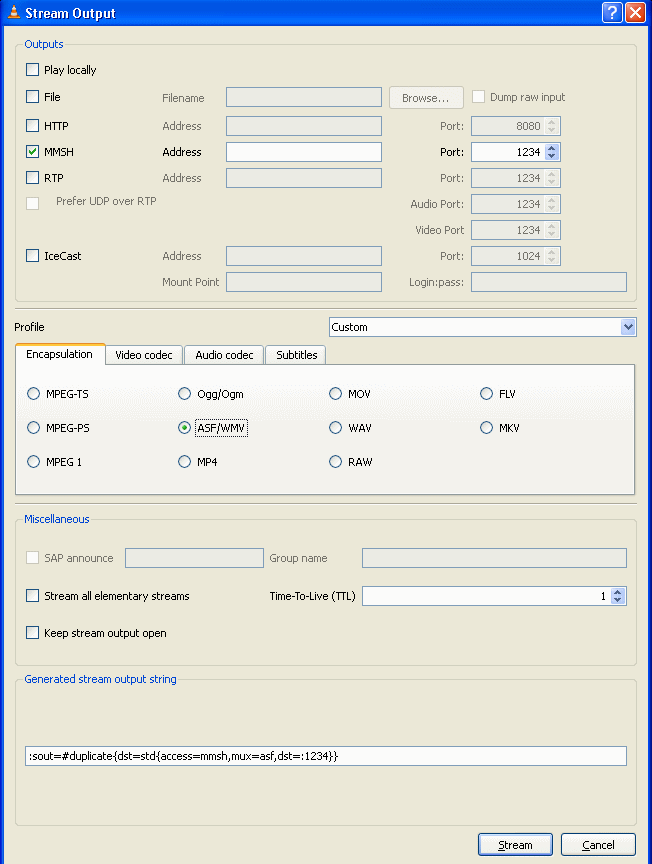 All you have to do here is select
MMSH
under
Outputs
. Leave the
Address
field blank and make sure the
Port
is set to
1234
. Now underneath the Encapsulation option, as shown, select
ASF/WMV
. And that's it - that large window and all you have to do is tick two options. Click
Stream
.
VLC Streaming?

If all is going well, VLC should now have a status of
Streaming
and should not pop-up an error. If an error does come up after about 10 seconds, chances are you input the link to the TVAnts stream incorrectly or the channel is not Running anymore. Check to make sure TVAnts is still running and the channel still has a status of
"Running"
under the Channels tab. It is also very possible that VLC will have the name of the TV channel that it is streaming on its Title bar and status. If this is the case, then this is a good thing.
Either way, you should now be ready for the next step, sharing with TVersity.
What Next?
We have completed the
VLC
steps, move to the next page.
Page 3 - Add video feed to TVersity
--> Move to the next page where we will setup the stream with TVersity.