Add Content to TVersity Library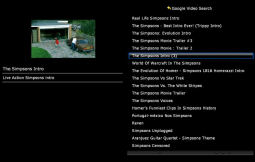 On this page we cover adding content to the TVersity library. Whatever is added to the TVersity library should be available to be played on the Xbox 360 console. A lot of common video files will stream without any necessary transcoding, whereas most Internet media may need to be transcoded while it is streaming to the console.
Adding content to the TVersity library is very easy and so this page is quite short and simple and will only take a minute to get through.
In Brief - TVersity Library Interface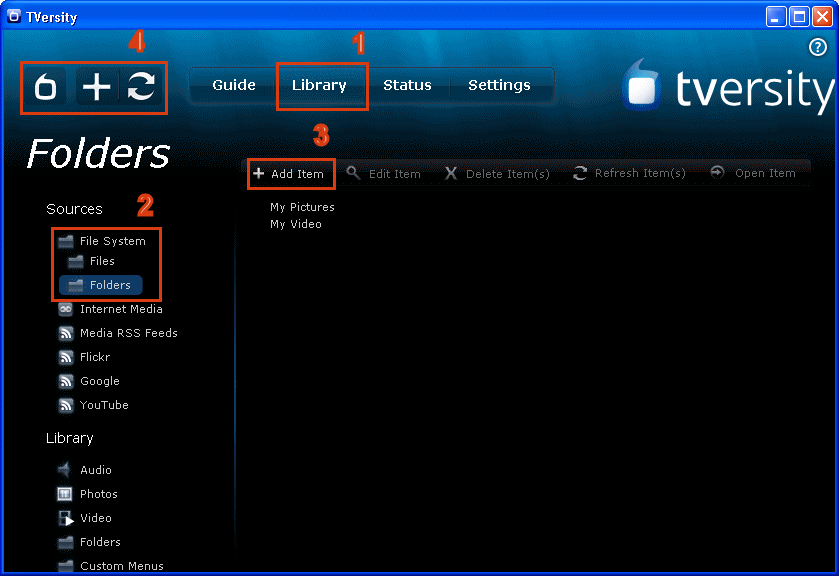 The TVersity interface is very basic. Across the top of the program we have buttons to take us to different areas of the interface. Under Library there are two main columns below the button bar. To the left we have our Sources and Library buttons, and to the right is a list of the actual content in the TVersity Library. It really couldn't be easier. In order to Add Items we must.
Add Files and Folders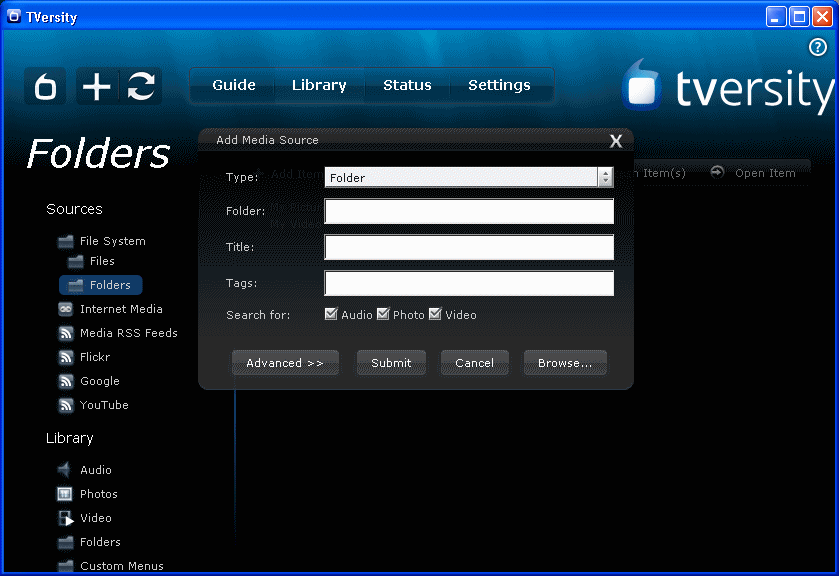 When the Add Media Source box pops up, you can easily add files and folders. I would recommend adding full folders as it makes browsing so much easier on the Xbox 360. So make sure Type is set to Folder and click Browse. Now go and browse for a Folder where you store a lot of multimedia files and Select it. As you can see you can also give the Folder a Title which will show up in the TVersity Library, as well as tags. You can select to add all Audio, Photo and Video from the folder(s) you choose or unselect any of them.
That's it really. That is how easily content is added to TVersity from your hard drive.
Adding Other Content
To add other content to the TVersity library from the Internet, simply open the Add Media Source box again (click the + button in the top left hand corner of the interface). Now beside type, click the select box and you will see a drop list allowing you to add content from the Internet as well, whether its direct Video links, RSS links or content specifically from Flickr, Google or YouTube. Take your time to play around a bit with Internet feeds.
What next?
The next logical step is to move to Page 4 and test streaming your freshly shared content to the Xbox 360 console. You can also go back to Page 1 or 2 if you wish using the select box in the navigation bar below.
Page 4: Play Shared Multimedia on Xbox 360
--> When you add content to the TVersity Library, then play it on the Xbox 360 with these instructions.
Appendix A: Connect Xbox 360 to a Wireless Network
--> This is an optional part of the guide for those that need to setup their Xbox 360 on their wireless network.