SVCD to DVD±R with DVD-Lab (From CD-Images or MPEG Files)
If you have just gotten a DVD Burner and still have SVCD's either as CD Images or MPEG files on your HDD, you probably thought already of putting those SVCD's on DVD but the thought of re-encoding might put you off. Well, thanks to DVD-Lab, you can now put SVCD on DVD without re-encoding the video. Basically, SVCD resolution, which is 480x480 (NTSC) or 480x576 (PAL), not a DVD standard so some DVD Authoring Software like TMPGEnc DVD Author (at the time of writing) wont accept SVCD Video Streams. DVD-Lab will accept them with just a small warning. Whether the output will work or not depends on your Standalone DVD Player but most DVD Players will manage to play these Discs. The only other problem is SVCD encoded audio is 44.1khz. This is not a DVD standard either and the audio will have to be converted to 48khz audio. This Guide assumes you have SVCD's on at least 2 or more CD Images or MPEG Files (but of course will work if only on 1 image or MPEG file), there is also a guide that can help if you have you SVCD already burned to CD's on this site.
Requirements
Alcohol 120%
- This will be used for mounting multiple CD Images but you do not need it if you have MPEG files.
Womble MPEG VCR
- You need this to merge multiple MPEG files to one MPEG file + encode the audio to 48hz (This can be skipped if you only have 1 MPEG file from 1 disc).
DVD-Lab
- You need DVD-Lab to make and burn a DVD Compilation.
Aprox 3 times the amount of HDD space that the entire SVCD will take up to, for example, 1.6GB (2 CD SVCD), you would need about 4.8GB or more! I would recommend up to about 10GB of Data to be safe.
In this guide we wont be making any DVD Menu's or converting the audio to AC3. For PAL, mp2 audio doesn't give many problems but for NTSC, some DVD Players don't like AC3 audio. Soon I will write a guide to encoding the audio to AC3 in case its needed.
Step 1. Mounting to Multiple Virtual Drives with Alcohol 120%
You can skip this step if you have just MPEG files and move on to Step 2. First of all Open Alcohol 120%. Right click and click
Add Images.
This guide will assume its a 2 Image SVCD but if its 3 or more, you can keep working but read carefully. Add in All the Image files that make up the SVCD and then under
Options
on the left click
Virtual Drive
. You pick the amount of Virtual Drives you will need, you will need 1 for each CD Image you have to Mount. When you apply and Alcohol applies its changes, Go to
Windows Explorer
and have a look in
My Computer
to see if the
Virtual Drives
have loaded properly. Go back to Alcohol now and right click on the
First
CD Image. Now choose Mount on Device and mount it on the
First
Virtual Drive. Do the same now for the second, third etc. Autorun here might be a bit of a problem but I'm sure you'll handle it. Now you have successfully managed to mount the files. I'll explain why this is necessary. CD-Images are nothing more than full CD's in 1 or a few files. The most common are
.bin/.cue
images. So when you mouth them on a
Virtual Drive,
you will trick your machine into believing that you just inserted a CD into a real Drive. On an SVCD disc, the actual movie files are stored in the
MPEG2
folder with names like
AVSEQ01.mpg
. These files are nothing more than MPEG files with Riff Headers on them. Some software cannot read these files but MPEG-VCR can and that's what we'll use to merge multiple files as one. If you only have 1 CD image, you will need to read the next step but it will be a lot easier for you.
Step 2 (Pt.1). MPEG-VCR - Open files and paste all to one Stream.
After you have your Images mounted, you will have to open all of the movie files in MPEG-VCR. Simply click
File - Open
and browse to the
MPEG2
folder on the
First
mounted image and open AVSEQ01.mpg. However if there is more than one mpg file in there, go to
Windows Explorer
and browse to the files on the CD. Play each mpg file until you find out which is the movie, if more than one are the movie, then open each of them in MPEG-VCR. Open all the movie files on each mounted Image with the same method. If you have only 1 CD image and 1 mpg file, then skip the parts about cutting off bad frames and go straight to
Converting the Audio
and
Saving the Files
. Now we have to cut off bad frames and merge the files to create 1 mpg file.
Before we go ahead and do that, look at the pic that comes with this text that show's you what each button means in mpeg-vcr. Out of all of these buttons, the buttons we will need are
Step Forward
,
Step Backward
,
MarkIn
,
MarkOut
,
Insert Marker
,
Trim Left
,
Trim Right
,
Copy
and
Save
. The 20 buttons you see are arranged nicer than you see them here and you wouldn't believe the hell I went through to get that image to actually look ok and at least a small bit in line. It took about 40 minutes to do, things kept going wrong but I think it looks pretty decent. Anyway, You have already opened the 2 MPEG files (or more), now we have to trim off bad frames from the start and end of the movie file. We are going to edit, the last Segment (mpeg file) first.
When looking at the last Segment, have a good look at the first frame. Does it appear blocky or does the pic appear corrupt in any way? If it does, hit the
Step Forward
button until you get to a frame that appears properly. Now click the
MarkIn
button followed then by the
Trim Left
button to cut off the frames. Now the good frame should appear first and timer should be
0:00:00:00
. Now click the
Insert Marker
button. Now we will process the First Segment (first mpeg file/first half of movie). Now when you view it in MPEG-VCR, you should see the very first frame and the timer should be
0:00:00:00
, click the
Step Backward
button and it will take you to the last frame of the Segment. Now if the last frame looks blocky or corrupt in any way, keep clicking
Step Backward
until you come to a frame that appears correctly. When you find one, Click the
MarkOut
button and then click the
Trim Right
button to remove the bad frames. With this is done properly, click the
Copy
button and you should see a little thumbnail image of the first Segment in the
Video Clipboard
on the left of MPEG VCR. Now go back to the Last Segment and drag the thumbnail from the
Video Clipboard
, right over the video of the second segment and release. If you did everything right, you will now be able to add the first segment to the second.
Note:
If you had more than 1 MPEG file, then process the last first, then merge the second last to it. Now the file before the one you just merged etc. until you manage to get them Fully merged. If you had just one file, then none of this text above had to/could have been done.
If you need a bigger guide on merging files with MPEG-VCR,
Mattrage (mrage)
has written and excellent guide that you can find
here
.
Step 2 (Pt.2). MPEG-VCR - Converting the Audio and Saving the File.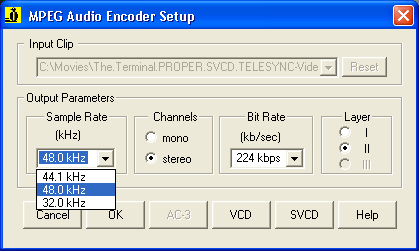 So now that you've managed to merge the 2 segments as one (or if you only have 1 file), you have to
Save
it. MPEG-VCR also gives you the option of making changes to the video or audio stream while saving which is very handy. So click the
Save
button BUT when the dialog box appears, click
Audio
. As you can see by the pic with this text, all you need to do is select 48.0 kHz and click OK. You might want to make the Birate higher if you wish but this wont have any major noticeable effect on the output audio at all. Make sure Layer is set to II (MP2). Now click OK. Enter the
File Name
you want it saved as and Click
Save
. It can take up to 15 minutes to save the file completely.
Step 3 (Pt.1). DVD-Lab - Add Movie File(s) and Edit Connections.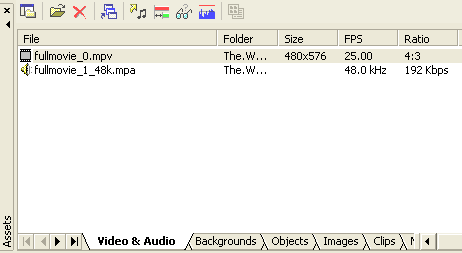 Open DVD-Lab and have a good look at it. You have a
Project Window
to the left, an
Assets Window
underneath it (see pic) and a
Work Area
in the middle where you should now see
Movie 1
. Of course there is no Video or Audio stream loaded into Movie 1 so we will do that now. First however, you have to add the movie to the Assets window so right click in the assets window and click
Import
or click the
Import Files
button. Now you will be alerted immediately with how to handle the MPEG file. Allow DVD-Lab to de-multiplex the file's into elementary streams. Basically this means it will separate the Video Stream from the Audio Stream as it's easier to compile this way and will give less problems. As soon as the de-multiplexing is finished a second alert will come up telling you that the Resolution is not Standard for DVD, but ignore this alert, just click OK. A good idea now would be to check the
Project Properties
and make sure you have it set to the right format (NTSC or PAL). Click
Project - Project Properties
and set it.
NTSC
is most used in North America and Japan and
PAL
is most used in Europe and Australia. Now that you have this done, look at the DVD-Lab screen and you should see
Movie 1
selected in the work area and if its not, Select it in the Project Window. Drag the Video Stream from the
Assets Window
into the
Movie 1
window. A series of thumbnail images should now appear. Now drag the Audio Stream from the
Assets Window
to the
Movie 1
window. Next we have to edit the Connections.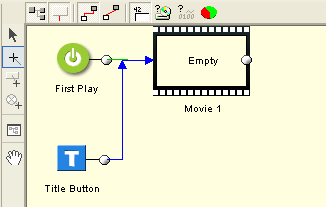 Basically the
Connections
on a DVD deal with, What is played first, and what the Title Buttons links to etc. Double click
Connections
in the
Project Window
and the
Connections Window
should appear. Now look at the button that is selected in the pic, click this button. Now click on the little dot beside the
First Play
icon and drag across into the middle of
Movie 1
(which appears as empty in this pic but should have a thumbnail on your screen). Now do the same from the dot beside
Title Button
. If there is also a
Menu
on your screen, the select
Menu 1
in the
Project Window
and hit the delete key to get rid of it. You have now successfully setup the connections for your DVD to playback properly. Now it would also be nice to add some chapters to your DVD. Select
Movie 1
again and click
Movie - Auto Chapters.
Step 3 (Pt.2). DVD-Lab - Adding Auto-Chapters and Compiling DVD.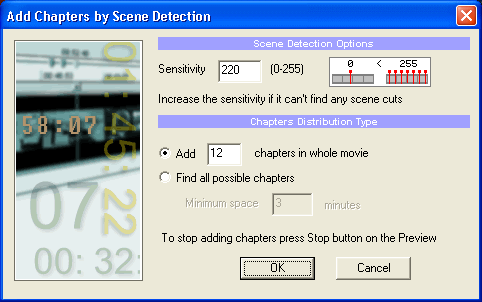 Now if you wish you can add the chapters to the DVD yourself using the little
+ button
on top of the video stream in the
Movie 1
Window but to make things fast, use Auto-Chapters. As I said already, Click
Movie - Auto Chapters.
As you can see by the diagram, the Sensitivity is set by numbers. I find the default
220
to work fine. I haven't had much time to experiment with different quality's and brightness yet however. Set the number of chapters you wish add and click OK. You will now see DVD-Lab adding chapters to
Movie 1
extremely fast with good enough accuracy. When it has finished, you now had made the basic DVD and all that is left to do is make the DVD files themselves. So click
Project - Compile DVD
.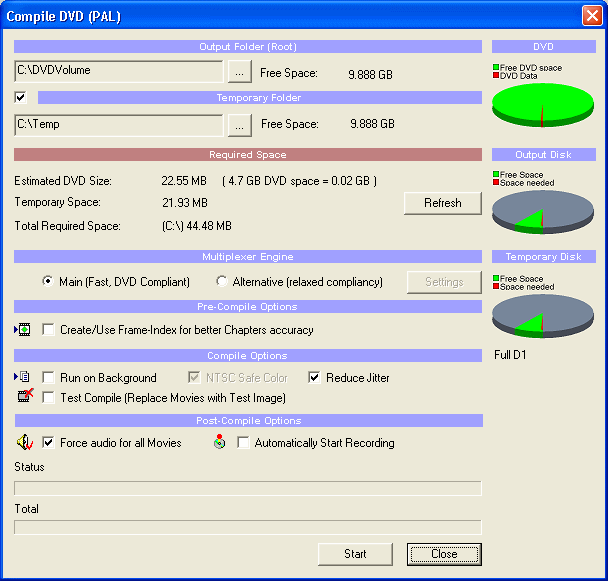 Here you have some more options. The
Multiplexer Engine
has the option of
DVD Complaint
and
Relaxed Compliancy
. I always Choose the
Main
option (DVD Complaint) but some users, (especially those using
NTSC
) have told me that its better to choose
Relaxed Compliancy
if you are using a non standard resolution and mp2 audio. So I will leave this option up to you, If you are using NTSC, I do suggest you select
Alternative
. The default output folder will be on your hard drive in a DVDVolume folder but you can change to whatever you want here too. Its actually good to get used to selecting a different folder all the time in case you accidentally over-write an existing compilation. When you are ready, click the Start button and your DVD will be Compiled. It will take some time depending on the length of your movie. When it is done you have only one thing left to do, and that's burn to disc.
Step 3 (Pt.3). DVD-Lab - Burn DVD.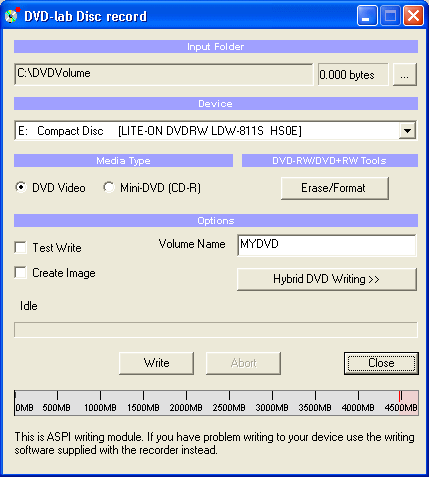 If you would prefer to use Nero to burn, that is fine, but I have used DVD-Lab to burn a lot and it does a good job for me. This step is not very, or not even one bit complicated really. Select your burner and make sure DVD Video is selected. You can choose whatever Volume Name for the disc that you wish. Make sure you Input Folder is the same folder you used to Compile the DVD. Just Click Start and your DVD should begin burning in No time. However, DVD-Lab does not work very well with some burners so if it fails to burn you may be better off with Nero.
Last Words.
There are many guides on the Net for SVCD to DVD using DVD-Lab. This is the method I prefer. Some guide will tell you not to merge, just to link the end of the first half to the second half, I don't like that method because I would prefer that its all in 2 full streams (audio and video). Some guides suggest TMPGEnc to merge but I have found MPEG-VCR a little more reliable and it also encodes the audio while merging. Some will tell you to encode to AC3 which you might need to do if you are making an NTSC DVD but most DVD Players, especially PAL players can play mp2 audio perfectly. I will update this guide as the software advances :-)
Finally
If you experience problems with this guide, or have other problems relating somehow to Digital Video or DVD, visit our
Discussion Forum.
If you would like to help out by answering some questions on the forum, that would be very appreciated as the current regulars give up a lot of their free time to keep the forums alive. Please read the rules before posting. Good luck and I hope this guide helps you :-) - Dela
All are welcome to our
IRC channel
- irc.addictz.net:6667 #ad_buddies
Read Darthnips Newbie IRC guide
here
.
Version history
v1.0
-- 31st August, 2004, First version online (
Dela
)