TMPGEnc Tips
Here is just a couple of tips that you might find useful for TMPGEnc.
Better Quality Audio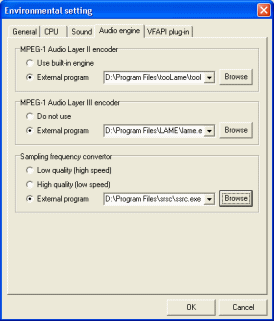 TMPGEnc has an internal audio encoder for MP2 files and internal sampling frequency converter. However, you can use external programs for MP2 encoder and Sampling Frequency Conversions. If you use
SSRC
for a sampling frequency converter and
tooLame
for an MP2 encoder, you will get higher quality audio on your mpg files. Neither of these programs has an installation, just extract them from their archives into folders on your HDD. Now in TMPGEnc, click
Options --> Environmental Setting
. Click the Audio engine tab and select External Program from MPEG-1 Audio Layer II encoder, click Browse and locate the tooLame.exe file. Then select External program for Sampling frequency convert or and click the Browse button and locate ssrc.exe. When you have loaded both in, click the OK button and from now TMPGEnc will use these two programs to encode the audio files.
Open MPEG-2 files with TMPGEnc
In order to open MPEG-2 files in the freeware TMPGEnc, you will need to download the
.m2v plugin
. Read instructions on how to use it.
Open MOV files with TMPGEnc
You can open
Quicktime
.mov files if you use the
QTPlugin
. You simply have to extract the files from the download into the same folder as TMPGEnc.
Finally
This guide should have given any new user the knowledge they need to quickly encode files and to edit MPEG files a bit. You can now read the Advanced guide if you'd like to challenge yourself a bit. If you have problems, please visit our
Discussion Forums
and ask your questions there.
Version History
v1.0
-- 6th January, 2005, First version online (
Dela
)