Starting a New Project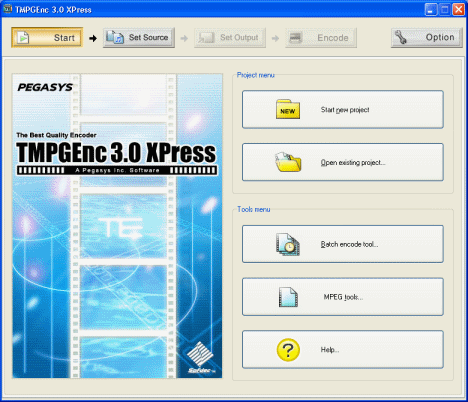 Just like other
Pegasys
software products like
TMPGEnc DVD Author
and
MPEG Editor
, you have to start off by starting a new project. When the program first launches you will see a start screen with a few different buttons available on it. The
Project Menu
allows you to either
start a brand new projec
t or to
Open an existing project
that you saved before. If you choose to start a new project it will take you to the second screen which is the
Set Source
window. If you start a new project when one already has been started it will ask you if you wish to save the current project before the new project is started. If you click Open existing project, a box will pop up that will ask you for a
.txp3
file that you saved before. If the files that were in use while you were using this project have changed in location or have been deleted, the program will ask you to browse for the files. You cannot continue a project if you deleted the files that were in use. Beneath the Project Menu you have the
Tools menu
which includes the Batch encode tool, which can be quite useful if you have a lot of encoding to do. This will be covered in the advanced guide.
MPEG tools
only allows you to either
Multiplex
or
Demultiplex
files so it's a step down from the options available in the TMPGEnc MPEG tools. The
Help
button launches the help file that has everything to do with the program in it. So what we want to do here is start a new project so click the
Start New Project
button.
The Set Source Window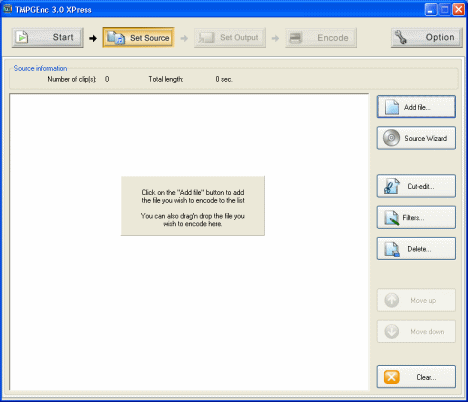 This window has a lot of options. As you can see it contains a clip list that you can add source files to. If you add multiple files then they will be merged together in the encoding process to make one large file instead. You have some buttons here,
Add File
,
Source Wizard
,
Cut-Edit
,
Filters
,
Delete
,
Move Up
,
Move Down
and
Clear
. Add file will allow you to add one file to the list, and will allow you to change any settings you wish to also. The Source Wizard basically does the same thing as add file but it allows you to add
unprotected DVD video
to the clip list, this will be covered in the advanced guide. The Cut-edit button pops up a window that allows you to cut pieces from the video stream or edit it. The Filters allow you to use many different useful features like de-interlacing and noise reduction, these will be covered in the Advanced guide. The Delete button allows you to Delete a clip from the clips list. The Move Up button allows you to move a selected clip up one place in the clip list, above the clip that's currently over it. The Move down button allows you to move a clip down the list below the clip currently under it. The clear button will remove all the clips from the Clip list. Now since we are just encoding from an AVI file to DVD, all we need to use just now is the Add file button, so click the button.
Adding a clip to the Project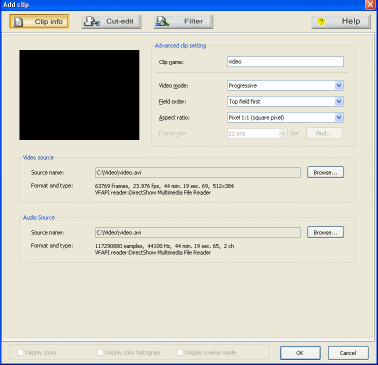 After clicking the
Add file
button you will get a new window. You can change the
Clip Name
to anything you want. You can choose between
Progressive
and
Interlaced
video (usually video is progressive). Field order should be left on
Top field first
.Your
Aspect ratio
is important for output quality. For AVI files you can use programs like
AviCodec
and
GSpot
to get some idea of the Aspect Ratio. If you are not sure, then basically, if the file is full screen, choose a
4:3
option and if it's widescreen choose a
16:9
option. In most cases the Frame rate will be guessed by
TMPGEnc XPress
already. You can also change the video source path and audio source path also if you wish. Now you will notice that there is also a
Cut-Edit
button and a
Filter
button on this window. Remember both of these buttons were also on the
Source Setup
window. If you were now to click
OK
, then click either of the buttons on the Source Setup window, it would give you the same window as it would if you clicked them on the Add clip window. So lets take a look at the Cut-edit part, click the Cut-edit button.
Cutting and Editing a Clip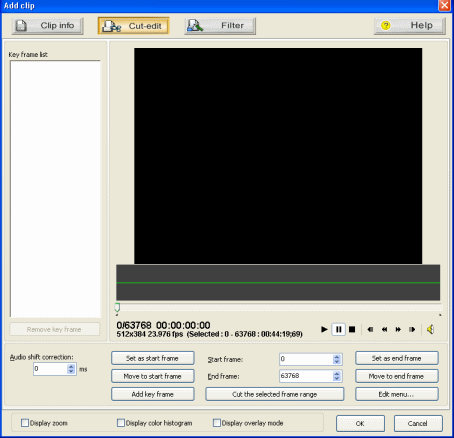 You will see this screen when you click the
Cut-Edit
button. Immediately the entire file will be selected, which will be 10's of thousands of frames usually. The buttons available are
Set as start frame
,
Move to start frame
,
Add key frame
,
Cut the selected frame range
,
Set as end frame
,
Move to end frame
and
Edit Menu
. Set as start frame allows you to set the frame you are currently on as your start frame for a frame selection. Move to start frame will bring you back to the very first selected frame in the movie file. Add key frame allows you to add a key frame into the video stream. Cut the selected range will allow you to completely cut out a section of the video that is selected. Set as end frame will allow you to set any frame as the end of your frame selection. Move to end frame will always bring you to the very last selected frame in a video clip. Edit menu just has a couple of extra options including canceling a selection. So this can be helpful if you need to cut out certain parts of clips that you do not wish to be in your encoded files. When you are done with any editing you need to do, click OK.Now when you are done click the Set Output button and a new window will pop up.