Output format selection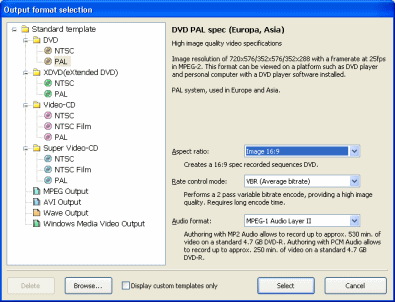 A nice little wizard pops up when you click the Set Output button. This wizard is easy to understand and will make your encoding very simple. I have decided to select
PAL DVD
with an
Aspect Ratio
of
16:9
,
VBR (Average Birate) Rate Control Mode
and
MP2
audio. Now that i have made my selection all I have to do is click the
Select
button and then I can change more settings.
Encoder / Birate Settings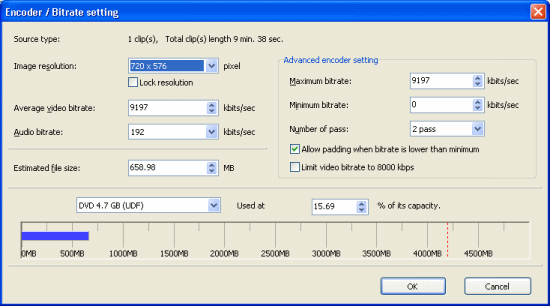 You might get a window pop up of the
Encoder / Birate Settings
. It's a nice window and very easy to understand. You can mess with the birates but I would suggest you leave the
resolution
alone as the resolution it picks would usually be the standard resolution for this compilation, while the others may be standard, the maintain quality a high resolution is the best option (unless you have horrible low resolution quality input files). Some people suggest setting your minimum birate over
300
as it helps with compatibility with some DVD players, so I'll leave that option up to you. The rest of the window is pretty easy to figure out, when you are done messing around, click OK.
Final Settings Before Encoding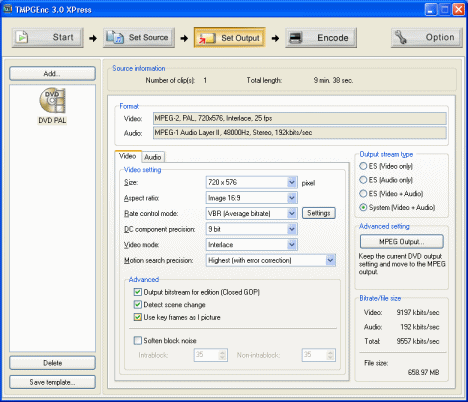 Now you will see your final settings before encoding. The one thing that I would definitely change is changing
Motion Search Precision
to
Highest (with error correction)
. Now this will make the encoding process longer but the overall quality of the output file will be much higher so it is worth it. Check that it has the
aspect ratio
correct. When you are done with that click the little
Audio
tab and if you wish to change the output audio format or birate then go ahead. The higher the birate the better the quality audio but you have to remember that if your source file has bad audio there is not much that can be done about it here. When you have your final settings there is nothing left to do but encode so click the
Encode
button.