Media Review: Traxdata 8x DVD-R and DVD R
The name Traxdata has a long history in optical recording. Back in the early CD-R age, the company Traxdata Ltd distributed high quality Kodak and Ritek made under their name. However, after Traxdata Ltd's bankruptcy in 2001, RITEK took over the Traxdata brand name and appointed Conrexx Technology (RITEK Europe)to manage the Sales & Marketing of Traxdata products (made by RITEK) throughout the EMEA region.
The quality of RITEK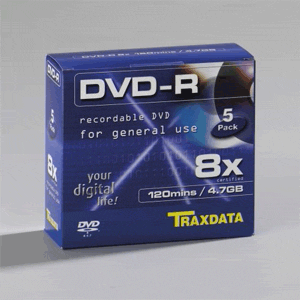 The Traxdata name has always been associated with good quality media. However, this has not always been the case with RITEK. Back in the early CD-R age, RITEK made themselves infamous by delivering some very low quality 1-4x rated CD-R media. This reputation followed them for years, even though ever since their 8x CD-R product line the quality has always been top notch in CD-R products.
In the DVD recordable generation, RITEK's media quickly became popular as they offered a good price/quality ratio. But recently there has been a lot of discussion about their products, as lower grade (B-grade, or even C-grade) RITEK originated media has been distributed under various brands (read articles
here
and
here
). This may have not been RITEK's fault, but it has certainly hurt their reputation again.
But now we have a chance to have a look at the premium quality Traxdata / RITEK products, so let's see how does a genuine A-grade RITEK perform. In this test we are evaluating Traxdata's DVD-R and DVD R media, rated at 8x speed.
About the test method
These test were performed by recording a number of discs, and then performing an error rate test using a
LiteON SOHW-1653S
. Most of the recording tasks were also performed with this drive, but few other drives were tested for verification. The error rate scans were performed with
Kprobe 2.4.2
software at 4x read speed. Discs were also used in various playback devices for additional verification of the quality.
As most of you know, this
method is not scientifically valid
. However, experience has proven that error rate scans give a pretty good idea about the quality of the media. There are however other factors as well, and the results may and will vary from drive to drive.
Traxdata DVD-R 8x (RITEKG05) at 4x speed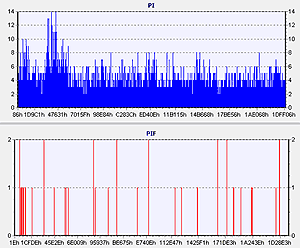 We started with the DVD-R and performed recordings at lower
4x speed
. At lower speed, the media seems to perform exceptionally well. Note that the PI value peak value is as low as 14, which is a respectable result. PIF doesn't get higher than 2 either. Quality is consistent, and the error rate is almost linear. A great result.
Traxdata DVD-R 8x (RITEKG05) at 8x speed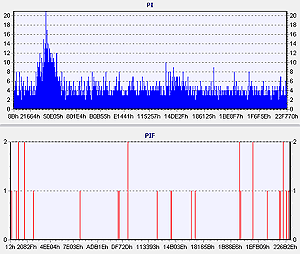 Next step was to bring the speed up to the rated maximum. As we can see, the error rate doesn't seem to increase significantly even at the 8x speed, so the disc is well worthy of the speed certificate. The PI peaks at 21, which is a good result. However, now if we compare the shapes of these two curves, the 4x and 8x, we can see that the error rate does bump up a little at the early part of the disc. Nothing serious though, and most likely has no impact on the playback performance. Still we would like to see our graphs as linear a possible. A good result.
Traxdata DVD R 8x (RITEKR03) at 4x speed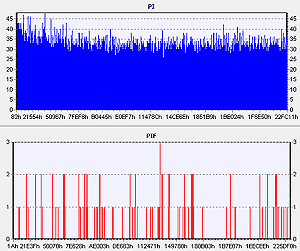 Interestingly, there were some differences in between the R and the -R media. The PI graphs start from around 45 and decline slightly to around 30-35 towards the end. This is still a good result, but perhaps bit higher than expected.
Traxdata DVD R 8x (RITEKR03) at 8x speed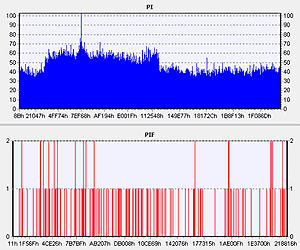 As we can see, the error rate of the 8x burn is higher and somewhat inconsistent. Peak values are going higher than we expect from a premium quality media. The results left us a bit confused, so we tried to verify the test result by performing burns with other drives. Tests indicated that
Pioneer A09
and
NEC 3500
were able to burn these discs with better results. On the other hand, a quick research around the Internet showed that there were other drives with lesser performance using RITEKR03 media.
Conclusions
Traxdata DVD-R 8x
is definitely a premium quality product, and recommended for any kind of use. It can be safely recorded at 8x, with a decent quality drive and a supporting firmware, without sacrificing the quality. Based on these tests recording at 4x may provide even better results.
For
Traxdata DVD R 8x
the results are mixed. Using
LiteON SOHW-1653
it does not currently perform as a top quality media should. However, some drives seem to be able burn these discs with excellent results (See
CDR-Zone.com
for another opinion), but there are drives other than LiteON that experience similar difficulties. In order to really get to the bottom of this issue, we would have needed a wider variety of DVD recorders that we currently have available for testing.
If you have a choice, then we recommend that you go for the DVD-R. For the DVD R you need to try it in your recorder to see how it performs - it seems that your mileage may vary.
Updated Conclusions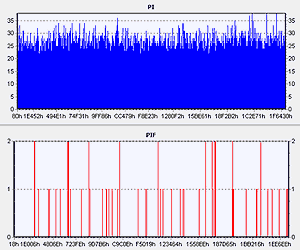 As we upgraded our test lab with
Pioneer DVR-109
and
Plextor PX-716UF
, we decided to have another look at this test. The new tests pretty much verified our results.
The Traxdata DVD-R 8x gave excellent results with all drives. Pioneer recorded the disc with 12x ZCLV (Zone Constant Linear Velocity) with the PI Max of 14 and PIF Max of 2. The average error rates were very low and the curve quite linear.
The Traxdata DVD R 8x gave also an excellent result with Pioneer with the maximum recording speed of 8x. With Plextor the result was decent and also better than with LiteON, but the PI Max was still as high as 38 and averaging at 18. It's not a bad result, but still worse than the -R media. The curve on the rigth shows the results with Plextor PX-716UF with the recording speed of 8x.
We discussed the earlier LiteON result of the DVD R with Conrexx / Ritek Europe, and they told us that they are working with LiteON to fine tune firmware for better performance. As the results with Pioneer shows, the discs can perform very well, but it depends heavily on the drive as the Plextor results still fell behind of the DVD-R.
To summarize, the Traxdata DVD-R 8x is an excellent disc, with potential for even higher than rated speed. The Traxdata DVD R isn't bad, but no match the -R edition in 2 out of 3 drives tested. If you can choose from both, then definitely go for the -R.
Written by: Lasse Penttinen