JDownloader - Premium Settings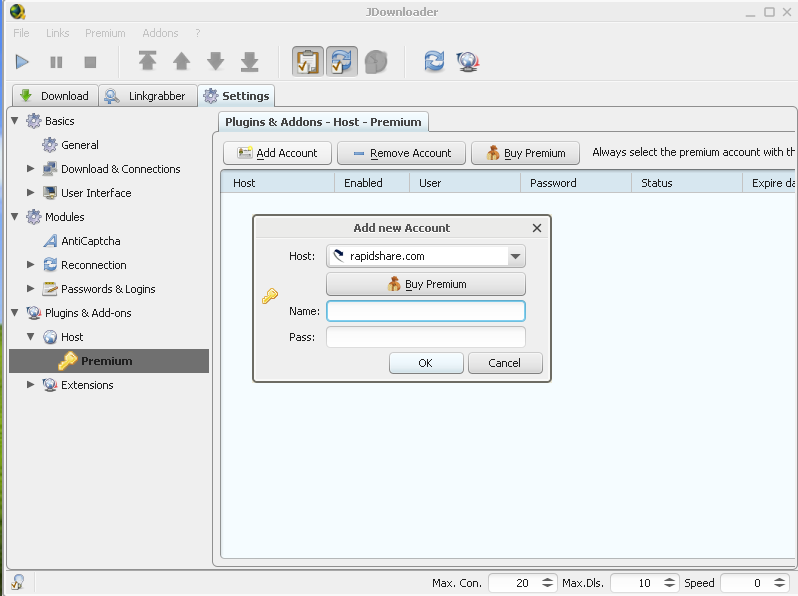 If you have a premium Rapidshare, Hotfile or similar account, you can set it up in JDownloader quite easily. Note that on the file locker site, you will need to make sure that direct downloads are on in your settings.
To get to JDownloader's premium account manager, click
Premium --> Premium Settings
. From here, you can add any Premium Account that JDownloader supports. Click the
Add Account
button and a new little window will pop-up.
Select the website you have a premium account with, such as Rapidshare. Then insert your username and password. When you are done, click OK and JDownloader will begin to login in the background.
JDownloader - Premium Account Information

As you can see from the link above, JDownloader logs in to your premium account in the background and retrieves some information such as the account status, expiry date and the remaining traffic on the account. This is quite useful as it removes the need for you to login through a web browser completely.
Also, you know that JDownloader will work fine when you can see it retrieving information from your premium account. It should not make any mistakes and attempt to download as a free user.
JDownloader - Linkgrabber

JDownloader automatically grabs direct download links when you copy them (either by selecting a link, right clicking on it and clicking copy, or using CTRL + C to copy the text link). Click the Linkgrabber tab in JDownloader and then copy a rapidshare or similar link. As you can see in the picture above, JDownloader will check to see if the files are still online or if they have been removed or deleted by the original uploader.
You can copy literally hundreds of links at once and it will load and check them all. To download any file in the list, simply right click on the file (or collection of files since JDownloader groups together similar files in a very useful way) and click Continue. To download them all, simply select any link and hit the Enter or Return key and all will be added to your download list.
JDownloader running in the background will grab almost every direct link that you copy to the clipboard, allowing you to go through and download later if you wish.
JDownloader - Terms of Service

For some reason, JDownloader asks you to accept a terms of service (TOS) for every site that it supports, such as Rapidshare as shown in the link above. It won't begin a download from any of the sites until you accept the TOS, but it won't prompt the TOS until you attempt to download from the site either so it is not that big of a problem.
Once you accept the TOS, the download will start in the Download tab.
JDownloader - Downloading with Premium Account

There are no delays with premium accounts so if a file is online, JDownloader will grab it immediately and depending on your connection and simultaneous download settings that we looked at earlier, the downloads can reach very high speeds very fast. JDownloader is smart enough to know, for example, if a group of split RAR files belong together. It can extract automatically later on.
However, it is a common practice for RAR files to contain passwords these days. So how does JDownloader handle passworded compressed archives?
JDownloader - Archive Passords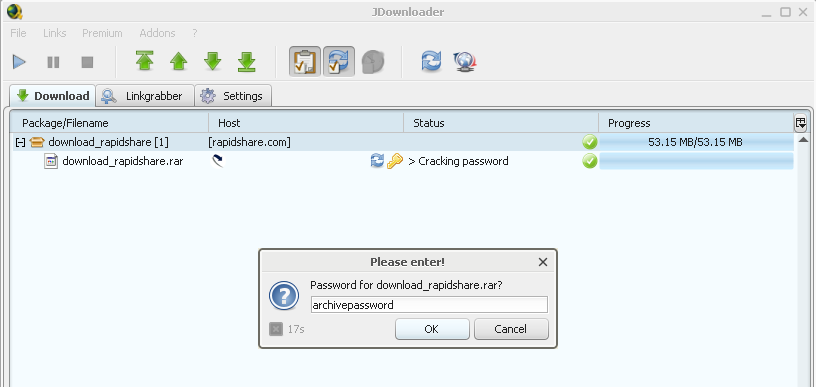 JDownloader has some password cracking abilities, but luckily it prompts the user for the archive password (which is usually on the same webpage as the links anyway) when it attempts to extract the contents. Simply enter the password and press OK and JDownloader should automatically attempt to extract again.
It also adds the password to a list of used passwords for possible later use, as we will see later on.
JDownloader - RAR Extraction

JDownloader extracts RAR files automatically as you can see above. It even works for split archives (part1.rar, part2.rar, part3.rar etc.) and as we just saw, passworded archives. Sometimes however, I have noticed JDownloader to report that an extraction failed when it had not. I'm not sure why it does this but it's always good to check your download folder for extracted contents even if it says the extraction failed.
Next we will take a look at how JDownloader handles sites that you do not have a premium account with. Go to
Page 3 - Downloading for free & YouTube
.