JDownloader - Free Downloading - Captcha Completion

In the above example picture I have added a link from megaupload.com, which I do not have a premium account for. I wanted to show how well JDownloader can handle free downloading, and this is one of its best features. Notice how it displays the thumbnail of the captcha (
HDR2
). The whole point of a Captcha is to make sure that the person using the service is human, but JDownloader can determine the letter and enter the Captcha for you without you having to go to the site. Any time that it fails to do so, it will load the Captcha in a small window for you to help with the input.
Once it has entered the captcha it will continue to load the website in the background and will handle time delays and other nags with free downloading.
JDownloader - Free Downloading - Time Wait

If you look at the picture above, it has
"Wait 32s"
in the status of the Megaupload download. If the link were opened in a browser, you would have to literally wait 32 seconds for the download button to appear. That's the same thing that JDownloader has to wait on, only it will automatically
"click the Regular Download button"
itself when the 32 seconds are up.
Time delays vary over websites, with some like Rapidshare having extensive time waits in between downloads for free users. Nevertheless, JDownloader makes downloading for free much less of a hassle, particularly when a file (or files) have been posted across a number of different sites with free download options supported by JDownloader. For example, split archives could have been posted on 6 different websites, and if the poster says they are
"interchangeable"
, that means you can download any part from any of the sites and as long as you end up with all the parts, it will extract just fine.
JDownloader can handle multiple free sites at once, which could see free users clocking up very high download speeds overall from multiple sources.
JDownloader - Free Downloading - Speeds

It goes without saying that downloading through JDownloader is much faster with premium accounts than without. However, I find JDownloader downloads faster for free than you can in a browser, and as mentioned above, if you are downloading from multiple sources simultaneously for free, it can clock up very high speeds over time.
JDownloader doesn't just download from file lockers however, it also has the ability to grab videos from sites like YouTube.com.
JDownloader - YouTube links in clipboard

If you copy a YouTube link to the clipboard, JDownloader will immediately connect to the website and get information on the video. You will then receive this handy box above which prompts the user on which format to download. For example, you could choose
MP3
if you only want the sound from the video. You can choose
FLV
which will be the lower and medium quality videos. If
MP4
is available it will be higher quality, right up to high-definition (1080p in cases) and also JDownloader will even get the
WebM
version of the video if its available and you select it.
NOTE
: If you only select MP3, then only the MP3 stream from the video will be loaded into the Linkgrabber. If you select FLV, then only FLV copies of the video available on YouTube will be loaded into the Linkgrabber. If you select MP4, then only MP4 copies of the video will be loaded into the Linkgrabber. Generally speaking, most HD videos on YouTube will be in MP4 or WebM format whereas the FLV will be typical YouTube quality.
For example, I choose to download in FLV above to show what you must do next in the Linkgrabber.
JDownloader - YouTube links in Linkgrabber

Since I chose the FLV option, the Linkgrabber will now display all the FLV copies of the video I chose that are available at the link. In this case, it is three. Obviously the highest quality FLV available of it is the largest and there is no need to download all three separate copies of the same video.
To download just one, simply right click on the one you want and click
"Continue with selected links (1)"
. Remember that if you want it in higher quality you can copy the link in again and choose MP4 if it is available and you might be able to get a HD copy (particularly with game and movie trailers).
JDownloader - YouTube downloading

YouTube videos download quite a lot faster in JDownloader than they load in web browsers. It is useful to locally store your favorite videos on YouTube in case the site is having a slow day, or your Internet connection is gone or acting up. It also allows you to convert the video into other formats and use it on portable devices and in other ways.
JDownloader - Password List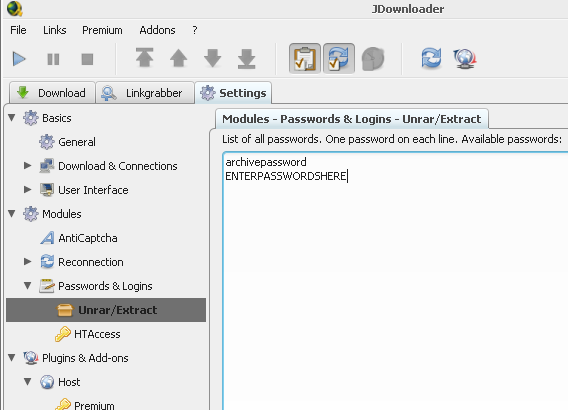 One final thing to be aware of in JDownloader is the password list. Click Settings --> Password & Logins --> Unrar / Extract. If you download from the same source (such as a blog) you will find that the password to extract from RAR files sourced from there is always the same. If that's the case, add that text password in here and JDownloader won't ask you for it at all. The software checks the password list before prompting the user for a RAR or similar password. This can help save some time.
Finally
Hopefully this guide will help you to simplify downloading content from file lockers or from video sites. If you have any questions or need further assistance, please visit our
Discussion Forums
for help.