Introduction to uTorrent
Open up
uTorrent
and take a quick look at the interface.
Opening up preferences for the first time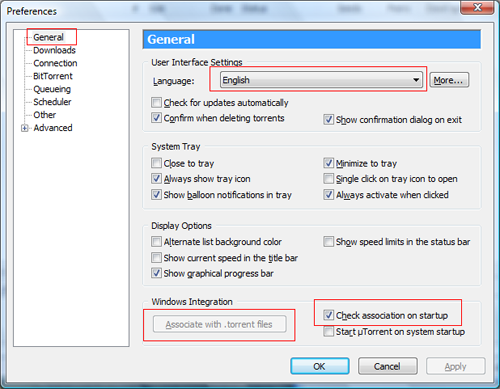 Ok, now that uTorrent is running, open up the
Preferences
window.
Hit the
General
tab and make sure you set the language to the one you feel most comfortable with.
We want to make sure that uTorrent is set to open when you download a torrent file so hit the
Associate with .torrent files
button and then make sure
Check association on startup
is checked.
That is all you will need for this tab so hit
OK
.
Downloads Tab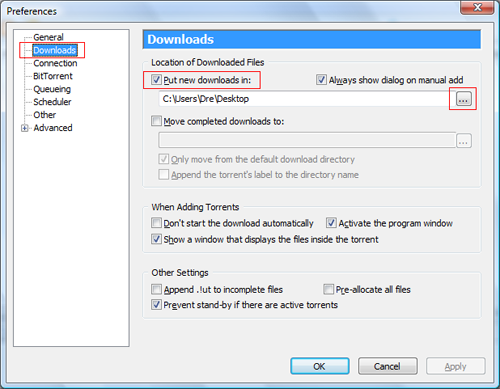 Now, open the
Downloads
tab, and leave the setting like in the picture.
Check the
Put New Downloads In
tab, and browse for a suitable folder for your downloads. To make my life simple I use the
Desktop
.
That is all you need to do for the
Downloads
tab so hit OK to save the changes.
Speed Tests
Before going into anymore preferences, we need to check our download and upload speeds, because as you read in the last page, uploading too much will throttle your download.
You will want to visit
http://www.speakeasy.net/speedtest/
and pick the city closest to yours and get your max upload speed.
Now with that same number, take 10%, and this final number you get is your
Global Max Upload
, which can be set in the
Preferences
section of uTorrent. For now though, write this number down and don't lose it.
Note: If you do not live in the US, visit here and pick the city closest to you,
http://www.dslreports.com/speedtest?more=1
Connection Tab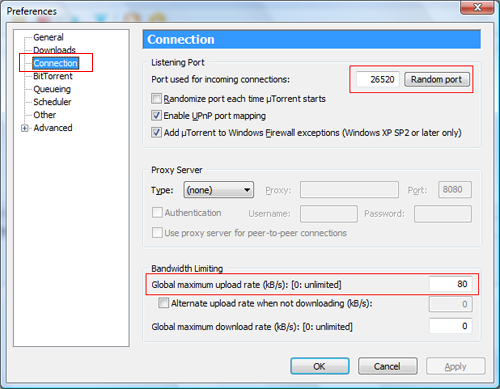 This is a very important tab, so pay close attention.
Press the random port button or select your own listening port. Check here first for known port vulnerabilities:
http://www.commodon.com/threat/threat-ports.htm
If you are selecting your own port, then uncheck the
randomize port each time
box, if not, then check it.
Check the next two boxes.
Now take out that number you wrote down earlier (max global upload) and write that number in the
Global Maximum Upload Rate
box. Leave the next box unchecked and the
Global Max Download
box at 0 which means infinite.
You are now done with the
Connection
tab.
BitTorrent Tab and Finishing Off Preferences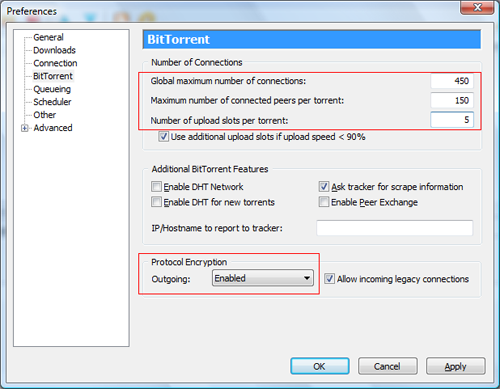 Here is another important tab.
For
Global Max Connections
set the number to
450
.
Note: If this crashes your router, then set the number lower, at
150
-
200
.
Set the Maximum Number of connected peers per torrent to
200
.
Leave the
Number of Upload Slots
at
5
.
If you are on a Private tracker, then you will want to uncheck the
DHT
boxes (like in the picture at right)
If you are not, then please leave them checked.
Now, move down to the
Protocol Encryption
section and make sure
Outgoing:
is set to
Enabled
and the box next to it is checked.
You are now done with preferences so you may press
OK
and then restart uTorrent.
Firewall and Router Help
The next step is to open your firewall program.
If you are behind a software firewall, such as
McAfee
, please allow full access to the internet for uTorrent.
If using
Windows Firewall
, then you must do the following: Open Windows Firewall through the
Control Panel
. Go to the
Exceptions
tab and press
Add Port
. Then add the port # you selected before. If using Windows Firewall I'd suggest using the same port every time and not randomizing. This is only to add convenience, and not force you to add a new exception every time you open uTorrent.
Router:
If you are behind a router, please visit
http://www.portforward.com
and then select your router, and then uTorrent or torrent. Follow every step to forward your ports and allow greater access to better speeds for your torrents.
Tweak test for cable and dsl connections
Run this test and follow all the steps it tells you to improve your cable/dsl connection:
http://www.broadbandreports.com/tweaks
Under advertised speed, use the max speed you got after taking the speed test earlier in this guide.
Finishing Up
Ok, well that is the end of the guide and using all these tips you should be able to max out your downloading speeds for your connection. Good luck and enjoy! If you have any questions please visit our P2P Discussion Forums
.
Version History
v2.0
- Complete revision
28 February, 2008
by
DVDBack23
v1.0
- First Version Online,
01 March, 2007
by
DVDBack23