ImTOO PSP Video Converter Interface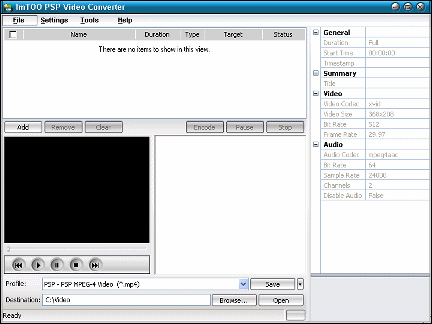 ImTOO PSP Video Converter
has a busy Interface. You could say there are four main sections. At the top of a space for a list of video files, that we'll call a
Track List
. Below it we have a small
Preview Window
, and a white space beside it that will give information on selected video files when your Track List is full.
Below that again you can choose encoding pre-set encoding
Profiles
(makes everything much easier), and an output path. You can also save profiles there. On the right are all the different settings for video output. These will be usable only when a video file is selected. If you don't know about these settings, don't tamper with them.
So even though it is busy, it is still quite easy to understand. Looking back at the Track List space at the top of the application again, you will see an
Add
button. Click Add and field the video files on your HDD that you want to encode, and open it. Now your Interface will get even more busy.
Adding files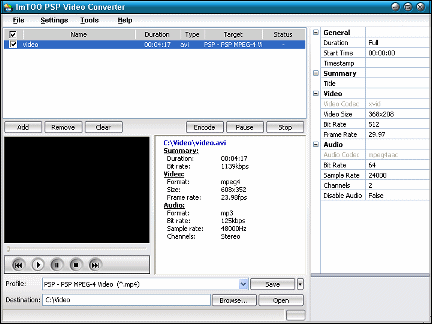 Now that you have a file added, select it. There are a couple of obvious changes. The
Information
window now has info on the source file, its video format, audio format,
bitrate
and
framerate
information etc. You can preview now too if you want (sometimes doesn't seem to work) by pressing play in the
Preview
window. You can add multiple files to the
Track List
and manage them with the buttons below.
On the right of the application you will notice that now a lot of settings can be edited. These are your output settings. Notice under the Preview window you can change between pre-set profiles, when you do this you will see the audio and video output settings change.
Firstly, let's set a
Profile
and
Destination
.
Setting a Profile and Destination path

There are a number of Pre-set profiles to choose from. Choose from a profile depending on the capacity of your
Memory Stick
. The Profile I have selected in the Image produces small files with decent quality (Video: 368x208, 29.97fps, 512kb/s, AAC Audio: Stereo, 24hz, 64kb/s) but if you have enough free space then go for other Profile options such as
PSP MPEG-4 Video - Excellent Quality
. This produces nice quality with a bitrate of
1500kb/s
.
To select a destination folder click
Browse
. You do not need to set this destination folder as your PSP, we will transfer the files after they finish encoding. The
Open
button will open the destination folder for you.
Further Editing Output Settings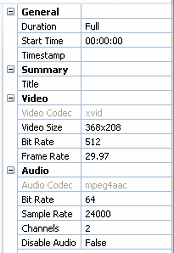 If you are unhappy with any of the quality settings that are pre-set, you can edit some values on the right side of the application. Under
General
you can set
Duration
, which allows you to set the recording time. You can also set
Start Time
and
Timestamp
here.
Under
Summary
you have the option to set a
Title
for the video you are encoding. Under
Video
, you can change the
resolution
(Video Size),
Bitrate
(higher bitrate means a bigger file and better quality) and the framerate (best left at 29.97fps). Under
Audio
, you can edit the
Sample Rate
,
Bitrate
,
Channels
or choose to
disable
the audio. As with video, the higher the Bitrate the better.
Try experimenting a bit.