Start the Process

All that is left to start the conversion process is to click the
Encode
button.
The Encoding Process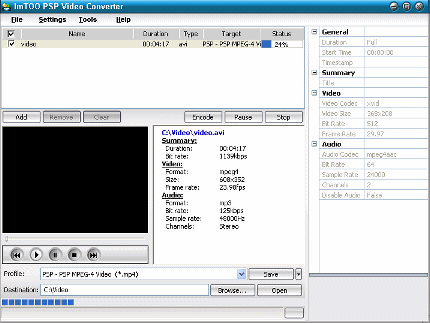 The Interface will change again as the encoding begins. As you can see the progress bar starts moving at the end of the application and also a small bar will become active beside the video you are currently encoding in the Track List.
The program doesn't give any estimated time remaining, but in my experience it encodes pretty fast. It depends on the amount of files in the list and the length of the files, and of course, whatever settings you have picked.
When it is done, it is time to transfer the video to the Memory Stick.
Transfer video to PSP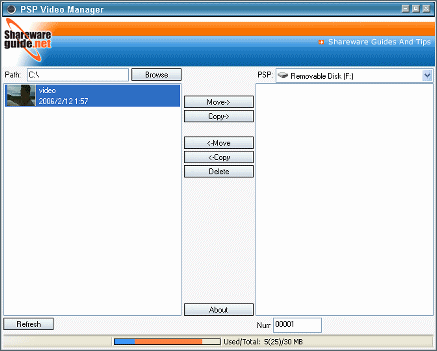 Connect the
PSP
to your computer using a
USB
cable, and wait for the computer to recognize it (should hear a sound, autoplay might suggest some things you can do, and a removable disk should appear in
My Computer
). Now click
Tools --> PSP Video Manager
, and the PSP Manager should load.
Where you last saved your video files should automatically appear on the left, but if it doesn't, click the Browse button and locate the folder. Now you can simply select the video you want to transfer to your PSP, and click
Copy->
.
A few moments later the video will appear on the right also. It is now on your PSP. Exist
USB Mode
on your PSP by pressing circle and go check to see if your video was transferred properly. Make sure to watch it all now to see if there are any sound sync issues.
Finally
Hopefully now you will make use of this information and frequently encode video for your PSP. If you have any problems, refer to our
Discussion Forums
. We have a specific forum for
PSP discussion
here. If you find any problems, mistakes or have any feedback on this guide, send me a
Private Message
(you need to have an account to send a PM). My nickname is
Dela
. I hope this guide helped you, hope you stick around :-)
Version History
12th February 2006
, First Version Online (
Dela
)
V1.0