Video Vault: Introducing an all-in-one video conversion package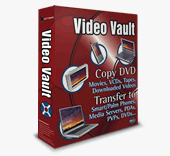 XSoftware
's new Video Vault is the swiss army knife of digital video conversion utilities. Not only does it allow you to convert from files to DVD, it also has support for DVD backup that rivals X Software's
DVDXPlatinum
and has the ability to convert videos for storage on devices such as PDA's, Smartphones, PVPs and more. It costs less than most other commercial equivalents that claim to do the same. In this review I will show how I easily managed to use this program to perform multiple different conversions.
Introduction & Requirements
Video Vault
- Since this is only a review, you don't exactly need to install Video Vault but if you'd like to try it out then download the trial and check it out.
DVD Decrypter
- If you are testing Video Vault's DVD backup features you will need this.
Video Vault can backup DVDs for you but it doesn't support
CSS protected DVDs
therefore you have to use something to remove the protection. In this review I will use DVD Decrypter to rip the entire DVD to a HDD, but you can also try out
DVD43
if you don't have much HDD space available.