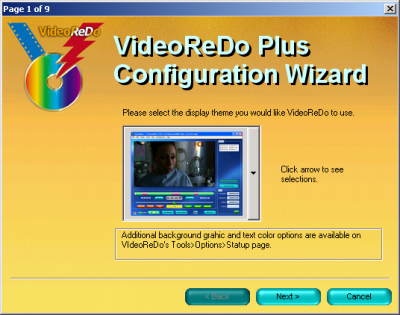 Correctly configuring VideoReDo Plus starts when you install it. Many of the MPEG files it supports are very specialized, and either use special containers or particulars or have certain quirks that must be taken into account when reading them. During setup you'll be asked the first of a series of questions to make sure VideoReDo Plus is ready to handle your source files. Before you get to these questions the installer will go through some standard installation steps like asking where it should be installed and whether you want desktop and quick start menu shortcuts. After the program is installed you'll also be prompted to select a skin. Once you select the one you want, click next and you're ready to start answering some questions about the files you'll be working with.
File Types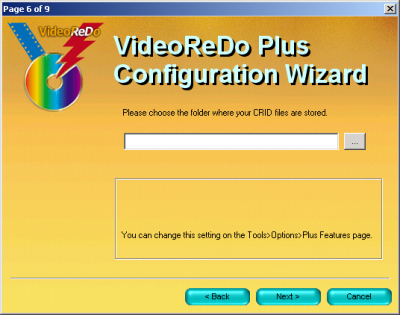 Next you'll be asked about the files you'll be opening to edit. These questions determine what file types will be shown in the VideoReDo Plus file open dialog. You can answer yes to every file type since this is really only a view setting, but you can also change these selections later so it's safe to answer yes for only the file types you actually plan to edit. The file types you'll be asked about are DVR-MS (Windows Media Center Edition), Tivo, Topfield .rec (Topfield PVR), and CRID (Siemens M740-AV DVB receiver). If you answer yes to CRID files you'll also need to specify the folder where the files will be stored. Click on the right side of the window in the center, and browse to the folder.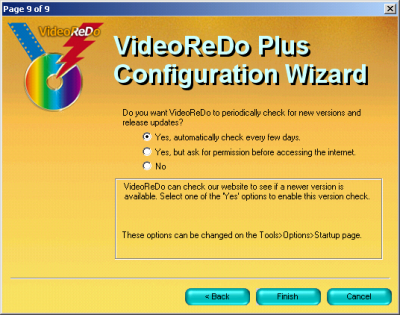 Once you've finished answering questions about the file types you'll have a couple more questions to answer before you're done. The first one is about DigiTV playback. Make sure to answer yes to this if you're going to be playing back files with this software as it requires the files to be written in a very specific way. After that you'll be asked if you want to use Cut Mode or Scene Mode. In Cut Mode you select areas you want to remove, while Scene Mode allows you to select areas to keep instead. Finally you need to set the options VideoReDo Plus will use to check for updates. You can tell it not to check, to check every few days, or to check every few days after asking for permission to access the internet.
Entering Your Serial Number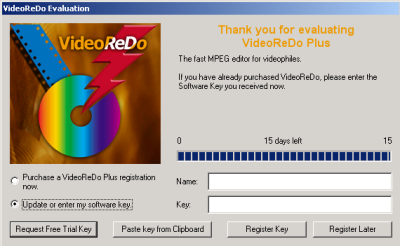 VideoReDo Plus automatically installs as a 15 day trial version. Even if you haven't purchased it you can request a trial key so you don't have to deal with a reminder screen when you open or save files. If you need either a trial or full version key you can get it from the same window you enter it in. Select Enter Software Key from the Help menu. Select the purchase option and click the Purchase VideoReDo button. To enter a key, Select Enter Software Key, enter your name and key, and click the Register Key button.Once your key is registered you'll need to restart for it to take effect.