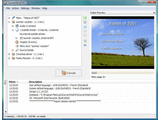 VSO's ConvertXtoDVD software can take almost any common video file you have, encode it to MPEG-2, build a DVD compilation and Burn to a blank DVD, and the best part is how easy it all is. It has the ability to convert multiple file types, including AVI files (DivX or XviD supported), Quicktime files (MOV), Matroska files (MKV), Windows Media Video files (WMV) etc.. to DVD. It produces a VIDEO_TS folder containing your DVD files (.VOB, .BUP and .IFO) and can burn it directly to DVD. It can convert NTSC to PAL and vice versa, 4:3 or 16:9 output and also has more bitrate options than previous versions of the software. It has support for manual or automatic chapters, subtitle streams and multiple audio streams also. It can also output an interactive Menu; complex with motion and audio, or a simple still menu, it's your choice.
Introduction & Requirements
Software you must download and install

 VSO ConvertXtoDVD 3
 Required: Obviously you will need to download and install VSO ConvertXtoDVD for this guide. The download is a trial that you can unlock later if you like it. Download!
 ImgBurn
 Optional: ConvertXtoDVD does have it's own built-in DVD burner, but if you'd like to preview your DVD before you burn, then you can burn later with ImgBurn as shown. Download!
You will need to have enough free space for this process. Depending on the amount of video files you add to the process, it could produce a DVD compilation up to 4.36GB (single layer, up to 8.5GB for dual layer if you select it). You will need that and more in free space. The process will also take some time to complete, maybe hours, but relative to other encoding options,
ConvertXtoDVD
is very fast.
Please note that ConvertXtoDVD is not free; but you will be able to use it free for a limited time before you will need a license to keep using it. If you need a license,
please click here to purchase a license and support AfterDawn.com at the same time
.
VSO ConvertXtoDVD Installation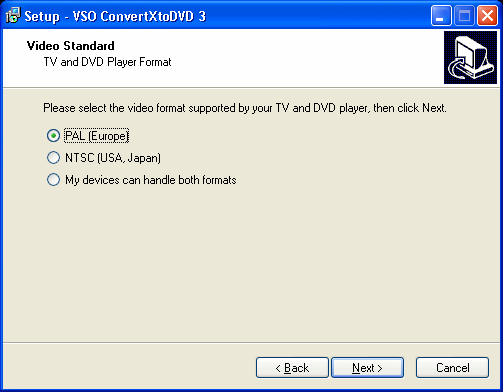 The
ConvertXtoDVD
installer is as easy to use as can be. Simply follow the steps. When you get to the screen shown above, it gives you an opportunity to set region settings that will determine default settings in the program. You can set anything you want here and change it later on if need be within the program itself. Simply finish the installer and then run
ConvertXtoDVD
from the shortcut on your Desktop or Start Menu.
ConvertXtoDVD First Run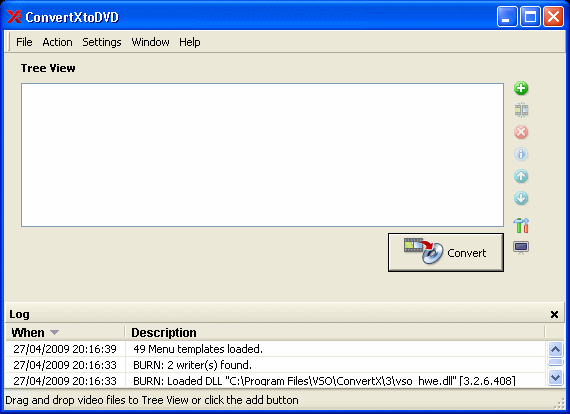 When first run,
ConvertXtoDVD
will look just like the picture above. It is pretty simple to understand and following this guide, it's ease of use will become apparent. There are also two windows you can add to the Interface;
Video Preview
and
Log
. To add those, which are not default you can select them from
Window
in the top bar. Now that we have the program installed and have it running, let's get right into it and add video(s) to the project, then select what Audio and Subtitles we want on Page 2.
Let's begin - Move to Page 2
On the next page, we take a look at opening multimedia files with ConvertXtoDVD, selecting audio tracks from them and adding Subtitles to the compilation if they are needed.
---
Follow the Guide Author on Twitter: jamesdela@twitter
---
VSO Software Products
| | | | | |
| --- | --- | --- | --- | --- |
| | | | | |
| | | | | |
| CopyToDVD provides you with a variety of ways to create CD, DVD or Blu-Ray, such as Windows shell integration or FileDepot technology. | ConvertXtoDVD can take almost any type of video file and quickly encode it to DVD, ready to be burned and watched immediately, complete with menus, chapters, subtitles and whatever else you want. | Image Resizer can create e-mail friendly versions of images, load them faster, move them easily through folders, change format, edit multiple image files/batch image resize and thus save space on your hard drive. | Blindwrite , your ultimate game copy software back up tool! BlindWrite extracts all the characteristics of your media to your harddrive to reproduce a working copy of your media. | Have a large collection of digital photos? PhotoDVD will create professional looking DVD slideshows you can impress your family with. It supports almost all image formats and audio formats. Highly recommended. |
| Download | Download | Download | Download | Download |