Open Files with ConvertXtoDVD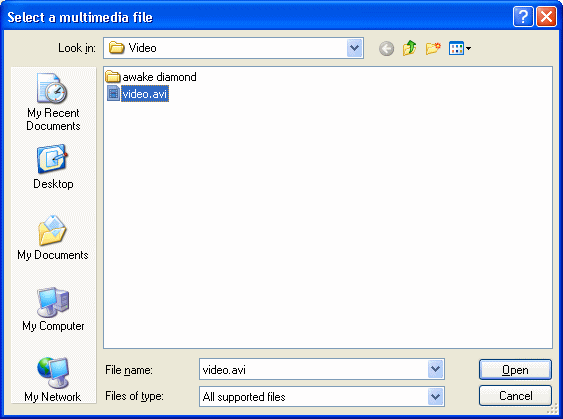 To add movies to the program could not be easier. Simply drag the file or files into the tree view window or hit the
Add
button that looks like this;
. If you hit
Add
then you will have to browse your hard drive for the file or files.
File Information - Input
Once the Video file appears in the list, click the + beside it (it will be listed as
Titleset 1
). Now from the new set of options that emerges you will find an option for
Source file(s) info
. Tick the + beside it. Below is the kind of information you will receive, compared to the image above.
Input file type: In the image above it's an AVI file, a very common multimedia container. Generally AVI files have only one video and one audio stream, whereas if you have an MKV file, you could be looking at multiple streams of each and even subtitles.
Estimated framerate: In the image above it is 23.98 frames per second, which is technically NTSC. It will encode well to PAL, which is 25.00 frames per second. Another common frame rate is 29.97 frames per second - all three are part of the DVD-Video standard. Whatever the case, the output will be either 23.97fps, 25.00fps or 29.97 fps. If you have a file with a low framerate like 15.00fps, ConvertXtoDVD will duplicate frames to make up the difference, which can affect quality but is unavoidable.
Duration: The more content you try to cram on a DVD, the less quality you will achieve. Keep an eye on the length of your videos. Generally speaking ConvertXtoDVD will produce good quality up to about three hours, relative to the input quality.
Aspect Ratio: The Aspect Ratio is 2.35 in the image, which tells me right away it is anamorphic/wide. 4:3 would indicate a fullscreen file, while 16:9 may also be a result for wide.
Stream Count: If you are working with MKV particularly, it can help to check the total stream count, as the file may have multiple different languages or audio tracks with a different number of channels.
It's not vital that you remember this information, as
ConvertXtoDVD
will output DVD suitable to any region you live in and will make an educated decision on the output
Aspect Ratio
, but remember this is a good practice to keep up when you are encoding files so you know what you are working with.
File Information - Output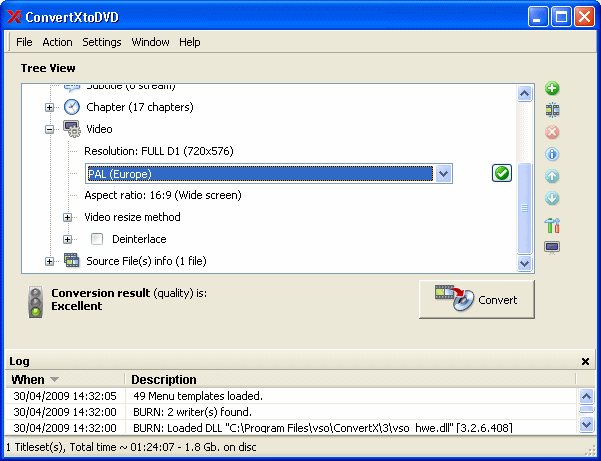 We can now use the information that we learned earlier to make changes to how
ConvertXtoDVD
will output a
DVD-Video
compilation. Again, click the + beside the video to expand the options. In the list, you will find
Video
, click the + beside it. In here we can make some changes that will greatly affect the output.
Resolution: By default, ConvertXtoDVD will always choose Full D1 resolution (720x576 for PAL, 720x480 for NTSC). It is highly recommended for the sake of quality that you don't change this setting for good quality video content. However, if you have poor, low-resolution video quality, then you can choose another option, like Half D1, which will reduce the resolution and thus, the need for higher bitrates, meaning you can squeeze more on a single disc. Note however that changing from Full D1 might cause problems with some DVD players.
Format: Depending on where you are living, you will have to choose a PAL or NTSC output. While PAL and NTSC have more to do with color in practice, they also define a frame rate. We know that the input video in this example is 23.98 frames per second, that's NTSC, so we can match it to NTSC for the best quality. However, I live in Europe, which means I need to choose PAL, so ConvertXtoDVD will convert the 23.98fps, to 25.00fps, which will change the playback a bit but not noticeably. As a rule of thumb, if you live in Europe, Australia, NZ, then go for PAL. If you live in North America or Japan, then go with NTSC. This is more to do with compatibility with your television than anything else, so it is important that you get it right.
Aspect Ratio: You have two options, 16:9 or 4:3. In the example, we had video that was 2.35:1, which is meant to be displayed on a widescreen, therefore I will go with 16:9. If yours specified 4:3, then go with 4:3. Note that if you have different aspect ratio values than have been discussed here, don't worry about it because most of the time, ConvertXtoDVD will guess it right.
Output Settings - Choose Audio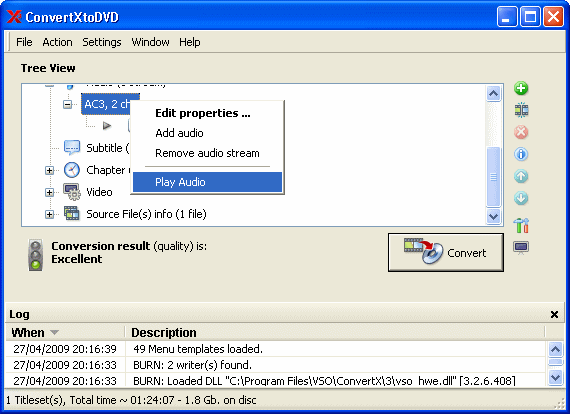 In most cases you will only have one Audio track in your multimedia file. However, when working with
MKV
and other flexible containers, this isn't always the case. Click the + beside the video you want to choose audio for. You will then be able to expand the
Audio
options too, like in the picture above. If you have
MP3
,
AC3 (Dolby)
or
DTS
audio, it will list the tracks. To make sure you select the right track, right click and select
Play Audio
. This will now play the audio track for you so you can be sure you have the right language etc. For all the audio tracks you don't want, simply right-click and click
Remove audio stream
.
Notice that by right-clicking on an audio stream you also have an
"Add Audio"
option, which will allow you to add audio from an external file.
Output Settings - Choose Subtitles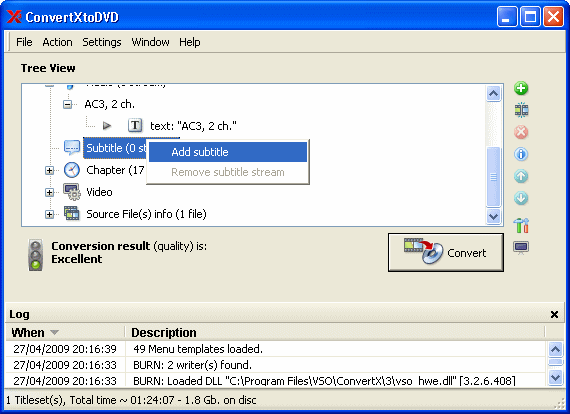 Click the + beside the video you want to change Subtitles settings for. Underneath
Audio
, there is a
Subtitle
category. If there are Subs within the multimedia container, then
ConvertXtoDVD
should detect them and you should be able to click a + beside
Subtitle
to expand a list. If it doesn't have any subtitles, you can add some yourself from an
SRT
file by right-clicking and clicking
Add subtitle
. Also note that any Subtitle streams you would prefer not to be on your Output DVD can be removed by simply right clicking on them and clicking
Remove subtitle stream
.
Automatic Video Chapters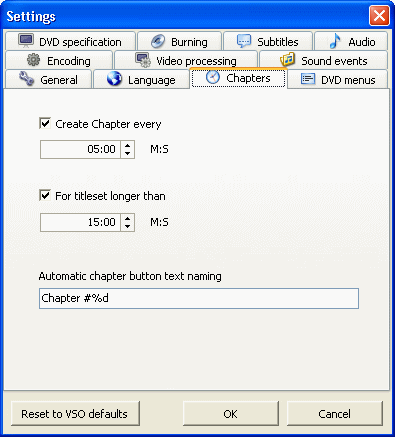 One of the most important features of
DVD-Video
is the ability to set chapters for specific times or frames. Going through the video yourself and adding chapters at necessary points might be something you want to do, but if not then you will like
ConvertXtoDVD
's ability to automatically add chapters based on some conditions. Click
Settings
in ConvertXtoDVD, and click
Chapters
, and you will get a new Window open that appears the same as the window above.
Create Chapter every: If selected, you can set a number of minutes and seconds between chapters. The default is 5:00
For titleset longer than: What is the point in having chapters for a 15 minute video? This setting will specify a playback length that a titleset (video) must be before it qualifies for auto-chapters to kick in. The default is 15 minutes. Of course if it is longer than 15 minutes, chapters will be set before the 15 minute mark too, not just after it.
Automatic chapter button text naming: This setting is on by default but only kicks in if you are using auto-chapters anyway. Basically you can't do much with it, it is just syntax for automatic naming. To describe it basically, each Chapter must be labeled as something on the menu. If you don't want to label it yourself, then this will automatically label it "Chapter" and then the "#%d" instructs the program to number the chapter names sequentially, so the result is the chapter at 5:00 is "Chapter 1", at 10:00 is "Chapter 2" and so on. If you change the word Chapter to something else, like Part, then it would become "Part 1", "Part 2", or if you completely removed the "#%d" then they would all be labeled whatever word you put in.
Manual Chapter Creation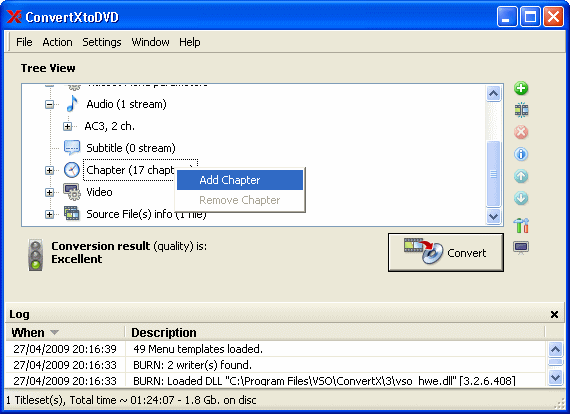 Of course, you do not have to settle for automatically generated chapters, and can add your own chapter (timecode) by clicking the + beside your Titleset (video), right clicking on
Chapter
and clicking
Add Chapter
. You will now be able to set a time that you want to specify a chapter point be located. Note also that you can change the chapter named by clicking the + beside
Chapter
, and then click the + beside any chapter you want to add a name to, and you will see the option to add text.
Menu, Encoding Settings, Output - Move to Page 3
On the next page, we take a look at choosing a Menu to be on the Output DVD disc (or no Menu). We will then change some settings that will weigh encoding time against quality and Output our finished product.
---
Follow the Guide Author on Twitter: jamesdela@twitter
---
VSO Software Products
| | | | | |
| --- | --- | --- | --- | --- |
| | | | | |
| | | | | |
| CopyToDVD provides you with a variety of ways to create CD, DVD or Blu-Ray, such as Windows shell integration or FileDepot technology. | ConvertXtoDVD can take almost any type of video file and quickly encode it to DVD, ready to be burned and watched immediately, complete with menus, chapters, subtitles and whatever else you want. | Image Resizer can create e-mail friendly versions of images, load them faster, move them easily through folders, change format, edit multiple image files/batch image resize and thus save space on your hard drive. | Blindwrite , your ultimate game copy software back up tool! BlindWrite extracts all the characteristics of your media to your harddrive to reproduce a working copy of your media. | Have a large collection of digital photos? PhotoDVD will create professional looking DVD slideshows you can impress your family with. It supports almost all image formats and audio formats. Highly recommended. |
| Download | Download | Download | Download | Download |