VSO DivxToDVD guide
At the time of writing
VSO Software
are offering a free program called
VSO DivxToDVD
to quickly and easily encode files to DVD. DivxToDVD accepts many different formats including AVI (DivX/XviD), MPEG files, VOB files, MOV files AMV and DV files. The program only has a few steps and will create a VIDEO_TS folder for you for your encoded files to be easily burned to DVD. While the program at this time does support encoding multiple files and putting them on the same DVD, it does not yet have the ability to create a menu to allow you select separate files, which can cause some playback problems with some DVD Players. DivxToDVD will also encode your audio files to 2CH AC3 format, which is a better option than MP2 for NTSC DVD's.
Introduction & Requirements
The only thing you need is to install DivxToDVD. You can get it from the
here
.
This guide is a simple guide to help you quickly get the hang of this simple program. This program is free at the moment but future versions might not be because VSO have many plans for new features. This guide will be updated whenever any new features are added to the program.
The Interface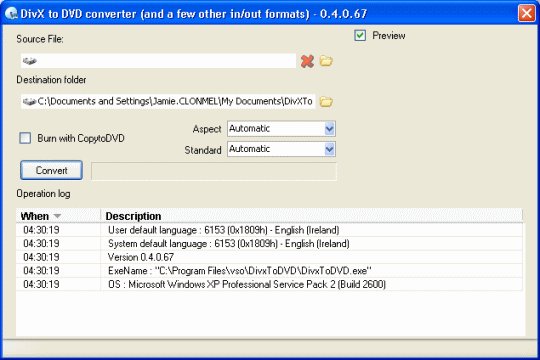 The
Interface
could not be more easy to explain. The first area we can see allows you to set your
source file(s)
and your
Destination folder
. Beneath that you have the option to
Burn with CopytoDVD
if you have it installed on your computer. You also have options for the
Aspect Ratio
and the
Standard (NTSC or PAL)
. Beside this area is your
preview
area. After you select a source file or during encoding, a little screen appears here allowing you to take a preview at what the video should look like after encoding. Then you have your
convert
button and conversion progress bar. Beneath this, you have the
Operation Log
that logs everything as it happens.
Conversion Process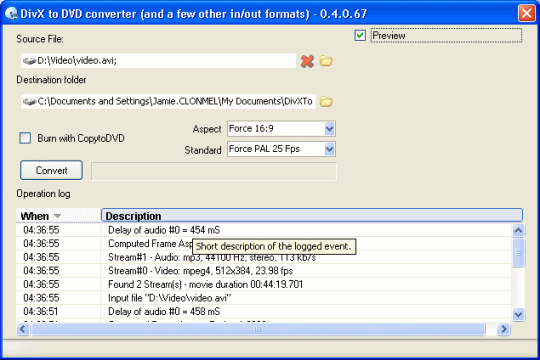 To convert a file to DVD first you need to tick the little folder icon beside the
Source File
field. Locate your video file, select it and click
Open
. Secondly, select your
Destination folder
by clicking the folder icon beside the Destination folder field. The
Aspect Ratio
is often ok just left at
Automatic
, but you can also choose between
Force 4:3
and
Force 16:9
(the preview will allow you to see if it is being displayed correctly before the encoding finishes). The
Standard
lets you decide between
NTSC
and
PAL
framerates or it can be left at Automatic. The only other option you have now is to select the
Burn with CopytoDVD
box if you have the software installed on your computer. You can now click
Convert
and it should begin encoding the DVD for you.
Encoding multiple files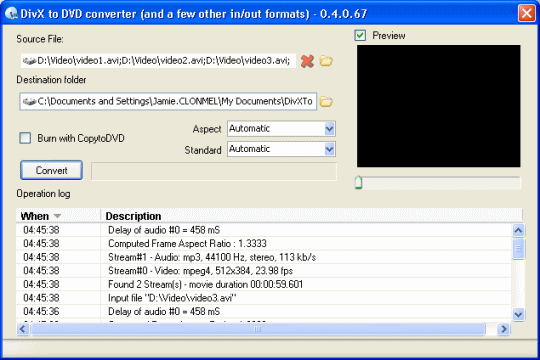 You can also put multiple files on the same DVD with DivxToDVD. In order to do this, simply just add more than one
Source file
. You will notice that the multiple paths will now be displayed in the Source File field. To completely remove all videos from the Source File field, click the
red X button
. After the conversion is finished, you will get a DVD with multiple
VTS
, depending on the amount of source files you choose. There will be no menu however, so there may be some playback issues with some DVD players. Also with multiple files it might be the best option to leave
Aspect Ratio
on Automatic, unless of course you notice that the preview doesn't look correct.
Finally
So as you can see this program is very easy to use. It's a pretty fast encoder with acceptable quality and best of all it's free (for now). I'm looking forward to seeing this software expand to cover more useful features like the ability to automatically create a menu that lets you choose between multiple video files on the DVD or more encoder options. Whenever any new features are added they will be added to this guide. If you have any problems, please visit our
Discussion Forums
and ask any questions you need to there.
Version History
v1.0
-- 23rd January, 2005, First version online (
Dela
)