Creating Evolution X Dashboard Boot CD-RW

Quick guide on how to create and setup an Evolution X dashboard boot cd. This assumes you have the mod chip flashed and installed into your Xbox and also a copy of Evolution X dashboard.
Setting up folders for dashboard before burning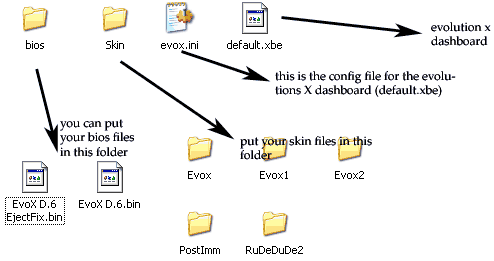 This picture shows the folder/file structure you want when you create an Evolution X boot CD-RW. After you have a folder on your pc with the Evolution X files in it and setup as such, we need to edit the evox.ini file. This is the configuration file; we will probably need to change a few items so it matches how you are going to FTP using flashfxp into your Xbox.
Editing the Evox.ini
Open the
evox.ini
file we put in our evox folders.

The section under [MISC] contains most of the things we will want to edit. Here's what mine looks like:
(I connect to the xbox with a router, so DHCP is enabled and static ip=no, if your using a crossover be sure to setup a static ip = yes and give it an ip different than your pc and setup the same gateway and subnet as your pc has or leave it at the default) also be sure to have these setup as follows:


FTP=YES
SetupNetwork=YES

[Misc]

AutoLaunchGames = No
AutoLaunchDVD = YES
DVDPlayer = "f:\apps\dvdx - DVD Player\default.xbe"
AutoLaunchAudio = No
#AudioPlayer = "c:\evoxdash.xbe"
MSDashBoard = "c:\msxboxdash.xbe"
UseFDrive = Yes
SkinName = matrix modded
IGR = No
UseItems = No
ScreenSaver = 5
#SkinName = Gears
Fahrenheit = Yes
ShadeLevel = 56

[IGR]

Start_Button = Yes
Back_Button = Yes
L_Trig = Yes
R_Trig = Yes
White_Button = No
Black_Button = No
A_Button = No
B_Button = No
X_Button = No
Y_Button = No

[Network]

SetupNetwork = Yes
StaticIP = No
Ip = 192.168.0.103
Subnetmask = 255.255.255.0
Defaultgateway = 192.168.0.1
DNS1 = 0.0.0.0
DNS2 = 0.0.0.0
SkipIfNoLink = No
SetupDelay = 10

[Clock]

JumpToMsDash = No
JumpIfNoLink = Yes
Use24 = Yes
SwapDate = No
SNTP_Server = 216.244.192.3

[FTP]

Enable = Yes
Password = xbox
IGR = No

[Telnet]

Enable = Yes

[RDTOOLS]

Enable = Yes
Name = xbox
IGR = No



Creating an xbox iso image
After you get the evox.ini settings setup to your configuration, we will want to create an Xbox image of the folder using either
gdfimage, isomaker, or xiso.
Burn .iso file to CD-RW
Finally, we will want to burn the xbox image we created to disk using Nero Burning Rom, Alcohol 120% or any burning program capable of burning .iso files. Be sure to burn to a CD-RW, most xbox's will not read a CD-R (however, you could burn it to a dvd-r/rw or dvd+r/+rw, but stick with cd-rw at first)
Tips:
be sure to do a full erase on a used CD-RW before you try to burn the image of Evolution X

if the CD-RW doesn't boot or work, try other media brands and types; also try to create a new Xbox image using a different Xbox image creating program (xiso can be pretty buggy at times, isomaker is more stable)

Boot the CD-RW and enjoy!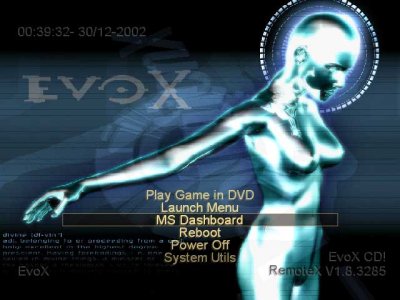 Put your boot cd in and power up the xbox and hopefully you will get an evolution x dashboard. More to come soon!
Version history
v1.0 - 11/20/03 - SeaMonkey
-
Written by: jimmy s