Review: Yamaha CRW-F1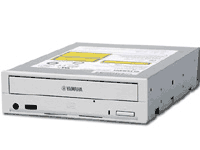 CD-R/W technology has reached it's dawn. The shift from CD-R technology to DVD recordables is easily seen around the industry, as software and hardware vendors re-focus to a new technology. Old school high profile brands like Yamaha and Plextor are facing the tough competition for newer brands like LiteOn and many others. It takes an extra effort to differ your product from the mainstream and to be able to provide customers added value required to get a sale.

Yamaha attempted to differ but financially it's attempts failed, and it now is the first major CD-R technology manufacturer that has ceased their production.
Yamaha was one of the frontline brands in CD-R technology. Along with Plextor, I have the highest respect for Yamaha CD-R products. They have been in the industry for a long time, delivering consistent high quality, but still their latest F1 product line was something that nobody could expect. Yamaha managed to pack their drive with features unseen before. First press releases of DiscTattoo and AudioMaster raised great anticipation. Now the F1 isn't totally fresh anymore and it has already been reviewed by many parties. There fore we made this kind of a usage test - report of the drive performance after some mileage.
The big bag of features

The feature set is what differs the F1 from the competition. Even though it has been on the market for quite some time, it hasn't been matched by competitors yet.
DiscT@2: Burns images on the writable surface of the CD-R
Audio Master: Uses extended pits and gaps to improve the quality of audio recordings.
SafeBurn: 8mb write buffer, Optimum Write Speed Control, Buffer Under run Protection
Disc T@2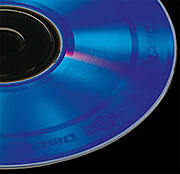 Yamaha's 'Disc Tattoo' was perhaps the most anticipated new feature. It can be used to burn graphics to the writable surface of the CD-R. The quality of the image depends on the used recording media. One special DiscT@2 disc is provided with the drive and it turns out to be a Verbatim/Mitsubishi azo-disc, media known for it's dark blue dye. The resulting pictures have a good resolution and imaging darkness levels of colors. The result looks kind of like a hologram, and isn't visible from a distance. Also cyanine media by Ritek turned out to deliver good picture quality.
DiscT@2 can be fun, but it is not very useful. Tattoos can't replace pen markings on the disc, due to poor visibility. Also, most discs have so much data stored that there is very limited area available for tattooing - naturally the tattoo can only be placed on the empty area of the disc. The tattoo designing software bundled in Nero Burning ROM is very simple and easy to use.
Conclusion:
DiscT@2 is impressive and fun, but not actually useful.
Audio Master

Yamaha tries to attract computer enabled audiophiles with the Audio Master technology. Audio Master promises reduced jitter and decreased error rates for audio recordings via extended pit and gap sizes on the CD-R. This is actually quite simply achieved by increasing the disc rotation speed vs. the laser clock frequency. In other words, Audio Master recording at 8x rotates the disc at 8.2x, thus creating the extended pit & gap lengths. This naturally reduces the capacity of the disc.
-63mins with 650MB
-68mins with 700M
Also it's notable that Audio Master uses recording speeds 1-8x, which the drive can select automatically. The speed selections that the F1 makes can be a surprise since it may choose 1x for a high quality disc and use a higher speed for presumable lower quality disc. My educated guess is that speed selection in Audio Master mode makes the selection based on lowest error rate - at very low speeds pit smearing can cause a decrease in quality, and increasing the speed can actually reduce error rates.
Theoretically the Audio Master is a sound method for increasing quality. Pits are longer, gaps are longer and low write speed should increase the 'strength' of the marks burned on the disc. The density of the data is reduced.
I've burned a load of disc with Audio Master enabled. At least the method does not have any negative impact on the disc performance. Unfortunately current CD players are so good that I wasn't able to find a borderline case where Audio Master would have had a significant difference in playability. Measurements made by
CDRINFO.COM
showed (they have taken down the F1 review) that error rates are reduced with Audio Master.I personally am skeptic about jitter issues in audio playback and it's possible affect in quality. In my opinion the jitter discussion lacks solid proof and I haven't seen any reliable listening tests showing audible quality difference caused by this 'jitter'
Conclusion:
Potentially very useful
SafeBurn
SafeBurn is actually a combination of features aimed at guaranteeing a high quality problem free recording. The burn process is backed by a large 8mb write buffer. The drive utilizes buffer under run protection technology, so even if the buffer runs empty you won't end up with a coaster. All drives in the market currently use some kind of under run protection.
Optimum Write Speed Control is Yamaha's automated method for choosing the right write speed for the media in use. For data use the write speed control seems to work very well. I fed Yamaha with all kinds of media, resulting in different write speeds and the burns were always ok. For audio or Playstation backups for example I do hesitate to burn with the max speed, so in those cases I would reduce the burn speed manually (or use Audio Master). The write speed control however suffers from the lack of speed steps in my opinion. The next down from 44x CAV is 16x speed.
Conclusion:
SafeBurn gives you burn trustworthy results. For special uses, like the Playstation, decreasing the speed still is recommendable.
Final thoughts
Yamaha F1 is a very good drive with exceptional features. It is realiable and a rock solid performer. If you can still find it in the stores, be sure to check it out, as it may be the last CD-R drive you'll ever buy - the swift to DVD-R seems to be quite rapid. Keep your heads up for possible clearance sales, since it would be no wonder if Yamaha would roll out the remain stock with a rock bottom price.
Written by: Lasse Penttinen