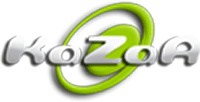 World's most popular P2P software provider,
KaZaA
(owned by Sharman Networks)
, has released a new major version, v2.0, today. Company has also made a deal with major European ISP,
Tiscali
, to promote Tiscali's broadband service through Kazaa's network.
New version of Kazaa introduces various enhancements to the service, including a possibility to "bundle" files, such as full albums, into download lists, so users can download full albums more easily. Other new improvement is an introduction of web search which allows users to search through WWW in order to find music, movies, etc from there.
The deal with Tiscali proves that the company tries to make its public appearance more legit. The agreement allows Tiscali to promote its broadband services through Kazaa's desktop client and if a new user signs up to Tiscali's broadband service, Kazaa will get a slice -- a marketing method called CPA
(cost per action)
advertising.
Source: PCWorld