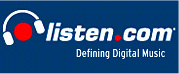 Listen.com
has signed a yet another deal with an American ISP to distribute Listen.com's
Rhapsody
music service. Deal is with one of the biggest American ISPs,
Verizon Communications
, who will promote and sell Rhapsody to its customers.
Listen has earlier signed similiar deals with various broadband providers, including Roadrunner and DirecTV. It is also the only one of the big three music subscription services that offers music from all big five record labels.