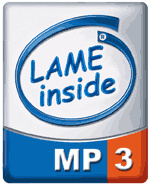 This latest CD-RW.ORG/Afterdawn.com article guest stars Chris Myden - a long time promoter of high quality MP3s. We have the pleasure to publish his Exact Audio Copy and LAME encoder for guide to all of our readers.
This article guides you in configuring EAC and LAME for maximum quality, and includes downloadable pre-configured EAC configuration files to make the process easy - even for the newbies.
My name is Chris Myden and for the past 5 years or so I have operated a website called Elite DAE which is a community dedicated to helping people create high quality audio extractions. Our experience with extracting audio from CDs and audio compression techniques led us to creating a high quality MP3 guide. We wanted the guide to be easy to understand, even for newbies, so we could help rid the world of low quality MP3s
Read the article!
Visit
Chrismyden.com