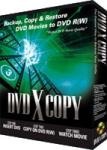 We received interesting news directly from
321 Studios
today. One of the best-known figures in the DVD ripping world, "
Derrow
", the author of the
IFOEdit
application, has agreed to join the development team of 321 Studios, authors of
DVD X Copy
, and will be physically relocating to their Headquarters in St Louis, Missouri, when his U.S. visa is granted.
According to 321 Studios, Derrow has already taken a look at present problems with DVD X Copy and is quite confident that current issues are only minor glitches that can be resolved very quickly. Until such time as his visa is granted, Derrow's work for 321 Studios will be in the capacity of Lead Engineer and will be performed from a remote location.