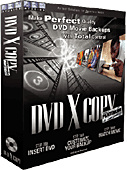 Buy DVD X Copy now and get a LiteON DVD+/-R for 20$. Yes, sounds crazy but this tempting bundle by the 321 Studios is for real. And it just gets better: For each bundle sold, 321 Studios will donate $25 to the Electronic Frontier Foundation.
DVD backup software vendor 321 Studios today announced it will donate as much as $1 million over the next year to online civil liberties organization the Electronic Frontier Foundation (EFF). 321 Studios hopes to support EFF's work in advocating for digital copyright law responsive to consumer needs and to educate its customers about these issues.
The company will donate $25 toward EFF's efforts for each sale of a Lite-On DVD burner and DVD X Copy Platinum software bundle through the 321 Studios website or at the 321 Studios Touch Point Customer Service Center in the St. Louis Galleria Mall.
"We are very pleased that 321 Studios has chosen to recognize the important work of the Electronic Frontier Foundation with a generous financial contribution over the next year," said EFF Executive Director Shari Steele. "321 Studios knows firsthand the importance of advocating for copyright law that preserves the balance among content-creators, innovators, and the public."
"This is a natural partnership that allows our customers to join the fight for digital rights. The EFF is working to protect those rights ­ including that of Americans to protect their home entertainment investment through DVD backup and repair," said Robert Moore, President and Founder of 321 Studios. "As the leader in the DVD backup, repair, and creation software industry, it makes sense for 321 and our customers to put some economic muscle behind that fight."Sources:
DVDXCopy.com
and
EFF.org