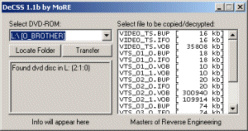 The Economic Crime Unit of the Norwegian police,
Økokrim
confirmed Monday that it will not appeal the recent ruling in favor of
Jon Lech Johansen
.
Økokrim, backed by
MPAA
, has been after Johansen for years, seeking a ruling that would convict him of copyright infringement. According to Økokrim and MPAA
DeCSS
software, which Johansen helped to develop, made it possible to pirate DVD movies. However they failed twice to convince the Norwegian courts who ruled that Johansen cannot be held responsible for the possible illegal applications of DeCSS.
While the decision to drop the case was not expected, it wasn't all that surprising either. After failing to change the ruling in appeals court, it was highly unlikely that Økokrim would be able to come up with new evidence or arguments against Johansen.
Source:
Aftenposten