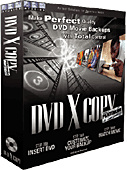 The district court in New York issued a temporary stay of the premilimany injunction on Friday for
321 Studios
in their legal case against movie studios
Paramount
and
Fox
.
321 Studios asked for immediate temporary stay after the
district court ruling in New York
in last week's Wednesday and the Judge Richard Owen granted that to them on Friday. Stay means that the New York court order to stop selling "ripper-equipped" versions of
321 Studios' DVD X Copy products
is postponed and from New York court's point of view 321 Studios can continue to sell their products equipped with the part that allows circumventing the copy protection found on DVD-Video discs.
Unfortunately the decision doesn't really change anything, since the other district court
decision in San Fransisco
still restricts 321 Studios from selling their products equipped with the ripper. San Fransisco court also rejected 321 Studios' earlier request for temporary stay of the preliminary injunction.
Despite the San Fransisco's status, 321 Studios has stated that they will apply for a permanent stay in New York on March 15th.
Source: 321 Studios press release