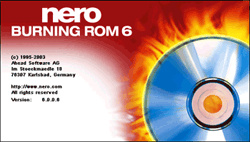 Ahead Software has released the changelog for the most recent Nero update. Mostly bug fixing, but the booktype changing feature pops up from the list of changes.
Changes from Nero 6.3.1.10 to 6.3.1.15

Bug Fixes

Nero Burning ROM / Nero Express 6:

Fixed a problem caused by maximizing the GUI window when working with several Nero instances
Several GUI and localisation optimizations
Improved handling of AAC files
Fixed a problem occurred with Audio CD Copy over image
Remaining time for DVD compilations is now correctly displayed in Nero Express
Enable simulation for DVD-R medias if the disc is loaded in a double layer recorder
Fixed a problem that changing CD reading speed for disc copy had no effect
DVD read speed is detected dynamically
The selection combo box of boot image languages is no more editable
Implementation of DVD-R/-RW booktype changing for several drives
Disable playing of audio files, if the file is already opened in the Nero Wave Editor


Nero Burning ROM:

Localized the Plug-in properties
Solved a problem that occurs while trying to burn a CD-Extra
After de-installation some manuals were left on Windows XP and Windows 98 SE
It was no more possible to open an audio file with Nero Wave Editor out of Nero Burning Rom
Querying Nero Wave Editor for open more than one audio file caused a problem
An internal error is fixed which occurred while creating a bootable CD
Download now!