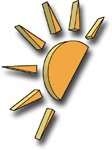 Avery Lee
has released a new version of his excellent video editing and capturing tool
VirtualDub
. One of the most welcome new features is (limited) support for 64-bit AMD Athlon64 processors.
Here is an excerpt from the list of added features:
- Native AMD64 build (see Release Notes for restrictions)
- New "perspective" video filter can deproject subimages that are displayed obliquely in a scene
- YUV formats can now be directly selected for decompression and compression
- Planar YUV formats are now supported for both display and output
- Added preliminary DirectX 9 (D3D9) display driver support, with support for filter mode selection and multipass bicubic filtering. This driver must be manually enabled in Preferences
- Added OpenGL display driver, with support for filter mode selection. This driver must be manually enabled in Preferences
- Frame seeking is now incremental so that extremely long frame distances between key frames no longer hang the app during the preload
- Added support for the PRELOAD flag on video decompression to speed up seeking
- New position slider that displays frame number markers and supports mouse wheel scrolling beyond 32K
- Fast recompress format is reported in log
- Basic movement keyboard shortcuts now work in filter preview
- JPEG image sequence input and output is now supported
- Single images can be opened as video files
- Integrated DV video decoder
- Audio is now decoded from type-1 DV files
- Audio filter dialog now has a position control to allow previewing at arbitrary points
- The frame indicator in the timeline control can now be customized via Preferences/Timeline
The build is still experimental, and there might be (and probably will be) unexpected crashes.
You can download the latest version at
http://www.afterdawn.com/software/video_software/video_tools/virtualdub.cfm
and view the full change log at
http://www.afterdawn.com/software/version_history/virtualdub.cfm