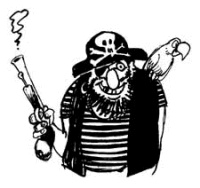 The
U.S. House of Representatives
voted to boost penalties for online piracy. The
Piracy Deterrence and Education Act (PDEA)
will make it easier for federal investigators to convict file-swappers. It also criminalizes unauthorized recordings made in movie theaters and encourages the
Department of Justice
to target Internet copyright infringements more.
"Millions of pirated movies, music, software, game and other copyrighted files are now available for free download from suspect peer-to-peer networks,"
said Rep.
Lamar Smith
, R-Texas, who heads a copyright subcommittee.
"This piracy harms everyone, from those looking for legitimate sources of content to those who create it."
Both the
MPAA
and
RIAA
are strong supporters of the bill.
Earlier in the day opponents to the bill had mounted an unsuccessful attempt to urge House leaders to remove the Piracy Deterrence and Education Act from the floor schedule. Letters signed by groups including four library associations, the
American Conservative Union
, the
National Taxpayers Union
, and
Public Knowledge
argued that the measure would
"radically expand the scope"
of copyright liability and divert $15 million in federal funds from the war on terror to
"protecting Hollywood's and Big Music's parochial interests."
The bill punishes P2P users that distribute over $1,000 of pirated material with penalties from prison terms up to three years to fines of up to $250,000. If it became law, prosecutors would not have to prove that $1,000 in copyrighted materials was actually downloaded; they would need to show only that those files had been publicly accessible in a shared folder. With Tuesday's vote, the legislation now goes to the Senate, which has not yet held hearings on it.
Source:
News.com